Ballantine's x Boiler Room Presents 'Stay True Russia': Conversations with DJ Premier, BMB Spacekid, and Raumskaya
We were invited by Ballantine's Scotch Whisky to attend the latest installment of their Boiler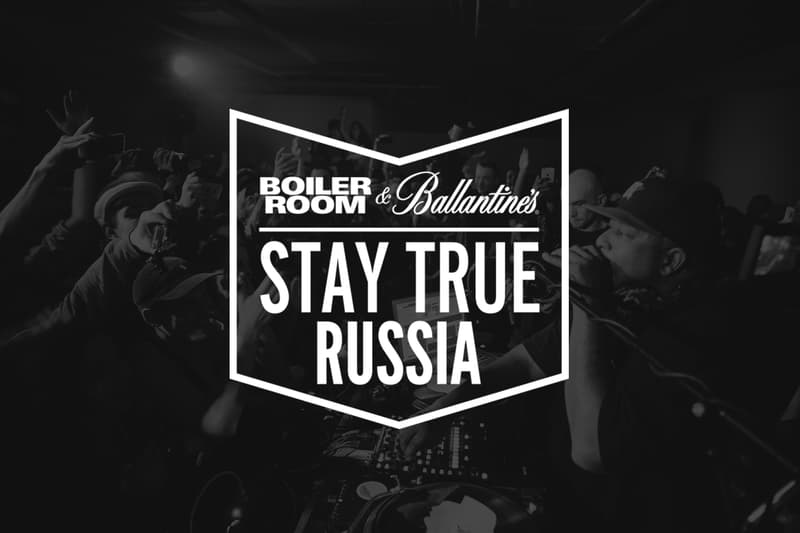 We were invited by Ballantine's Scotch Whisky to attend the latest installment of their Boiler Room-collaboration series Stay True Journeys, which took place on April 23 in Moscow, Russia. Stay True Journeys is a series that seeks to uncover authentic underground music scenes from around the globe, showcasing emerging artists and pioneers of relatively untapped movements and revealing the stories behind them. So far, it has been to Mexico City, Santiago, Warsaw, Hamburg and Johannesburg, and this latest event touched down in Moscow.
The event featured a "dream team" lineup for every beatmaker and fan of instrumental hip-hop, spotlighting legendary beatsmiths DJ Premier and Black Milk, Anderson Paak and Knxwledge's new duo NxWorries, and Brainfeeder/Stones Throw's Samiyam. In addition to this stellar selection of artists, we were able to witness the performances of a few equally-impressive local talents, namely Lapti, BMB Spacekid, KOVCH Beats, and Raumskaya.
Before the show, we sat down with DJ Premier to speak about the event. Premo shared his perspective on the Russian beat scene, the importance of "staying true," and his upcoming career plans. We also caught up with two of the Russian producers — both from St. Petersburg — in between their sets. Our conversation was an insightful learning experience on their artistry and vision for Russia's progressive music scene. The first of the producers is 26-year old BMB Spacekid, born Dmitry Semenov, an affiliate of a few international labels such as Soulection, FatBeats, and most notably, a brand new label from the UK called The Full Hundred. The other is Raumskaya, born Gleb Voev, who is a self-described "juke boy from Saint-P" and has been independently making music since 1998. His moniker, which stems from Finnish roots, is a name of a street in the town of Kolpino, St. Petersburg, an image which he says is a symbolic representation of his childhood.
It's truly captivating how, despite coming from different backgrounds in music and in life, all three of these artists share an undying passion and perseverance for music and a similar interpretation of what it means to "stay true."

DJ PREMIER
This event is part of a series called Stay True Journeys. What does the phrase mean to you?
That's my motto when I create anything in music; that's the motto when I do everything. From making music, to living life, to dealing with people — everything. It's the appropriate title.
Tell us about your perception of the Russian Beat scene.
Right now the only guy I know is BMB Spacekid. We're working on a joint where we're colliding our tracks together; whoever finds the sample will hook that up and whoever find the drums will hook that up — pretty much whatever sounds right to the both of us, then we'll add vocals and music to it. I'm known for doing beats on my own — and I'm going to continue to do it that way — but I don't mind it this time, seeing as how worlds collide — Moscow with America; hip hop music using breaks and samples and a lot of Russian sounds. It's like, let's see what we could do. We're going to do two or three and see which one sounds best.
When was the last time you visited Russia?
I was here almost four years ago, but I've been here four times. I played and DJed, and it was always dope. This time I'm just doing this project with Boiler Room, and we're going to have some fun with it.
Do you see any differences with the audiences here and the audience in America?
When I DJed here in Moscow, it was crazy. The crowd was wild; they knew everything. They knew "Nas is Like," they knew Biggie, they knew Gang Starr — all of that. It showed me that music travels all over the world and when it hits your soul, you gravitate to it no matter what part of the world you're in. So even in Moscow, their energy is connected to our energy.
Word. What do you think is the biggest opportunity for the Russian producers in a cross-cultural collaboration like this?
The biggest opportunity, especially for an artist like BMB Spacekid, is that he's getting a chance to work with somebody that he's studied. So with that in mind, this is how music pulls people together from two different types of worlds. Not just within the context of Russia and America, but also in the way I do my beats versus the way he does his beats. So, when he played me some of his beats, that style is what I've already done — but I'm influencing him in what he makes. Altogether, we're making it a shared thing and we're going to make sure that it comes out original and fresh when it's all done.
Can you share with us of one of the most memorable time in your music career?
One of the most memorable times I've had is meeting KRS-One for the first time. I was going into a record store to go shopping and I see him in the store also shopping. I'm watching him pick up records from off the wall. He was like, "Salt-N-Pepa. Yeah, gotta get that. Oh, new Kid 'n Play, let me get that. New Kool Moe Dee, new LL Cool J, let me get that. Oh, new Gang Starr…I'm getting that!" I'm like, "Wow, he's buying our record." This was the first time I've ever seen him in person and then he's at a record store that I shop at. I was hoping to see rappers from New York because I was new there at the time, I saw him pick up my record and he didn't even know I was standing behind him watching him. I was just star-struck, like, "Wow, that means something." That's one of the highlights that I'll definitely never forget.
When did this happen?
I think it was 1989.
It's always difficult to imagine a legend like yourself as being a star-struck fan. I always wanted to know, do you have a favorite release of your own?
I don't ever like to talk about my favorites because I don't have 'em. I just love what I do because if it feels good to me, it's got to feel good to other people. I make it to put it out to the people. I don't have a favorite; I like listening to other people's music and that's what inspires me to make another song. I'm influenced by other music, not my own. Once I make something, it's gone. Sometimes I go back to it but not really. When it's brand new — if it's only been a week since making it — I'll play it over and over but after a year, unless I perform it or do a radio mix, then I don't play it anymore. I like to listen to other people's music; that's what inspires me.
I feel that. What are you currently working on and what upcoming projects can we expect?
I'm working with a 17-year-old artist from California named A-F-R-O. His name means "All Flows Reaches Out." We're just working on some demos right now, I had met him through R.A. the Rugged Man. Also, the NYGz album is going finally going to come out, it's called Hustla's Union: Local NYG and will be released through my independent label Year Round. MC Eiht from Compton's Most Wanted is also working on a project together called Which Way is West which is going to come out through his label Blue Stamp and my label Year Round Records; we're sharing it together. It's a dope album, it's got WC, Xzibit, Lady of Rage, Bumpy Knuckles, Tha Chill and Boom Bam from Compton's Most Wanted, B Real of Cypress Hill, Big Mike of Geto Boys. It's a good album, a really dope album, so I'm excited about dropping that. Brenk Sinatra from Austria produced a majority of it and I did three tracks. Young Maylay's on there. Wow, can't forget him! He's from the West Coast, a dope emcee. He's got a west coast style, but he's also got lyrics, word. It's loaded.
We're excited for the releases. Any words of wisdom for young producers?
Be original, man. Always come out with a style that makes people want to keep listening to you and look out for more stuff from you. Take it seriously. If you want to treat it as a profession like I do, you could live off of it. If you don't treat it as a profession, and its just for fun, you may not make that much money. I make it fun and I take it seriously, so when you do both, its a win-win situation.

BMB SPACEKID & RAUMSKAYA
Can you introduce yourselves?
BMB Spacekid: I'm BMB Spacekid, and I'm from St. Petersberg, Russia.
Raumskaya: I'm Raumskaya, and I'm also from St. Petersberg, Russia.
How long have you been producing for?
B: Since I was 13. I'm 26 now so it's been half my life.
R: More than 15 years now. When I started, I wasn't very good though. It was only around five years ago when things started getting more serious. I've still yet to have made it my full-time career — I work as an art director for an IT company. Music is my life, but it's hard to make money out of it. I really do want to make it my career; it's my dream and passion.
Describe your sounds and tell us about your influences.
B: My music is funky-space-future, psychedelic hip hop. Listening to my music is like flying in space.
R: I make bass music and sub-bass music. I incorporate soul and punk elements into it, but I always switch up my style. I don't really stick with one thing; I constantly explore new genres — bass music, juke music, hip-hop, and trap.
Those styles are pretty internationally recognized right now. Is there such thing as a "Russian sound"? And if so, do you incorporate it into your music?
B: Yes there is, but you won't like it. There's the old school Russian sound, which is similar to Indian or Arabic music. In the new school, there's guys like Timati — who makes pop music, not hip-hop. We, the underground, represent the intellectual culture of hip-hop. There's currently no hip-hop in mainstream Russian music and we're trying to change that.
R: Good question. I don't think there is a "Russian sound." Musically, Russia is known for copying existing styles developed from other countries such as the US; we don't have a strong sense of "Russian music." We take music from other people and add our own twist to it. Although we currently don't have a Russian sound, we're striving to create one. We hope that we are able to make something new in the future; we're getting there.
We'd love to see that one day. What are your thoughts on DJ Premier?
B: I'm still learning from him. During our collaboration, he brought me back to the roots, such as his way of synchronizing music in the old school style that he's done for many years. The first track I've heard from him is "Full Clip" by Gang Starr.
R: I respect him as an icon.
Who would you say are your biggest influences then?
B: Definitely DJ Premier. Madlib, Flying Lotus. I love music from the East and West Coasts; I just love good music.
R: I really like the American "future beats" movements, like Soulection. I really like Sango, Ta-ku, Cashmere Cat and Mr. Carmack. It's all I put on my iPod.
What does "Stay True" mean to you?
B: "Stay True" means to be real with yourself and your music. Don't sell out because of money, do what is true to yourself.
R: In Russia, Techno is what's popular at the moment. I really don't like techno, so I won't produce it. However, when producers conform their style to techno just because it's popular, then I feel that it's not "staying true." If you create music that you believe in, then you're "staying true."
Where do you see yourself in five years?
B: I just want to be able to keep putting out good music for the world to listen to.
R: I want to be able to make a large variety of music — sounds for personal devices and sounds for clubs, for different people all over the world. I want to be part of an impactful culture.
To check out all of the performances from the night, as well as all of the previous sets from Ballantine's and Boiler Room's Stay True Journeys series, click here.