10 Things We Learned About Virgil Abloh and Guillaulme Berg's Paris, IL Project
As designer for his OFF-WHITE label and globetrotting DJ under the moniker Flat White, Virgil Abloh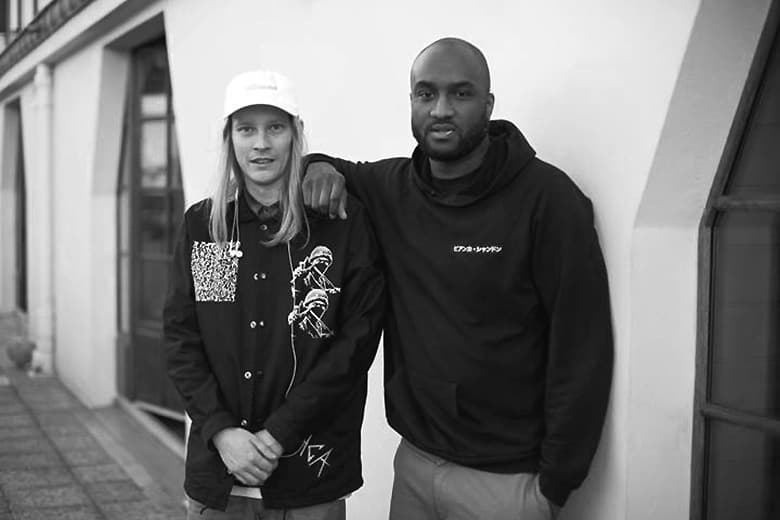 1 of 2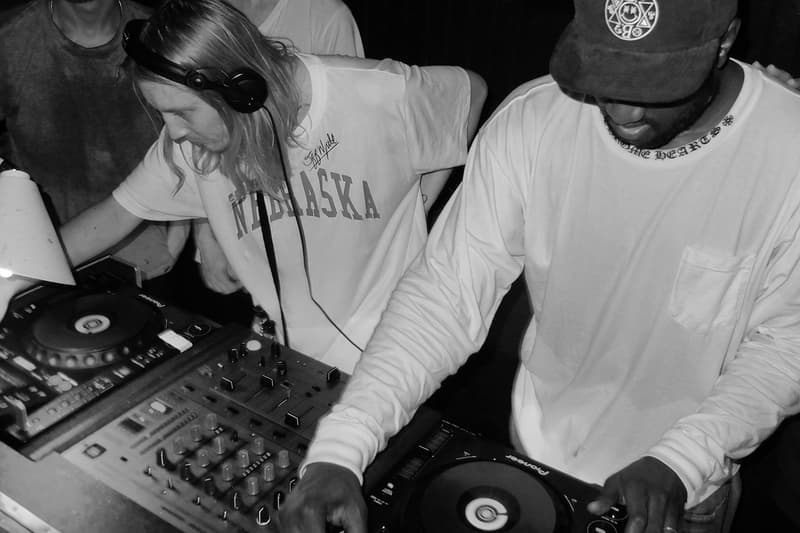 2 of 2
As designer for his OFF-WHITE label and globetrotting DJ under the moniker Flat White, Virgil Abloh is a man who wears many hats. The Chicago native continues to flex his creative prowess through different projects, his latest being Paris, IL. The music initiative is a collaborative venture with Brodinski's "right hand man," Parisian DJ Guillaume Berg. "We're just trying to have fun, be spontaneous and bring a good vibe to people" says Berg, who's no new name to Paris' club scene. Bridging the gap between the world of runway glitz and glam with the dark techno-ladened basement parties, the project was born as a reaction to the lack of good music they were hearing during Fashion Weeks. "People came to us with song requests during Fashion Week that other DJs were already playing on rotation. We wanted to bring something else to the table, to connect underground club music with a different audience. In a way Paris, IL is a polite way of saying "fuck off, we don't take requests!""
Blending four-to-the-floor house with somber basslines and big room garage tracks, Atlanta rap from Two-9 are mixed with dance classics from the likes of Underground Resistance's Robert Hoods. Sprinkled on top with contributions from a new wave of Parisian club purveyors — think Canblaster, Sam Tiba and Clek Clek Boom — and the result is a transatlantic repertoire pivoted by both DJs cultural influence. With a number of shows under their belts and 2 mixtapes released, Paris, IL is just at the beginning of an exciting journey, yet little has been revealed on what the project actually encompasses. Here' we share 10 facts we've gathered via a conversation with Guillaume Berg.
Virgil and Guillaume's First DJ Set as Paris, IL Was in Copenhagen
"I guess the first official Paris, IL set was at London's XOYO. The first unofficial set was in Copenhagen, It's the one which formed the project into how it is now. Paris, IL is our playground. For us it's really important that it stays spontaneous and sincere. "
The Name Paris, IL Is Not an Homage to the Small Illinois Town
The group's origin in not a nod at Paris, a township in Edgar County, Illinois. Rather it's a fusion of both tastemaker's origins, with Virgil coming from Chicago and Guillaume from Paris. "I've lived in Paris for 10 years but I was born and raised in the East of France near the German border, it's a region that looks a lot like Illinois, from what I know and have seen of Illinois though."
Late Night Chats in Clubs, Emojis and Layovers Helped Bring Paris, IL to Fruition
The duo said the collaboration came naturally, with little planned. "It came out of time spent together, discussions and reflections. We were DJing whenever we're in the same city. At one point we started discussing ideas for art direction. Most of these conversations happened in after hours, restaurants or through iMessage. We've been designing fliers with random bits of paper in between trains and flights"
Virgil and Guillaume Met in Paris During the Construction of Kanye West's Yeezus
"We met during the construction of Yeezus two years ago when Kanye, Virgil and the team were in Paris. I don't really remember a precise moment when I met Virgil. I feel like I've known him forever though."
---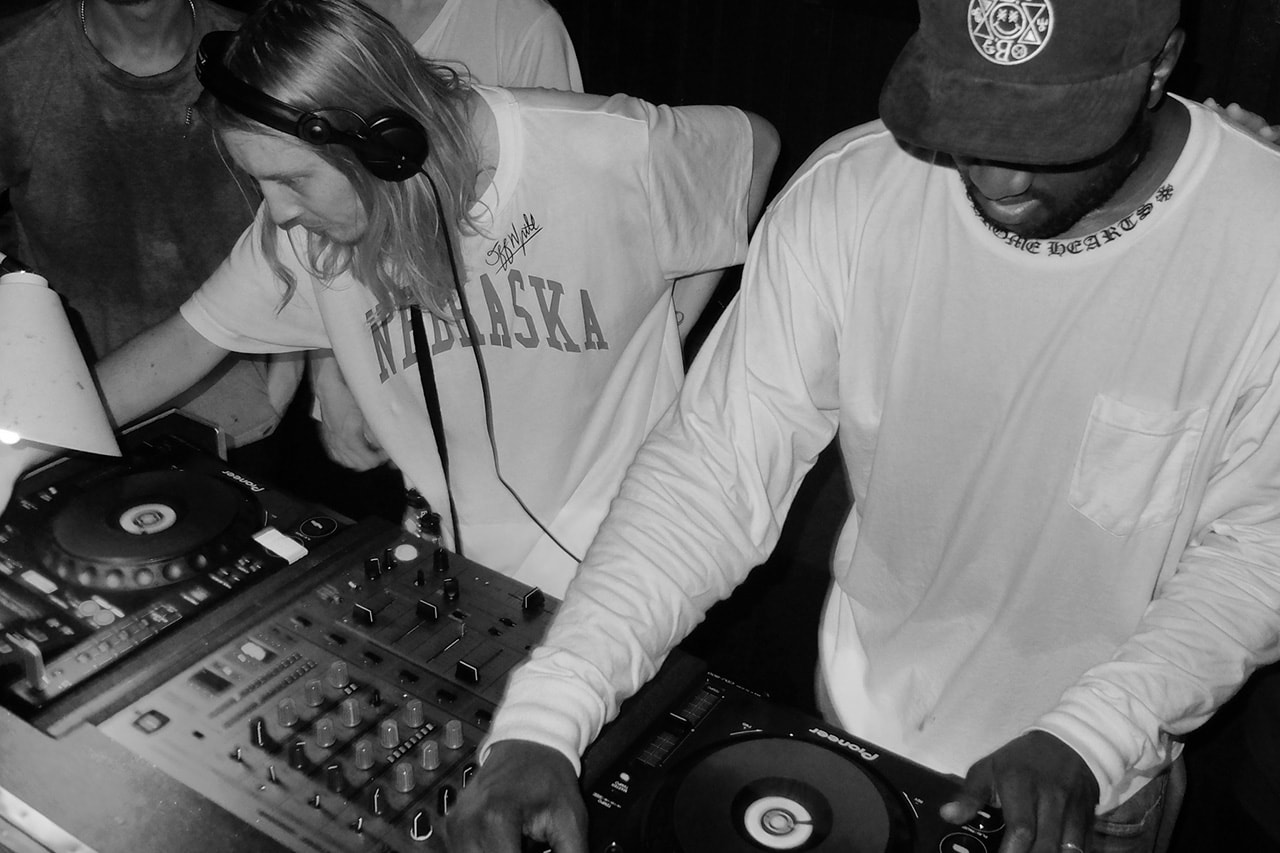 ---
Virgil's OFF-WHITE and Guillaume's BMC Paris Are Set to Collaborate
The duo have thought about creating merchandise, but moreover they're working towards a collaboration between their own fashion labels. "Paris, IL is about being spontaneous and sincere, so if we have an idea for a shirt, or such then we will just do it. Virgil already has a fashion label that takes up a lot of his time. Brodinski and I are also busy with BMC Paris, yet we're planning a collaboration between the two brands."
Paris IL Is Set to Do a Mixtape Every Month
So far Paris, IL has release an introductory mixtape followed by one for Style.com "The mixtapes serves two purposes: it showcases Paris, IL's musical direction, while also creates a relationship with our audience. Sometimes we get messages from people telling us this is the perfect music for the gym or a good hike. It feels great to share our everyday listenings with someone else. This prompted us launch a new mixtape every month. Stay tuned"
Virgil and Guillaume Bonded Over House Music
The duo's mixtape for Paris, IL showcased their affinity for various techno and house acts, with Leon Vynehall played alongside Louisahhh!!! and A Made Up Sound. "Paris and Illinois (or Chicago) are famous for their house scenes. Virgil and I really love house. We share the same taste in artists and labels, not to mention the beat composure of house music. There's too many records we bonded over, because when you listen to one, other great records come into the conversation. The jam session is endless.
Paris, IL Is Set to Play at One of the Biggest Boiler Room's to Date
The two have played back-to-back across the world, be it Rinse FM France, A Cut Above party in Antwep or The Scotch in London. This summer they're gearing for one of their biggest parties yet. "Summer plans are a bit blurry because of Virgil's schedule! However we're playing at the Boiler Room Bromance Takeover in Paris on June 16th. It's the biggest Boiler Room ever. Club Cheval will be doing a live set and it's taking place in Le Grand Palais which is an insane venue in Paris."
Guillaume Does All the Artwork for Group's Mixtape Sleeves
Guillaume does all the artwork for the group with a sharpie and random scraps of paper. "I was sending pictures to Virgil via iMessage and he was getting back to me with his feelings. The art of Paris, IL has to be easily duplicated. Because we travel so much, the artwork has to be easily made where ever we are. This way we don't have to wait for designers to send work to us. I guess this approach is really old-school in a way because it just involves pens and paper, but at the same time it incorporates modern elements such as a smartphone, which I use to send Virgil my artworks. However, no computer or photoshop is needed."
Guillaume Works Full-Time at Paris-Based Artist Agency Savoir Faire and Bromance Records
Guillaume manages Paris dance outfits French Fries, Bambounou and other acts on the label. "Savoir Faire is really a family, it's all about teamwork. We all work together to get shit done, but no one really knows what my role is, I don't either! Through working in the music industry, I've learnt you should only work with people you can fuck with on a human level. It needs to be sincere and qualitative. Bromance Records is our second family: Brodinski, Manu, Gesaffelstein, Surkin, Club Cheval and Louisahhh!!! We work together, we live together. Bromance is more than a record label for us – it's records, parties, it's a way to think, to work, to create. When we put the Bromance stamp on something, it guarantees quality."
Photographer

Valentin Lecron