Essentials: Johnny Ridley of Boneville & MA.STRUM
For our latest Essentials installment, we take a look at a selection of daily items on hand to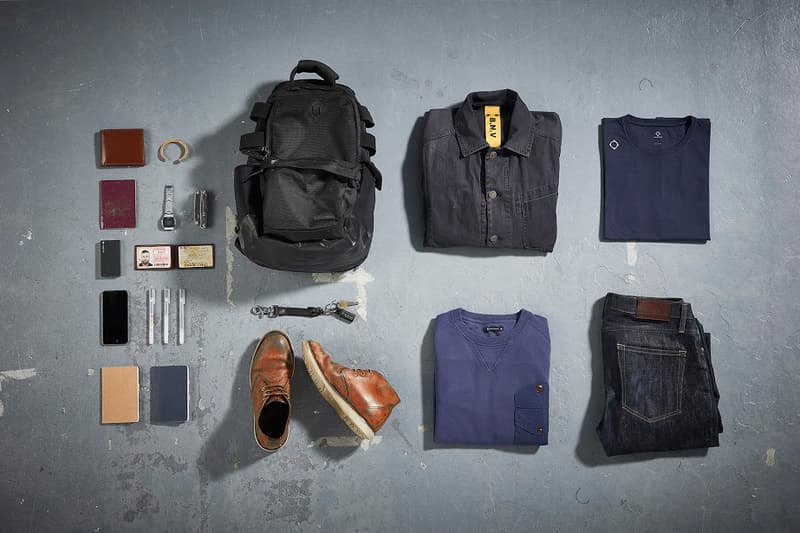 For our latest Essentials installment, we take a look at a selection of daily items on hand to Johnny Ridley — head of marketing, social and PR for both Boneville and MA.STRUM. As a representative of two inherently utilitarian brands, each companies' influence can be seen in Johnny's pick of a Sharp Engineer Jacket and Engineer's Crew Sweat from Boneville with a Crew Tee from MA.STRUM.
Following foundation by famed Italian designer Massimo Osti in 1981, Boneville served as a continuation to C.P. Company and Stone Island. All three companies are renowned for their combination of technical design and innovative materials, with both of these properties being seen in Johnny's luggage choice — the Vienna Pack from Lexdray. Inside of which he carries a Gentleman's Hardware Wallet, one Leatherman Sidekick, a Mophie Powerstation Mini, and a Tanner Goods Lanyard bearing a single key and MA.STRUM Custom USB. Amongst all these gadgets, a set of MUJI Fineliners and Moleskine Pocket Notebooks can be found for occasions when his iPhone 6 might not cut it.
As he tells us, travel is a big part of his daily routine and this can be seen on the worn face of a well-used British passport, the faded inserts of his London travel card, and a pair of heritage Red Wing Chukkas that have seen many miles. Johnny also wears a pair of 16.5oz Kulsan Jeans by Harry Stedman and a Railroad Cuff by Giles & Brother with an all faithful Casio Digi Watch.
Click here to learn more about the story of Boneville and Massimo Osti or here for a background on John Sharp's MA.STRUM.