Changing Silhouettes: Will the Return of Baggy Pants Dethrone Joggers?
The jogger pant — exemplified by its sweatpant-inspired style and undeniable comfort — was, and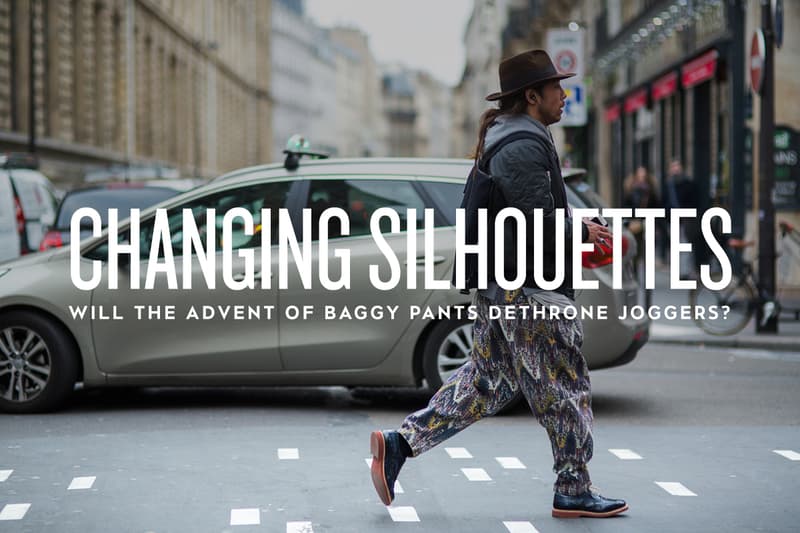 The jogger pant — exemplified by its sweatpant-inspired style and undeniable comfort — was, and still is, one of the most embraced pant options over the past few seasons. After many ruined and over-stretched leg openings, jogger pants seemingly took over from the often seen pin-roll. The jogger offered a look representing an important staple amongst the current sportswear movement while being a suitable choice for a resurgent sneaker culture.
---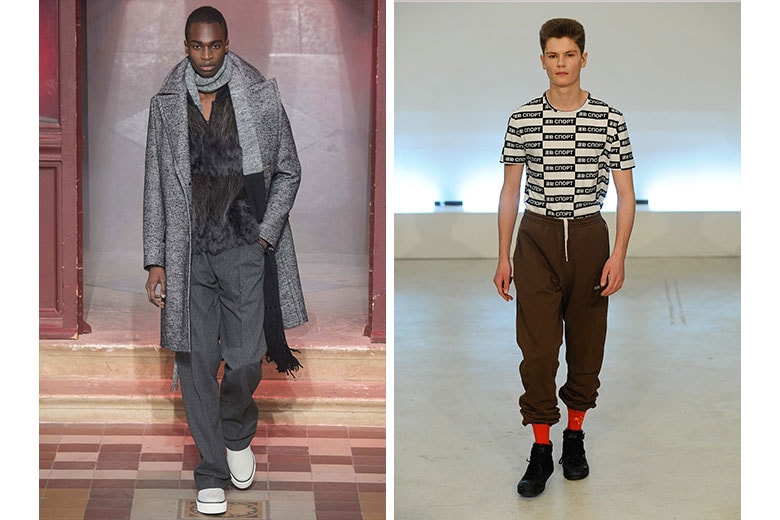 ---
But joggers aside, a more fitted pant — tapered and slimmer — has been the go-to silhouette for many designers. Baggier silhouettes were largely unseen in the current fashion cycle and basically nonexistent as recently as 18 months ago — looking back at Saint Laurent Spring/Summer 2015, Raf Simons Spring/Summer 2014, or Gucci Fall/Winter 2014, pants were decidedly much narrower in their disposition. Even predating the jogger pant movement, skinny silhouettes have been a mainstay since the Slimane effect at the turn of the century, transcending different styles and becoming an undeniable closet staple. However, according to the runways, the realm of fashion is experiencing a revival of something we haven't seen en masse for awhile — the baggy wide-legged pant.
This trend may come as a surprise to some — as baggy and wide legged pants have been considered out of style. But the runways are embracing it, and there have been looser and varying silhouettes appearing in casual fashion for some time. For example, the drop-crotch pant or the harem pant, which were popular in both menswear and womenswear, showed off airier styles, while sportswear and the aspect of comfort steered fashion into more leisurely territory.
---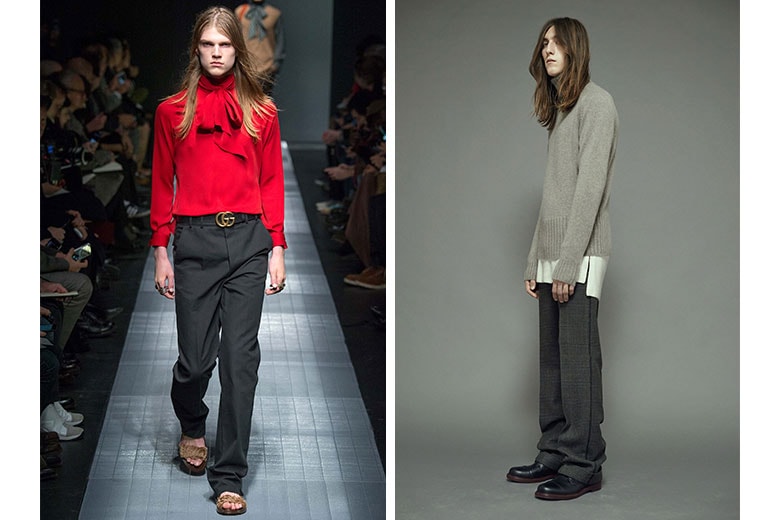 ---
On the Fall/Winter 2015 menswear fashion runways, the resurgence of the baggy pant silhouette signaled a divergence from what we've been seeing in menswear silhouettes, with designers offering a new proportion as an easy way to stand apart from menswear's obsession with fitted bottoms. But not only that, androgyny is also making a statement on menswear runways with the the looser fits, helping designers blur gender lines. From Lanvin to Gucci, designers are experimenting with breaking boundaries and categories, inducing ideas and inspiration — as designers should.
We saw waify, long-haired, fine-featured men walking down the runway in billowy outfits, exuding a dreamy ambiguity that many would not associate with the typical ideas of the male gender. Putting gender (and questioning its definition) at the heart and forefront of fashion is not novel nor radical, but currently at the perfect time, in the midst of feminist and LGBTQ movements worldwide. While not taking a side, the blurred lines (if you will) serve as a perfect question mark, while solidifying the role of looser silhouettes in menswear from an aesthetic point of view.
---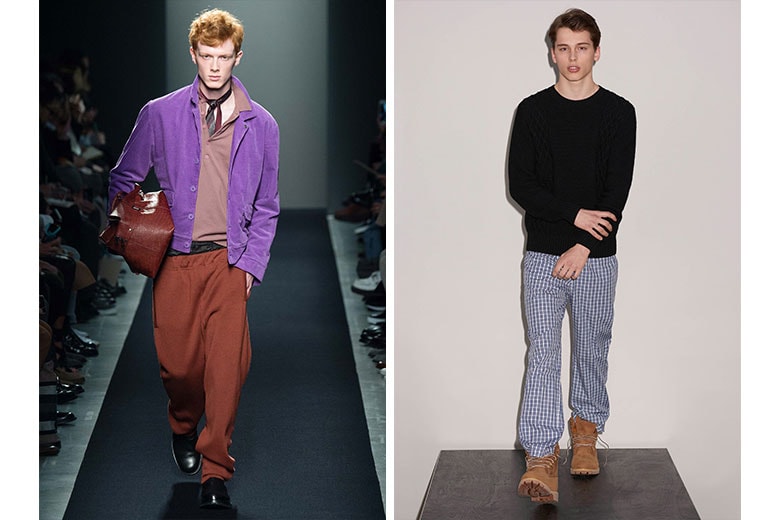 ---
But how would you style wide-legged pants without looking ridiculous, or like you're dressed for the early '00s? For many of us, it's probably been awhile since we've decided to wear some JNCOs (whose return was met with great interest) and the like, so it might be unfamiliar territory. Styling baggier silhouettes doesn't necessitate a closet overhaul and slim pants are definitely still here to stay, but incorporating the shape can instantly refresh your overworn closet staples. The heavier shapes, however, do require a slimmer silhouette elsewhere, where balance is key to avoid being overwhelmed with material and looking like a bag in the wind.
Taking cues from A.P.C.'s recent runway show, slim-fitted sweaters make for the perfect complement for a looser pant silhouette. Layering also cuts up the silhouette, offering other focal points to offset the baggy pants' overwhelming look. With these options for styling baggier pant silhouettes, translating them into your wardrobe from the runway can be a breeze. However, wearing loose fitting pants for a casual look can often come off as too casual, necessitating a balance between the dressy and casual for usual wear, lest you wanting to look like you rolled out of bed. With a casual aura the hallmark of streetwear, we can already predict that wide-legged and loose pants may not be the best fit for a streetwear crowd still consumed by prototypical sportswear. However, with some pants that are the perfect amount of baggy, along with expert layering, one can achieve a casual street-infused look, a la Public School's 2015 fall/winter styling options.
---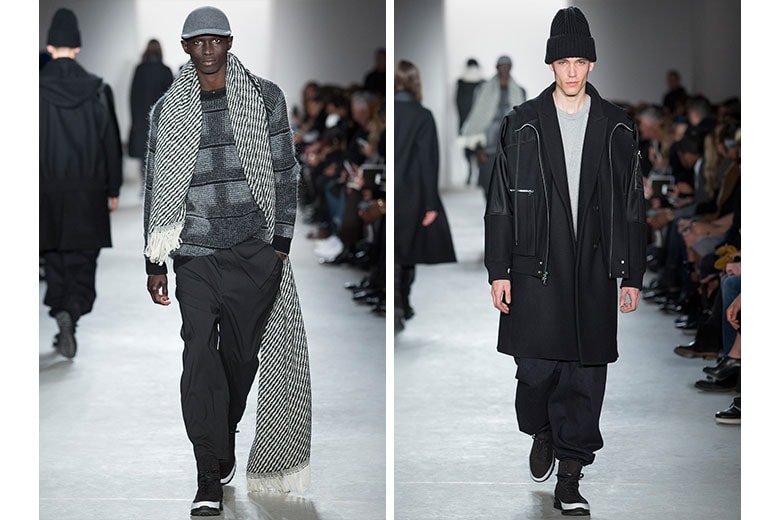 ---
But looking at Public School's fall offerings, what makes their baggy pants streetwear appropriate? The styling trick here, is tucking the cuffs into your sneakers. Where the jogger was immensely popular for its ability to show off your kicks, baggy pants can have an opposite effect. Hiding much of the shoe's heel and upper and swallowing your foot, ideal footwear would be simple and clean, without taking away the bravado of your outfit. But for the sneaker-inclined style aficionado, baggy pants can be worn with mid or high top sneakers, tucking the pants in. This would cut up the outfit's silhouette, still showing off your kicks.
However, the sneaker inclined may find it difficult to implement this type of silhouette into their wardrobe with a limited choice of footwear and an entirely new silhouette to learn to style. Sneakers are a huge aspect of streetwear, with many men coordinating their outfits to complement their shoes. With that being said, the baggy silhouette isn't exactly friendly to showing off footwear, and thus we predict that it won't be the style that will dethrone the stranglehold held by joggers. However, with sartorial trends shifting to something looser, it may be due time to experiment with the new, and it would be interesting to keep an eye on how streetwear decidedly embraces it, tucked in or not.