Zaha Hadid & Patrik Schumacher Unveil the Futuristic Volu Pavilion at Design Miami
Laser-cut and perforated steel combines with aluminum and timber in a clam shell-inspired design.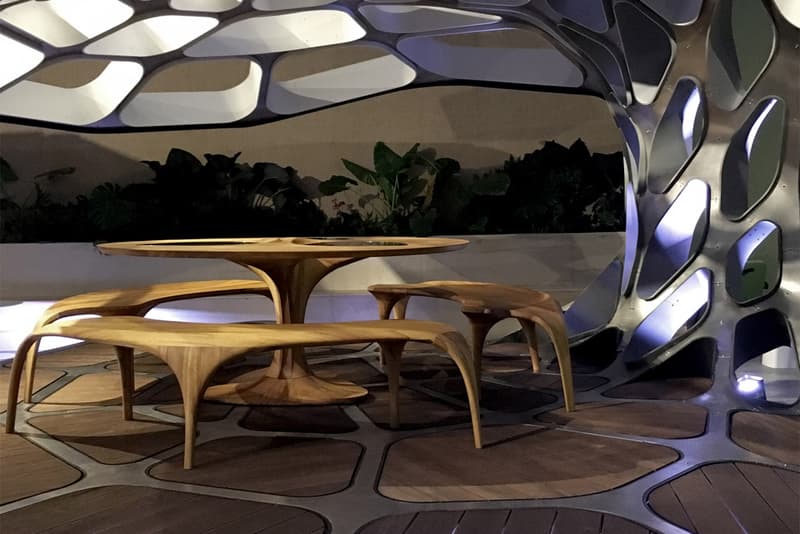 As a part of Design Miami 2015, renowned architects Zaha Hadid and Patrik Schumacher have come together to create the Volu Pavilion. A dining setup inspired by the look of an open clam shell, the design couples both laser-cut and perforated steel with aluminum and timber for an illustration of computational design and a juxtaposition of the present and future. Measuring 20 square meters, the pavilion stands 3.2 meters tall as a stem supports a tilting roof that descends over the diners, circular table and benches. Said the duo of the creation:
Comprised of a series of structural bands collecting at the spine and expanding overhead, the patterning of the pavilion is guided by the varied structural loading conditions. Through the analysis of the geometry under load, the pavilion's structure and skin have been digitally optimised to remove unnecessary material, resulting in the lightest possible design solution — following an organic structural logic that recreates many of the same principles found in nature.
The Volu Pavilion was commissioned by property developer Robbie Antonio for his ongoing Revolution project and was on display in Miami inside the collector's lounge through Sunday, December 6.