size?'s Paul Ruffles on Why Sneaker Culture Is Alive and Well in The UK
Where d'you get your trainers?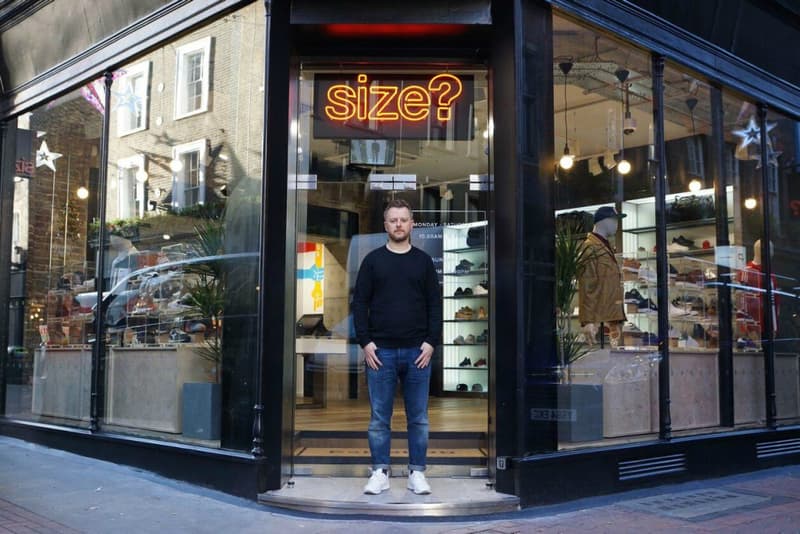 Sneaker culture, in even its etymology, is a thoroughly American phenomenon. Through basketball, hip-hop and a close association to streetwear, the re-appropriation of athletic footwear and the associated hype surrounding limited releases has, for as long as it has existed, felt an intrinsically American experience. Through the explosion of the culture in the late 1980s and '90s to the streamlined, multi-conglomerate business that it has become today it has been the Stateside market that has led the charge in the way sneakers are marketed, bought, sold and, in more recent times, re-sold.
Across the Atlantic Ocean however, as is so often the case, things have been carried out in a more reserved and sacrosanct manner. In the United Kingdom, where sneakers are "trainers" to all but a few avid collectors, the athletic footwear explosion happened not via the marketing machines of brands and the co-sign of millionaire sports stars, but through an intricate web of subculture so laden with misty-eyed reverence that it is now almost impossible to differentiate fact from fiction. So the most plausible story goes, through the trans-European adventures of football casuals, B-Boys' adoption of Italian and German sportswear and several other youth cults yearning to look like they were affluent, handsome and Italian, the training shoe became a status symbol to working class British people. No hype, no queues around the block and just a handful of notable dealerships across the country.
Fast-forward 30 years however and things are very, very different. Those early-adopters are now verging on the elderly and attics full of vintage adidas and Diadora are mausoleums to a by-gone era, the internet has made footwear infinitely more accessible to even the most casually interested parties, and the high street has been transformed. size?, with its 30 stores across Europe, is at the forefront of this transformation. With an unrivalled roster of brands, a host of exclusive collaborations and releases, and with the resources of retail goliath Pentland at its disposal, size? is unequivocally face of UK sneaker culture.
---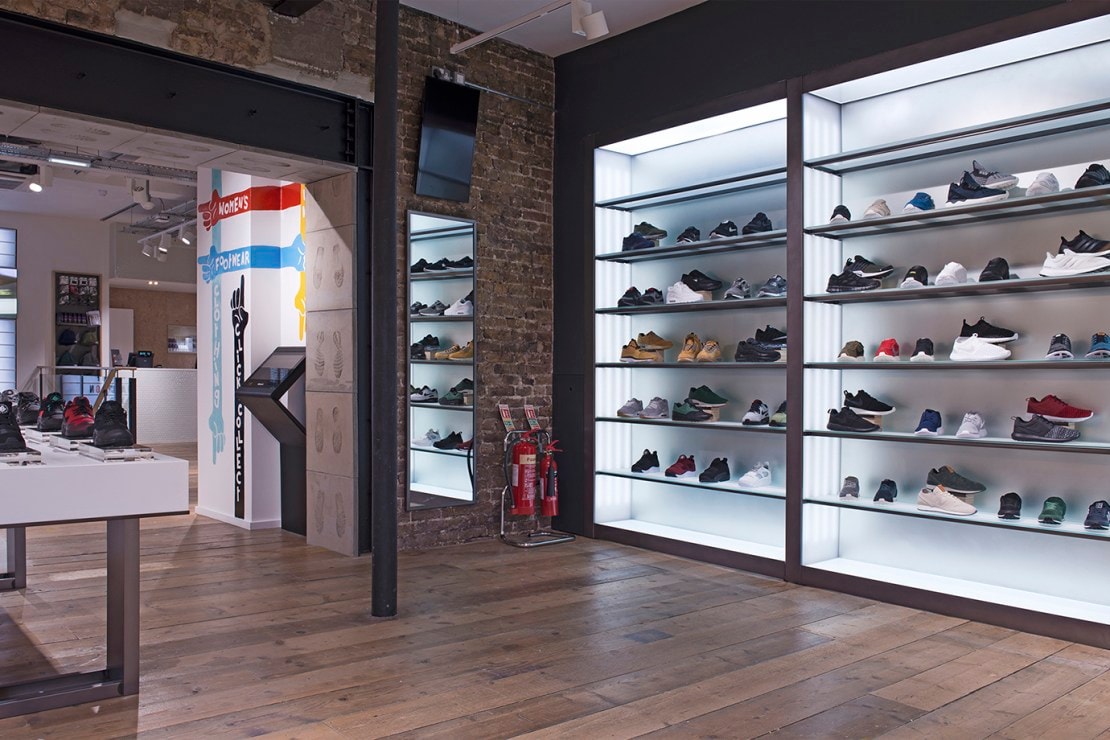 "The U.K. has always been there in its own way."
---
"The U.K. has always been there in its own way" explains the company's MD Paul Ruffles on the relaunch of its Carnaby Street store, "this may not have been lead by Jordan's or basketball, but running styles and particularly styles appropriated and nurtured by UK football culture have been there for decades and still are."
At this point it would be easy to write off Ruffles' spiel. The much-touted line that the The UK is unique and special when it comes to street style is a tired one in 2015, the great youth cults of the 80s and 90s have made way for a homogenised high street culture, and those willing to dress, act and behave differently have been once again forced underground. With Ruffles however, unlike many of his contemporaries and compatriots, there is a sense of understanding of the scale of his industry, an inkling that simply being a shopkeeper isn't going to cut it any more and that he needs to understand his customer base on an international scale.
"The more time you spend in individual countries and markets you will start to see and appreciate the nuances that become native to that area" he adds, fresh off a flight from New York where he was attending the launch of adidas Originals' new NMD silhouette, "so rather than saying 'Americanised", it's more globalised depending on where you want to take some inspiration from. A good proportion of the size? customers are very aware of what is happening out there and you can see people at different stages of developing their style, we just try to accommodate and service that development with our product selection and presentation."
---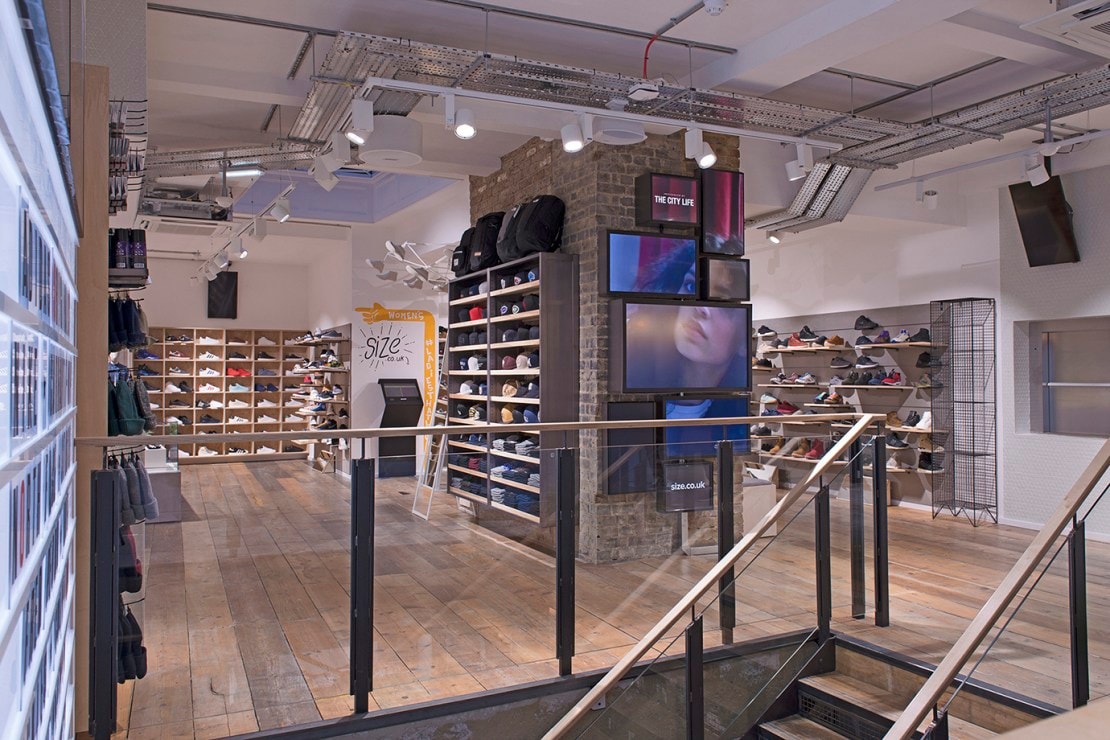 "Cities only 50 miles away from each other can be completely different in what sells."
---
With a clued-up customer base and ever-growing knowledge of the international market, it becomes obvious why size? is so successful. Whilst, for some, it is nice to reminisce about seeking out hard-to-find sneaker releases and trawling internet forums for likeminded individuals, for most convenience is king. size? provides this convenience, and it's through its comprehensive stock room that it keeps customers loyal an interested. It's what keeps the bills paid, and the boxes ticked. It is, of course, about knowing what the brands are doing.
"Nike have been slaying for time with that combination of innovation and retro but adidas have been making some power moves and have been causing a stir with Yeezy, Ultra Boost and NMD" Ruffles offers on the here-and-now of his business, "I have yet to see another country like the UK, especially for its size, where regional differences can be so drastic. Cities only 50 miles away from each other can be completely different in what sells. But think the global visibility of product and other markets has made the world a smaller place, and certain looks and style have become, on the surface and in general, global so to speak."
A refreshing and grounded voice in an increasingly tribal industry, Ruffles may not speak for the avid sneakerhead or the rabid collector but he, like the company he helms, speaks for the majority of sneaker wearers in the UK and perhaps Europe. size?'s ambitious global vision may alienate those with attics stuffed to the brim with suede and nubuck, but it has ultimately changed how an entire continent shops for sneakers, and that is a challenge which Ruffles relishes far more than impressing the die-hard dissenters.
---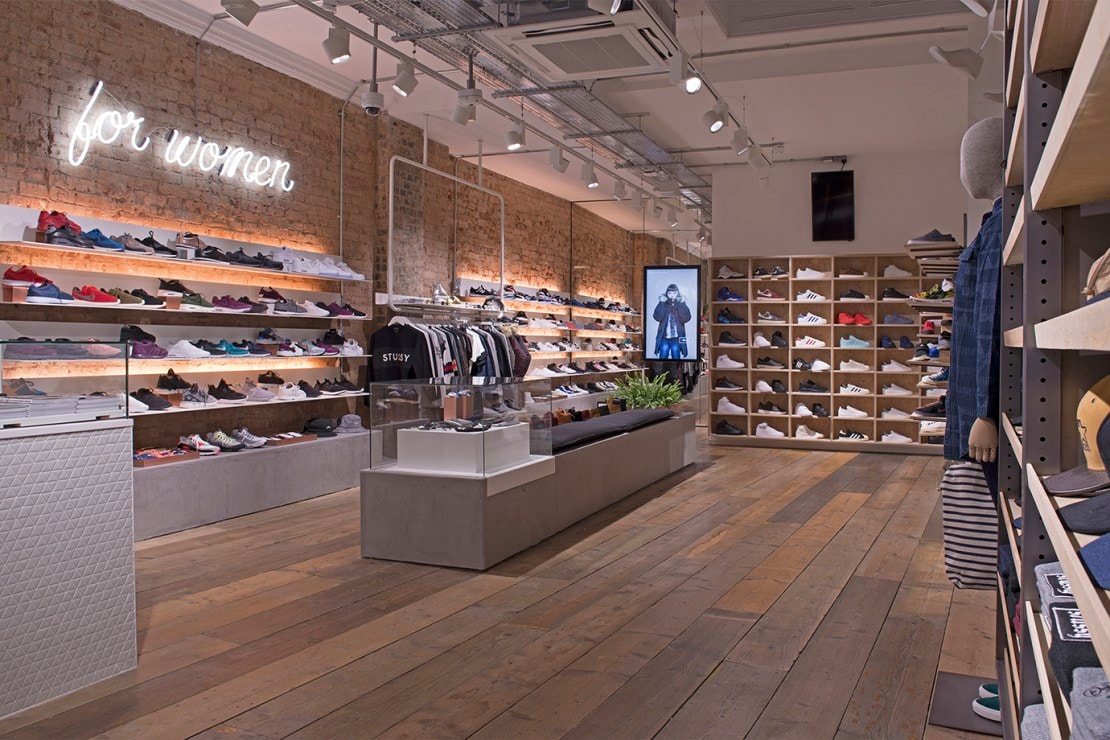 "We're still taking our ethos and store environments to other key cities across Europe."
---
"Product-wise we're developing a Dieter Rams strategy" he explains, referencing the German design lecturer famous for his 10 Principles of Good Design, "we're still taking our ethos and store environments to other key cities across Europe and maybe other territories as well" he adds, seemingly underscoring our chat with trademark ambition. "Oh and still working on some banging special projects."
With that Paul Ruffles returns to his work of bringing sneaker culture to a market that, at one time, seemed so reluctant to accept it. Whilst the UK will undoubtedly continue to retain it's unique aesthetic when it comes to street style, and "trainers" isn't going to become "sneakers" overnight, the example of size?, alongside that of a handful of exemplary independent sneaker boutiques, is one that will eventually become ubiquitous. A global business for a worldwide community of sneaker consumers.
Check out Paul's 15 favourite size? releases here and take a closer look at the new Carnaby Street space here.