Conor McGregor on Floyd Mayweather: "I Know If We Had a Fight I Would Win"
One of the most confident interviews you'll read from the interim featherweight champion.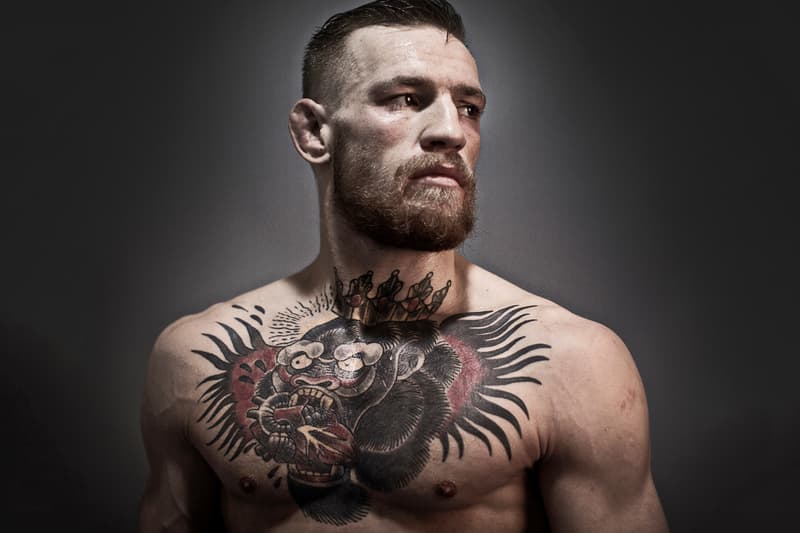 UFC superstar Conor McGregor recently sat down to give perhaps one of the most epic interviews ever on his career, his success and his future in fighting. The exuberant fighting Irishman is set to fight against the current featherweight champion Brazilian José Aldo, but due to a broken rib injury had to pull out of the fight, causing McGregor to go against Chad Mendes to acquire the interim featherweight champion. In the extensive interview with GQ, the prized fighter speaks on his life, what he's accomplished, how he views his success, and even remarks on a hypothetical (or not, since a video of him sparring with Hafþór Júlíus Björnsson aka Game of Thrones' "The Mountain" has since gone viral) fight between boxing champion Floyd Mayweather and the confidently-answered envisioned outcome. Read a few excerpts below and click here for the full interview.
AC: Who is the British prime minister?
CM: Is it Tony Blair? No, he's gone. It's – oh give me a second – Cameron, yeah, Cameron. I am just not interested. I think we should all focus on who we are, what we want to do, and do it. That is my way. I don't know why anyone would want to do that politics stuff.

AC: When was the last time you read a book?
CM: A full book? I don't know. I've read a lot of books on the laws of attraction, and in my home I have a big book on Muhammad Ali, which I've read, because he is like a hero of mine, but other than that, no, I'm not a big reader.

AC: If you don't beat Aldo in December…
CM: [Interrupts loudly.] What? What are you talking about? I have beaten him already. He is dead. Look at his body language. His body is weak and his mind is weaker. I can smell the lack of confidence. If the mind is not in it, the body won't follow. He cannot beat me. He knows it. It's why he went running last time.

AC: So you don't buy that it was a real injury that forced him to pull out? The x-rays looked like it.
CM: Nah! Real champions fight through adversity.

AC: Do you like money?
CM: I love money, and I love movement. I like what it has let me do for my family. I have paid off my mum and dad's mortgage, I've bought them two BMWs, they can have anything they want. I am buying a fleet of cars for myself. I have unemployed my sisters, they don't need to work, don't need to worry about a thing. I have unemployed my girlfriend. She had a job working for a cardiologist and now she can hang out, put her feet up, buy all the things she wants, have a nice breakfast with you and me in the Four Seasons. Any fights in families like mine come from everyone worrying about money. I'm taking all those worries away. That makes me feel happy, makes me really proud of what I do.

AC: Can MMA overtake boxing?
CM: You kidding me? It's gone, boxing's gone. What is there in boxing? Who is there to talk about, who is there that people go, "Yeah I want to fight him?", and fans go "I wanna see that fight"? There's Floyd Mayweather, and he is 38, 39, he's maybe got one fight left. What else is there? He'll have a last fight or two and a couple of guys will get a few million dollars, but way less than I'm gonna be getting in future. This sport is getting bigger all the time, and I am making it bigger.

AC: Do you respect Mayweather?
CM: I respect his business. He's made a lot of money, calls himself Money Mayweather, he has done that bit well. I don't know the guy. But I know if we had a fight I would win. I could box against him, give him a fight, but he couldn't fight against me, it is a different sport, ours is a tougher sport. He would not last a minute with me because of the things we have to do which they don't do in boxing.

AC: Could it happen, you and him?
CM: Who knows? He is getting on, but I would love that. I would love to fight him. Boxing is going to have to catch up with the kind of things UFC is doing. They're getting left behind.

AC: Mayweather told me he never ever thinks about losing. Are you the same?
CM: I am now. I thought about losing twice, and guess what, they were the fights I lost. I've learned to push all those kind of thoughts right out of my head.

AC: But fear of losing can be a great motivator.
CM: Sure, but not if it drains your confidence. One of the reasons I got into this game was because I wanted to learn how to get myself comfortable in uncomfortable situations. I grew up in a tough area of Dublin, and fighting was just part of your life. Boys fight, and I won some, but I lost a lot too, and I didn't like that, I didn't like that feeling of not knowing whether I was in danger, in trouble. So even back then, I studied every move, I became fascinated by thinking what I could have done differently. And I take that approach now as a professional. I am on it, all the time, never stop thinking, learning. You don't get to be world champion unless you do that…

AC: Interim…
CM: F*** that, what do you mean interim? Aldo and I had a date, he didn't show, someone else took his place, I beat him, easy. So don't give me interim.