Jaden Smith Says That He Will Be "Gone" in Ten Years
"I've been planning that since I was like 13."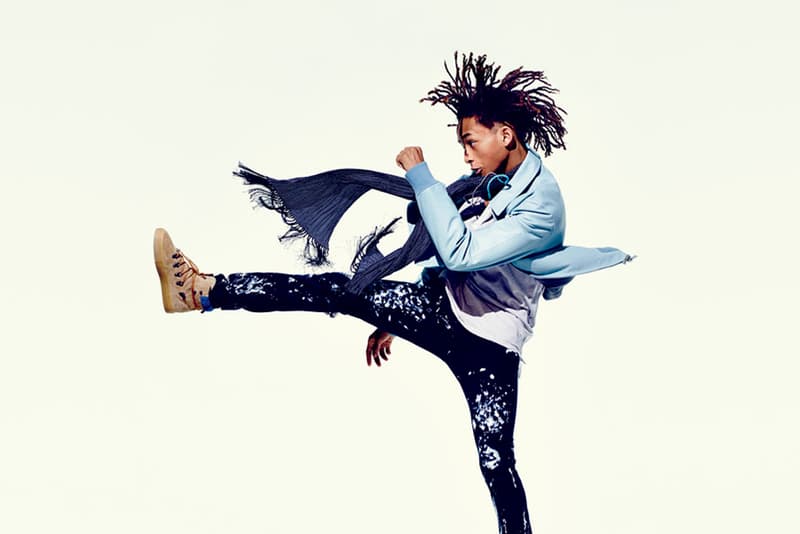 GQ recently invited Jaden Smith for a conversation. Like most of his previous interviews, the 17-year-old son of Will Smith does not hesitate to describe his very unconventional thoughts in very much detail. Topics visited in this include people who think he is crazy, pyramid building, helping the world, planning to disappear in the future, and going to college. Check out a few highlights below and visit GQ for the full feature.
On people who think he's crazy
"It's fun, bro. That's what a lot of people don't realize. It's fun. It's so much fun. It's the best thing. People think you're crazy—I feel like it's an honor, actually, for people to think I'm crazy. Because they thought Galileo was crazy, too, you know what I'm saying? I don't think I'm as revolutionary as Galileo, but I don't think I'm not as revolutionary as Galileo."

On building a pyramid
"It's at my parents' house. Half of a pyramid. The tip is missing, but the whole structural thing is built, and it sits at 12.5 feet tall. I'll Instagram a picture of it once this comes out, so people know what I'm talking about. It's supposed to be 14 feet tall or 16 feet tall, but the tip of the Giza pyramid is actually cut off. There's no tip. It's missing. So I was like, 'I want to have a missing tip on here, too.' Because I copied the exact 57.1 degrees that the Giza pyramid is."

On helping the world
"Helping people. But through art installations. It'll be like, 'This just happened that helped a bunch of people over here. We don't know who did it, but these symbols and things were left around, so we can only guess that it's Jaden and the squad.' You know what I'm saying? So I'm just dedicating my whole life to helping the world."

On his plan to disappear
"They'll see me pop up, but they'll be like, 'Where'd you come from?' No one will know. No one will know where I'm at. No one will know who I'm with. No one will know what I'm doing. I've been planning that since I was like 13."

On college
"I'll go to college. I want to set up offices at MIT just so I can learn and bring in new technologies into the world. Definitely sit in on lectures in college. I've done that already. Like, go sit in that, you know, USC, UCLA, MIT, you know, anything I can get my hands on. I'll go to open schools, eventually, when I'm like 25 or something. Multiple schools. At the same time, around the world. So, like, two in the United States, two in Europe, two in China, India, Russia, Africa, all at the same time."
Join Our Discussions on Discord
The HYPEBEAST Discord Server is a community where conversations on cultural topics can be taken further.