Folk Founder Cathal McAteer Talks Personal Style
The importance of simplicity.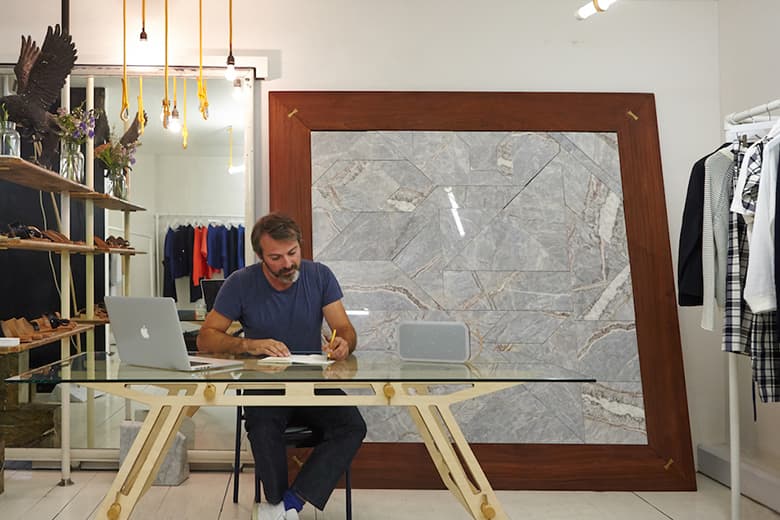 Now a stalwart of British menswear and consistently maturing and developing with each passing season, Folk is a label well worth the attention of a wider audience. Esquire caught up with creative director and brand founder, Cathal McAteer, to discuss his personal style, how Dries Van Noten summed up his personal style best and to hear about why he used to get called Trampy.
His Nickname "Trampy"
My nickname in the first shop I worked in was 'Trampy', because I wore expensive clothes, but they looked a bit disheveled. I've always had the tag of looking a bit unkempt. So my own style has a slight roughness to it.

Dries Van Noten
I remember reading an interview with Dries Van Noten, and it's always stuck with me. He was asked how he most liked to see his clothes worn, and he said one of his beautiful waistcoats, for example, looked best with a coat from Oxfam. That sums up my style.

Being Comfortable
Style is about looking comfortable, and when it's forced, no matter how cool or expensive the garment is, it just looks wack; like a dog's dinner.

Personal Style
I cycle everyday and I have three kids, so there's a functionality element to my day-to-day wardrobe. I wear nice jeans, and well-cut T-shirts.

I keep my wardrobe very lean. I have a lock up where I keep a few cherished pieces, but there's a massive churn – my friends do very well out of it. I want to wear the new fabrics and fits that Folk creates. All my great suits have gone, I'd rather give things away than not have them worn…

… but I had a wonderful sheepskin jacket that I gave to my friend, and when I got it back a year later it looked amazing, so there's a benefit to being generous.

Five Wardrobe Essentials
The five essentials of a man's wardrobe include one of our 'Three Four' coats, an incredible white shirt, a navy cashmere jumper, really good jeans and a great pair of shoes. That outfit will look very dapper in any situation. But there needs to be a few extra bits that add a little flamboyance too – a beautiful hat, or scarf, for example.
Read the full interview here and head to Folk's website for a closer look at Cathal's work.
Join Our Discussions on Discord
The HYPEBEAST Discord Server is a community where conversations on cultural topics can be taken further.