Essentials: Maxime Buchi
Expressing more than just ink on skin.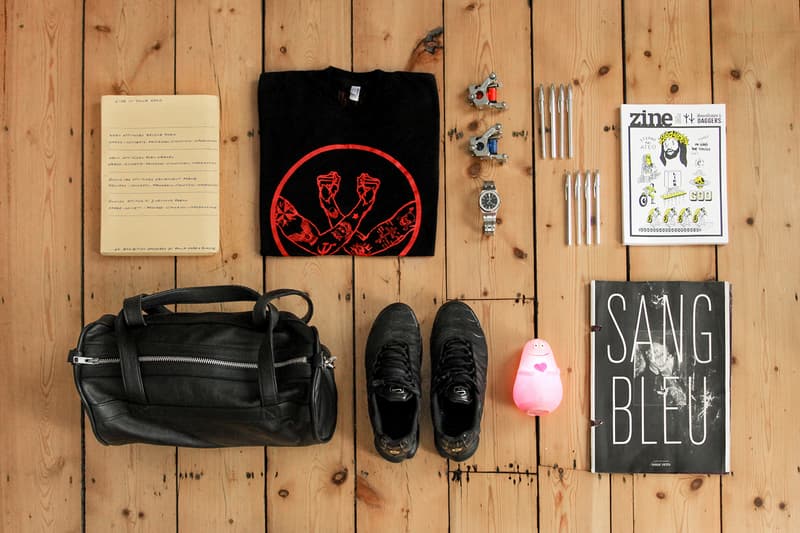 When you have a schedule that's going to be booked a lot more than you can expect, its key to travel with the necessities you need to complete the tasks that you stow upon yourself. Astounding artist Maxime Buchi is looked upon as London's Mr. Do It All when it comes to his artistry. Buchi enjoys work in the creative fields of tattooing, clothing design and editorial, sharing his imaginative thoughts with many people. Recently opening London tattoo shop Sang Bleu, over time Buchi has become the one of the most popular tattoo artists with proof in a year long waiting list and specific selectivity in who he chooses to work with. A highly notable name that he's worked with is the likes of Kanye West, the canvas of his mother and daughter's birthdates on both of his wrists.
Staying punctual is key within Maxine Buchi's busy timetable and one Essential that gets him through the day is his Audemars Piguet Royal Oak ref 15400ST. Designed in the 70s, the watch provides a sense of timelessness while getting the job done in the comfort field. Additionally, being a tattoo artist is accompanied by spontaneous ideas and inspiration. As a result, Buchi makes sure to keep BIC pens at his disposal at all times. Not only does he value them in order to help boost his profession, he also see the value in your ordinary writing tool which generates a sense of appreciation. Buchi also manages to keep his footwear as a reflection of his personal style with the Nike Air Max Plus Tn. Straying away from the sense of retro sneakers is a main focus he tries to emphasize as he'd buys several pairs to add to his personal rotation each year. Buchi also keeps a accessory bag by The Leather Man NYC handy in order to store items such as his tattoo machine by Bert Krak in safe keeping and in style. Click here for Essentials to other creatives in our culture and head here to see Maxime's work with the Swallows & Daggers zine.