Listen to Twin Atlantic's New Song "Cell Mate"
Scottish alt-rockers Twin Atlantic caught the music world off guard when "Heart And Soul" dropped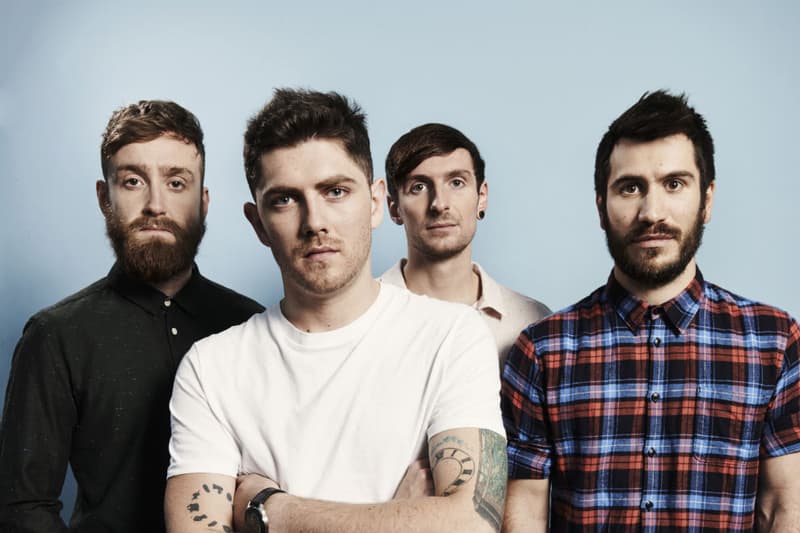 Scottish alt-rockers Twin Atlantic caught the music world off guard when "Heart And Soul" dropped and became a hit. It was recently dubbed the "hottest record in the world" by BBC 1's Zane Lowe back in March and since then fellas have been sharing not only more of their music, but also their story. Today, we have the opportunity to share both of those things with you through this new interview and song premiere of "Cell Mate" which can be found on their new Great Divide album that released today and is available here.
How did you link up with Red Bull Records and why did you choose to move with them?
We're actually not completely sure how they found out about us! We've heard different stories about how they heard about us because they started out as an American label, but they came to see us at an outdoor snowboarding festival in London on a bitterly cold day in October. We're not really into snowboarding so the whole day was quite weird for us. It was so cold outdoors that I remember we really went for it during our set, but that was purely for our own health so we didn't catch hypothermia. We met them after we played and they seemed really passionate about our music and knew lots about us which seemed really promising. They seemed to have a passion for music that other labels we'd met didn't really seem to have, and as they were a new label they seemed genuinely into nurturing artists. That's why we went with them, and it looks like we made the right decision.
Coming from the UK, how did you see the differences between the music markets in the US and in Scotland and UK in general? Would you say there is a different type of "consumer behavior" in regards to finding new music?
It's hard for me to say, as our main experience of the US and UK markets is at the shows we play, and music is quite universal in that respect. We have fans in the US who are just as passionate about us as the ones back in Scotland and the rest of the UK. The internet is also so universal nowadays too, that I think most people are finding out about new bands through those channels. The only difference we've found is in the way radio works in the UK compared the US. America is so big that you could have big radio support in one city and get 3 hours away and nobody has heard of you. In the UK radio is more like a blanket, so you can see the support growing across the whole place as you get played on the radio more.
You are about to release your new LP Great Divide. What makes it different your previous releases?
It's going to sound like a cliched answer, but it just is more mature and focused. When I listen to it we still sound youthful and exciting, but there's a maturity and a confidence that wasn't there before. We perhaps used to force out an attitude that made us sound like we were, but it feels like now we are without having to try. I don't mean that in a cocky way, more that we are comfortable in our roles in the band and with our songwriting.
With titles like "Actions That Echo," "Why Won't We Change," "Globalisation," "Rest In Pieces," one could easily assume that this is your most critical release to date. Would you agree?
(Laughs) It would appear so from those titles! I guess there are quite a few call to arms songs on there that are battling against something, but there's also a lot of songs on there that are upbeat and positive. We try not to take ourselves too seriously – there's things we really care about and are passionate about, but we try not to get too overbearing with it. You want to get your views across to people, but you don't want to batter them over the head with it either. Music is meant to be an escape after all.
Why did you chose "Heart and Soul" as your first single? And what can you tell us about the concept for the music video?
We chose it because it seemed like the most exciting song to re-introduce us to people with. It sounded different to anything we'd written before, but there was still a familiarity there too that wouldn't completely alienate people. We have no interest in re-hashing things we've done before, and this seemed like the best song to demonstrate that with.
We worked with a director called Jonas Odell on the video, and the concept was completely his idea. He wanted a video that matched the energy and vibe of the song, and we think he did an amazing job. It's like an assault on the senses, really vibrant and fun.
Will you tour this album? If so, where and what can we expect from your stage performance?
Most definitely! Playing shows is my favourite part of being in a band by far. We actually just announced a UK tour this morning for October, and we'll be in Europe for all of November. And we're hoping to be back in the US in December. And after that i'm sure there'll be a lot more in support of this album. We pride ourselves on our live show, we've always put a lot of effort into it – people are paying to watch your band so you want to make sure they leave feeling satisfied. We have so much passion on stage, I think that always comes across.
What is the key to longevity in the music business?
I really don't know, i'd hope it would be to just keep writing good music? But I don't think it's as simple as that. You have to keep on top of what's culturally exciting and try and move with it, without forgetting what makes you happy along the way. Perhaps if we're still doing this in 20 years i'll know a more definitive answer!
What is success to you?
Success to me is spending your life doing something you love, and being happy. If we didn't make another penny from this band but I still love what i'm doing, i'd consider my life a success. Success is a personal thing to me, I feel as successful as other people my age who have made 100 times as much money as I have, because i'm happy. I have my dream job where I get to travel about with my friends, a wonderful girlfriend and family, and other things that keep me occupied when we're at home. Now, THAT is a cheesy answer.