Dead Bolt's Battle of the Bands Presents the Top Contenders (6-10)
Today we present the next five contenders for Dead Bolt winemakers's Battle of the Band initiative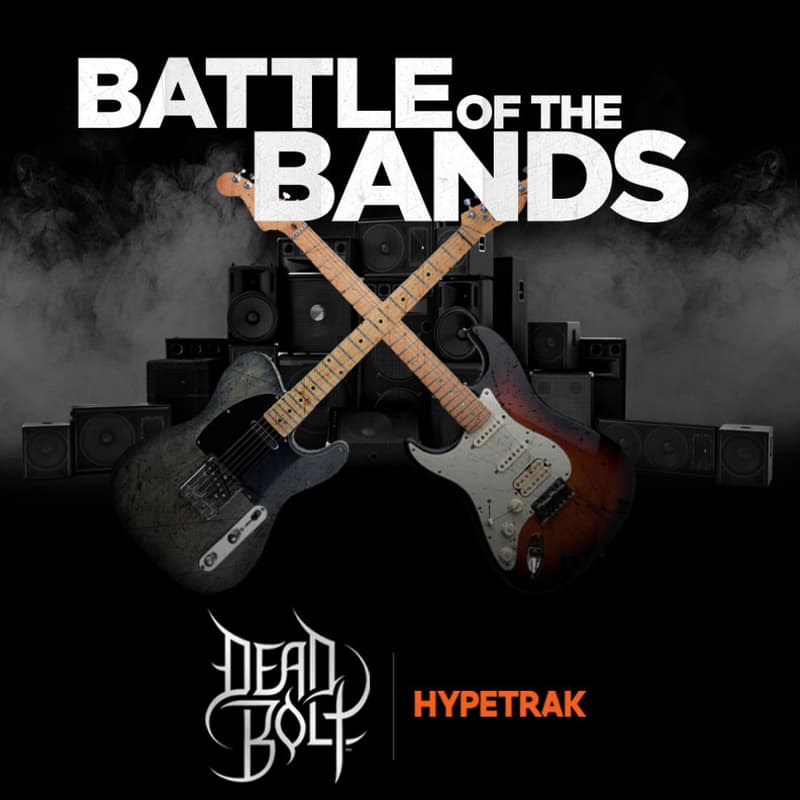 Today we present the next five contenders for Dead Bolt winemakers's Battle of the Band initiative that offers up-and-coming music acts the chance to perform at an event of a lifetime featuring a major headlining act in San Francisco. Read through the first five contender profiles below and submit your vote here for a chance to win a guitar.
The Teen Age


SoundCloud
Brooklyn quartet, The Teen Age, recently premiered a new video for "Sleep Alone," the first song from upcoming EP Ways To Adapt. The collection will be released digitally via PaperCup Music on June 3rd. Formed in a Brooklyn basement in late 2012, The Teen Age plays a mix of 70′s inspired punk and garage-rock. The group made their live debut in January 2013, supporting Palma Violets, and released their first single "Ventura", (recorded at Converse Rubber Tracks Studio in Williamsburg, Brooklyn) last July. "Ventura" showcased the band's particular brand of '"Doo Wop Garage" featuring crunchy guitars and sing-along ready choruses, destined to have you dancing. The Teen Age performed at the Savannah Stopover and SXSW Music Festival this March. The band will play several dates this Spring/Summer in support of "Ways To Adapt" including Northside Festival 2014.
_________________________________________________________________________________________
Mime Game


SoundCloud
FRONT MAN, GUITARIST AND LYRICIST DILLON DEVOE CREATED MIME GAME AS A SIDE PROJECT IN 2007 WHILE STILL FRONT MAN FOR THE THEN WARNER BROTHER-SIGNED GROUP, JOSEPHINE COLLECTIVE. WHAT STARTED AS A SOLO PROJECT, PERSONAL EXPLORATION AND SORT OF MUSICAL "HOME BIRTH" FOR DEVOE, MIME GAME HAS GROWN TO AN INSPIRED, ENERGY-PACKED FOUR-MAN TROUPE OF MUSICIANS PRODUCING KEEP-IT-REAL, FOLK-TINGED, SOULFUL ALTERNATIVE ROCK INSPIRED BY BOTH 90S AND 00S ALT-ROCK BANDS AND BY A DESIRE TO CREATE MUSIC WITH DEPTH – ON MULTIPLE LEVELS. "I GOT MY FIRST GUITAR WHEN I WAS 7, STARTED WRITING SONGS AND SPENT MY EARLY YEARS CONSTANTLY PULLING PEOPLE TOGETHER TO MAKE MUSIC," SAYS DEVOE. "WHEN WARNER BROTHERS SIGNED JOSEPHINE COLLECTIVE, I WAS 18, AND IT WAS THE BEGINNING OF THE JOURNEY. MUSIC HAS ALWAYS BEEN MY LIFE AND LIFE SAVER. MIME GAME REPRESENTS A MUSICAL EVOLUTION AND A CHANCE TO SHARE NEW LIFE RHYTHM WITH AS MANY PEOPLE AS POSSIBLE." IN FORMING MIME GAME, DEVOE PULLED TOGETHER A GROUP OF MUSICIANS WHO LIKE TO SAY THEY ARE BROTHERS FROM DIFFERENT MOTHERS, INDEPENDENTLY AND COLLECTIVELY COMMITTED TO MAKING MUSIC FROM THE SOUL THAT ALSO ROCKS EVERY HOUSE THEY PLAY. HOME-GROWN IN KANSAS, THE BAND SPENT SOME TIME IN ATLANTA IN 2012 WHERE THEY PICKED UP DALTON GOMEZ (LEAD GUITAR). JOSEPH BRUNK (BASS) AND DUNCAN BURNETT (DRUMS) CAME ON BOARD WHEN THE GROUP RETURNED TO KANSAS IN 2013. THE FACT THAT THE BAND'S PRACTICE SPACE IS A DOCTOR'S OFFICE IN THE KANSAS HEARTLAND IS IN KEEPING WITH THE POETIC, HEALING UNDERTONES OF MIME GAME'S LYRICS AND THE HEART BEAT-ELEVATING GUITAR RIFFS AND DRUM SOLOS THAT GET LISTENERS ON THEIR FEET. MIME GAME TRAVELED TO LA IN 2013 TO WORK WITH RICK PARKER – WHO ALSO PRODUCED DANDY WARHOLS, VON BONDIES, BLACK REBEL MOTORCYCLE CLUB, JEWEL AND SUGAR CULT – TO RECORD THEIR FIRST EP TITLED "DO YOUR WORK." THE DRUMS WERE RECORDED AT SCOTT WEILAND'S (STONE TEMPLE PILOTS) STUDIO, LAVISH, IN BURBANK. WITH INSPIRED OFFERINGS FROM EVERY BAND MEMBER, "DO YOUR WORK" SHOWCASES INSIGHTFUL LYRICS, STRONG RHYTHMS, MEATY BASS LINES AND TECHNICAL LEADS. UNDER THE GUN CHOSE "DO YOUR WORK" AS #1 EP IN 2013 SAYING IT "BURSTS WITH SATISFYING EMOTION THROUGH EACH NOTE." THE REVIEW WENT ON TO SAY, "THE TRACK 'SON' IS BUILT WITH A STRUCTURE WORTHY OF ROCK N' ROLL PRAISE. THE VERSES CONTAIN A NATURAL PROGRESSION, THE CHORUS IGNITES A FIRE THROUGH THE SHREDDING GUITAR AND PIERCING MELODY, THE BRIDGE BUILDS THE SONG UP FOR A PERFECT ENDING. EACH SONG HOLDS A HIGH VALUE OF HONESTY AND TRANSPARENCY TO THE LISTENER … A BAND READY TO SEPARATE THEMSELVES FROM THE TRENCHES OF MEDIOCRE ALTERNATIVE ACTS."
ALSO A BAND ON A MISSION AND NOT INCLINED TO WASTE TIME, MIME GAME SET OUT IN EARNEST IN 2013 TO SHARE THEIR INSPIRED SOUND ON A 38-DAY TOUR COVERING THE EASTERN HALF OF THE COUNTRY, WHICH INCLUDED A FEATURED SPOT IN THE 2013 MUSIC SAVES LIVES SHOWCASE. IN THEIR FIRST YEAR, MIME GAME FULFILLED IMPORTANT GOALS, INCLUDING GROWING A LOYAL FAN BASE; ROCKING VENUES FROM HARLEM, NYC TO HANNIBAL, MO.; AND ESTABLISHING THE BAND AS ONE THAT PERSONIFIES THE TRANSFORMATIVE POWER OF MUSIC AND PASSES THAT POWER ALONG TO ITS FANS. QUICKLY GAINING THE RESPECT AND ATTENTION OF FELLOW MUSICIANS, MIME GAME AND HAS SHARED THE STAGE WITH NOTABLE BANDS GO RADIO, JUKEBOX THE GHOST, THE DANGEROUS SUMMER, MOON TAXI, HOCKEY, FROM INDIAN LAKES, THE ROYALTY, STAGES AND STEREOS, YOU ME AND APOLLO. WITH ENDORSEMENTS FROM DEAD BOLT WINE, APPLE TREE PERCUSSION AND SALUDA AND FEATURES IN FRONT MAGAZINE (FEATURED UNSIGNED BAND), UNDER THE GUN REVIEW (#1 EP OF 2013), THE DELIKC (TOP 13 SONGS OF 2013) AND THE PITCH (2013 MUSIC FORECAST), MIME GAME IS SURPRISED BY HOW QUICKLY ITS LINEUP OF SUPPORTERS IS GROWING. THE BAND IS FUELED BY THE SUPPORT, OF COURSE, BUT MORE IMPORTANTLY BY THEIR OWN RELENTLESS, TENACIOUS DESIRE TO STAY TRUE TO THE MESSAGE INHERENT IN THE EPS TITLE TRACK … DO YOUR WORK. "MIME GAME ISN'T PLAYING ANY GAMES OR SILENTLY RESTING," SAID DEVOE. "WE LOVE MAKING MUSIC AND GIVING PEOPLE MUSIC THEY CAN RELATE WITH, MOVE TO AND REMEMBER. PEOPLE AT SHOWS TELL US ALL THE TIME THAT THEY REALLY FEEL SOMETHING WHEN THEY LISTEN TO OUR SONGS. THAT'S THE KIND OF THING THAT MAKES IT CLEAR WE WOULDN'T WANT TO BE DOING ANYTHING ELSE. WE MAY HAVE A FUNNY NAME, BUT WE'RE HERE TO STAY."
_________________________________________________________________________________________
The Vantage


SoundCloud
Sitting in a hotel room outside of New York City, founding members James Mason (Vocals) and Jackson Wise (Guitar & Vocals) finished writing what would become The Vantage's debut single "On My Way." They had no idea that their anthemic, upbeat track would receive over 200K views on SoundCloud within the next year. From that moment on they haven't looked back, and are anticipating a long road ahead. Fast-forward a year and it's easy to see the gears are beginning to turn. In March of 2013, the band played their first show at SXSW alongside The Dangerous Summer, American Authors, and The Mowgli's. The duo released their Summer EP on May 28th, 2013. AbsolutePunk.net gave the EP an 8/10 saying, "Mason and Wise have finally recognized their potential and embraced it with The Vantage…as each track showcases a different skill from the two musicians." That same week, the group reached the #2 spot on Billboard's Next Big Sound Fastest Accelerating Artist Chart. In July, "On My Way" was featured in the ABC Family series premiere of The Vineyard. The band has gone on to be featured on MTV programming. With no plans of losing the momentum, The Vantage returned to the studio in August 2013 to finish recording their debut record, which they hope to release by the spring of 2014. They re-released their EP under the new title This Time Now November 26th, 2014 along with a stop motion music video for "On My Way." It's not hard to see these guys have a rare drive and dedication to making music with the talent to match. Watch out for them because The Vantage is on the horizon.
_________________________________________________________________________________________
Clairaudients


SoundCloud
Kansas City based indie rock band Clairaudients began their journey in the summer of 2012. After 5 years under the moniker "The Atlantic" The band found themselves in a new chapter of their artistic endeavor worthy of a new title. In the spirit of rebirth they have begun to reinvent and reinterpret their sound and surroundings with an increasingly organic intention. Clairaudients' raw and infectious live show has impressed audiences on a national scale, from performing at Van's Warped Tour, South By Southwest Music Festival, and Middle of the Map Fest, to supporting major touring acts such as Lovedrug, The Scene Aesthetic, and The Mowglis (to name just a few). In May 2013, the band released their much anticipated debut "I'm A Loudmouth, You're A Puppet" and are currently writing their follow-up full length, expected Summer 2014.
_________________________________________________________________________________________
Waking Heros


SoundCloud
Waking Heroes existed in the minds and imaginations of founding members Danny Roselle and Mikey Vranek long before it actually became a reality. It manifested itself somewhere in the back of a tour van while driving across the country on the way to one more gig, in one more city, one more year in a row. "It was a chance for us to take a step back, look at what we had and think about what we wanted to have. Touring for 5 straight years with our previous band we've learned a lot, and certainly have lived a lot. We've had the chance to share the stage with some of the biggest and coolest performers in rock music such as; The Goo Goo Dolls, Bowling For Soup, Bon Jovi, Sugarcult, Lifehouse, The Ataris, We The Kings, All Time Low, and so many more. We've made a ton of great friends, who we now are honored to consider family." Joining Danny and Mikey on this new journey is Jacksonville native, bassist, Justin Pritchard, while rounding out this outfit is newest addition, drummer, Tim Anderson. Having just recently released their EP One Fight to Fight, these assiduous four are already back in their studio writing their next release and preparing one of the most energetic and commanding live rock performances to date.