Dead Bolt's Battle of the Bands Presents the Top Contenders (1-5)
As you should know, we have teamed up with Dead Bolt winemakers to offer up-and-coming music acts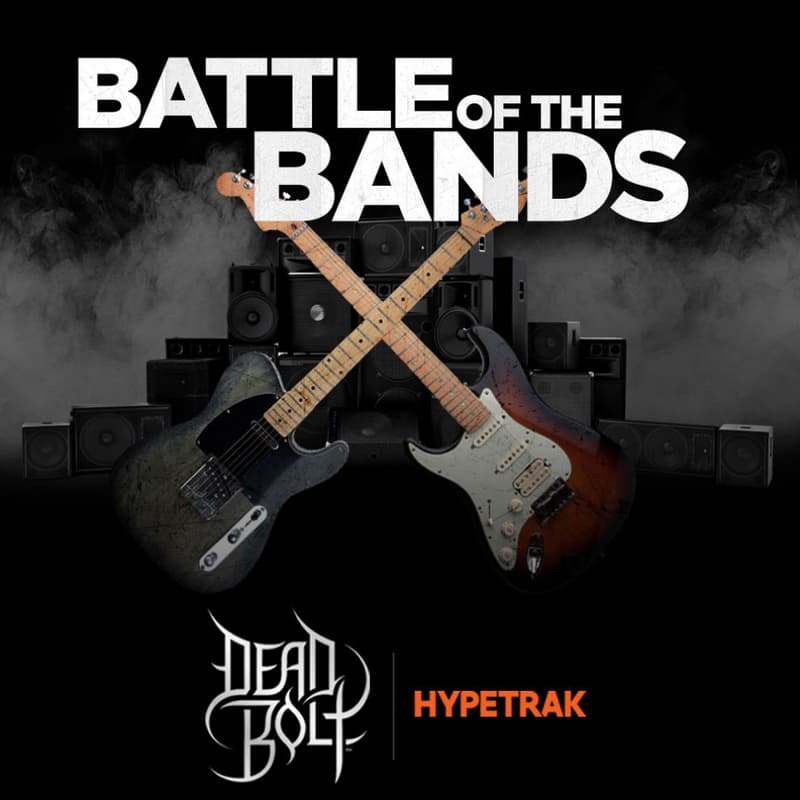 As you should know, we have teamed up with Dead Bolt winemakers to offer up-and-coming music acts the chance to perform at an event of a lifetime featuring a major headlining act in San Francisco. After presenting the Top Ten contenders for this special trip to San Francisco, we wanted to offer you a more detailed look at each act to facilitate your vote decision. Read through the first five contender profiles below and submit your vote here for a chance to win a guitar.
_________________________________________________________________________________________
Stargazy


SoundCloud
Stargazy are a New York City rock band originating from Long Island, NY and Pierre, SD. The band consists of Michael Romano, Jared Lindbloom, Michael Panico, Alex Shifrin, Rocco Romanelli and Brian Garbedian. "Brooklyn's Stargazy have been playing regularly for about three years, honing their brand of anthemic pop, characterized by big choruses and a jet stream guitar sound." – BrooklynVegan. The band is releasing their second EP "The Fashion" on May 27 and will be playing shows this summer around NYC in support of the album.
CeaseFire


SoundCloud
The sum total of Ceasefire can be broken down into the individual parts that compose this project of passion. Where music is just a pastime or hobby for some, Ray Alexander (vocals), Kamren Alexander (guitar), Tristan Montgomery (bass) and Anthony Hainsworth (drums) believe in it as a lifestyle. And while the band's name may indicate a pause in the action, the music is a bombastic expression of the human experience and they've only just begun. Ceasefire have one goal and that is to be a sonic force of a rock band that moves the head as well as the strings of the heart. Formed in 2011 and based in Orange County, CA they are known foremost for their incredible live performances, Ray's captivating vocal presence and Kamren's razor sharp guitar hooks that are part art, part science. Theirs is a sound that channels 80s new wave, 90s arena rock and elements of homage to their broad stretch of influences which range from Joy Division to Oasis, Morrissey to Pink Floyd and the Cure to ELO (yes, that ELO). How Ceasefire came to be follows the same pattern as many other bands: we have the Myspace classifieds to thank for Anthony and from a mutual friend's astute referral came Tristan Montgomery. Brothers Ray and Kamren seemed to know at an early age that music was their future and have become the band's primary lyricists and the songs are what their feelings sound like. A melody, a guitar tone, a chord or an audio experiment can be the catalyst for what eventually becomes the next dynamic song like the post-punk air strike, "Heaven Knows." "This is a band that plays the same sort of rock that fills arenas at every U2 show"-Orange County Music Examiner – And arenas are what Ceasefire is aiming for. In 2013 the boys entered the studio with Josh Mosser (Imagine Dragons, Iron Man 3: Heroes Fall, Christina Aguilera, Skylar Grey) and Mark Needham (Imagine Dragons, Neon Trees, Walk the Moon, Youngblood Hawke) to record
their first single, "In The Dead Of Night," which is one of their favorite and most propulsive songs to play live. They've shared the stage with Everclear, Daughtry and Dramarama, were nominated for Best Live Band at the 2012 OC Music Awards and have had their music featured in episodes MTV programs such as The Hills, The City and The Real World. This is a band on the ascent.Welcome to Ceasefire.
_________________________________________________________________________________________
The Black Cadillacs


SoundCloud
The Black Cadillacs are a blues-based indie rock band from Knoxville, TN. With members from each of Tennessee's major cities, the state's famous sounds are well represented. Nashville's recent brand of rock 'n' roll revival takes center stage, accented by authentic Memphis blues/soul and a hint of Knoxville country distill into a sound rich and southern as it is alive. Alongside their native influences, The Black Cadillacs know their rock history. "Bands like The Rolling Stones, The Who and Pink Floyd laid the foundation for us. With the success of artists and bands like Jack White and My Morning Jacket, it's easy to see that blues-based rock n' roll still resonates with audiences," says guitarist, John Phillips. "We were inspired by the same bands and we're just trying to keep those sounds alive in our own way." From Memphis to Knoxville, and from Jagger to Jack White, The Black Cadillacs' label debut Run pulls together more than 400 miles and 40 years worth of influences for a thrilling 11 track album. "Run is a veritable tapestry of lush blues and Southern soul, with Phillips and guitarist Matthew Hyrka weaving varicolored webs of texture and melody over the solid foundation of bassist Philip Anderson and drummer Adam Bonomo," says Metropulse's Mike Gibson.
Released in June 2012, Run represents the band's honest attempt to capture the dynamic energy of their live performance. The instrumentation was tracked live, with the entire band in one room, the way the songs were written and perfected on the road. The results are undeniable. Tracks from Run have been featured in several major Network TV shows including, Nashville, Whitney, Dallas, Army Wives, and Necessary Roughness. Their live set is where this well-orchestrated yet explosive blend comes to life. Playing more than 100 dates in the past year, including sets at SXSW 2013, The Black Cadillacs know when to let frontman Will Horton lose and when to join him with a flurry of sound. "The group displayed a repertoire (old and new) of grooves, rockers and ballads," says Red Bull Sound Select about their SXSW performances. "They are often best when Horton showcases his voice over spare instrumentation, such as in a new song 'Truth,' when it's accompanied in the verses by a single plucked guitar. When the song hits the chorus and Horton pleads, "Why don't you give me some truth?" over the full band — the reunion is epic." The Black Cadillacs are Will Horton (Lead Vocals, Acoustic Guitar, Harmonica), Matthew Hyrka (Lead Guitar), Philip Anderson (Bass Guitar), John Phillips (Rhythm Guitar), and Adam Bonomo (Drums). For tour dates, media, and more, visit theblackcadillacs.com.
_________________________________________________________________________________________
Born Cages


SoundCloud
For Born Cages, freedom stands paramount. The New York-based alternative rock outfit thrives on creatively seeking that freedom, whether it's in the studio or on stage. There's no rulebook. There's no template. There's simply unhindered art in its purest form when Vlad Holiday [lead vocals/guitar], Amanda Carl [keyboards/backing vocals], Steve Kellner [bass guitar/backing vocals], and Dave Tantao [drums] converge. As a result of that shared boundless mentality, a delicate alchemy of raw guitars and shimmering electronics powers I'm Glad I'm Not Me, their forthcoming full-length debut for Razor & Tie. All boundaries and chains might just be broken in the process. In 2011, these four musicians were naturally drawn to each other. Each had made his or her own imprint on the fertile New York scene, and their bond proved instantaneous. Within their first year together the band's self-released online demos stirred major buzz. Soon, NYC's most prominent rock radio station Q104.3FM started giving them frequent airtime, New Music Seminar dubbed them an "Artist on the Verge," their in-studio performance at the Gibson showroom was featured in Times Square, and they shared the stage with the legendary Guns N' Roses for two sold out shows.
Signing with Razor & Tie in 2012, the quartet commenced work on I'm Glad I'm Not Me with producer Jon Kaplan at Brooklyn's Mission Sound Studios [Metric, Arctic Monkeys]. They further honed their singular and signature style. "It's loud, ethereal, and fuzzy," exclaims Holiday. "The perfect balance of electronic and guitar music has yet to be found. We're striving to achieve that balance. The mood and energy of the band are very real. The music is mysterious, exciting, truthful, embellished, vague, specific, dark, and happy. In other words, it's life." Everything comes alive on tracks like "Don't Look Back." Literally plucked from a dream Holiday had one night, the song teeters from elegantly entrancing keys to an anthemic groove just before erupting into a scorching solo. "Have you heard a song so fucking great you wished you could go back in time and write it yourself?" he asks. "I had a dream one night about this song. The band playing it was a fictitious, blurry symbol of youth and revolt. I woke up from the dream and still had the melody in my head. I picked up my guitar and recorded the main riff in less than a minute. I guess in a way, I plagiarized my subconscious." Born Cages exist to capture moments like that. Rather than suppressing any emotions, they embrace them no matter how wild. It's an ethos encapsulated within their very name. "The band name is a symbol for discontentment," reveals the singer. "It's being unsatisfied with what you're given, but actually doing something about it. Cages aren't meant to be escaped from unless there's extreme passion and motivation. It's a symbol which alone is meaningless, but with enough people can change the world." There's no shortage of passion or motivation when it comes to the group's songs, and they might just wake up an entire culture in need of revolution. "There's a line in Woody Allen's Midnight in Paris that I keep coming back to," says Holiday. "It goes, 'The artist's job is not to succumb to despair but to find an antidote for the emptiness of existence.' That's our attempt with this album. I want the listener to get inspired to live without fear. I want people to feel impetuous and free because that's what rock music should be about."
_________________________________________________________________________________________
Controller


SoundCloud
CONTROLLER is an NYC-based five-piece that deals in melodic, high energy dance rock. The band's output and intense performances, which have been compared to Bloc Party and the Killers by way of Black Sabbath, mixes screaming guitars, authoritative post punk grooves and sticky hooks that get fans on their feet and singing along. The self-titled Controller EP is the band's debut release, showcasing the raw power and energy of Controller's sound, as well as the band's fearless delivery. The band is preparing two new singles for May 2014, constantly writing new material and playing bigger and bigger shows for a growing audience up and down the East Coast.