Lil B Speaks On Beef With Kevin Durant, Says Durant Is Scared Of 1-On-1 Matchup
The beef between rapper Lil B and NBA star Kevin Durant took its latest turn a few days ago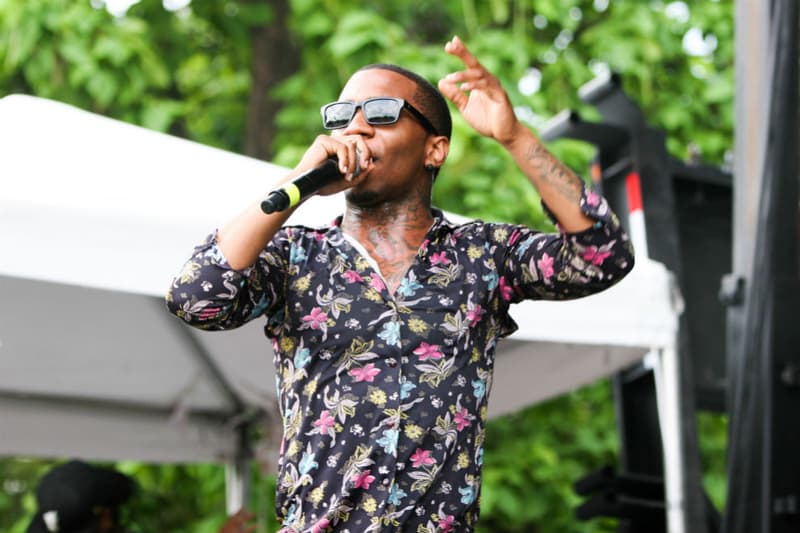 The beef between rapper Lil B and NBA star Kevin Durant took its latest turn a few days ago following the release of Lil B's diss track "Fxck KD," and now The Based God takes some time out to personally discuss the situation. Speaking with SB Nation, the Oakland emcee broke down the origins of the beef, how the diss track came to light, taking on the NBA Scoring Champion one-on-one and plenty more. Down below you can read a few excerpts from the conversation. Lil B's upcoming mixtape Hoop Life is on its way.
SB Nation: Your beef with Durant dates back to 2011. How did it start?

Lil B: He talked about me. Before everything, I loved Kevin, but he was never a factor to me and then he talked about me. I wasn't thinking about him. I'm still shouting out the old school legends like John Stockton. I'm still in that era.

But I got love for Russell Westbrook. I do appreciate what Durant does and stuff, but really, I've never seen him play a full game. I've seen Russell Westbrook. I've seen James Harden. I'm not paying attention to Kevin Durant. I don't have any recollection of watching him play. I can't remember how he shoots free throws. When I think back to 2011 and Miami, I think of Russell Westbrook and James Harden. Durant didn't leave me with any impression.

SBN: When did you decide to write "F*ck KD?" How long did it take to write and produce? Who was a part of it?

LB: The song came naturally. It came easy to me. The song is produced by Cool and Dre. So, shout out to Cash Money and everyone over there- – Lil Wayne, Birdman and everybody. I just heard the beat and it came so natural. It was just something that was very easy for me. It was just so real. It was beautiful.

SBN: How did you decide on using DJ Khaled's 'Brown Paper Bag?'

LB: It was just something that I just heard the beat and I just said 'It's time to get after Kevin Durant real fast.' Because that hoop life is coming. Kevin Durant, Kevin Durant was thinking about me. I wasn't thinking about Kevin. That's the whole thing about it. I was minding my business. Everybody else was talking about Kevin.

People love Kevin. I was never watching Kevin. I was always watching Westbrook and Harden, even [Thabo] Sefolosha. Durant? This is before he was even talking about me, calling me wack. I just wasn't paying attention to him.

J.R. Smith makes more noise than Durant, to me. Iman Shumpert makes more noise than Durant. I go crazy with Iman Shumpert in 2K. I know J.R. Smith has been making noise like crazy. Kevin was thinking about me and he said what he felt about Lil B and now I'm just saying what I feel about Kevin. I don't respect Kevin Durant's game. I've really never seen him play on TV. I don't watch him.

SBN: You really think at your height, you can take down a listed-at-6'9 Kevin Durant, who's the leading candidate for the MVP this year?

LB: I definitely do, just for the simple fact that I know I can hold him with my defense. I have amazing defense. My defense is better than my offense. I'm quick. I just have to get past him and I've got the shot. I'm confident. I'm confident. I go on the court and I can play against anybody.

I honestly know I will score on Durant and it'll be a problem. I know truly in my heart that's why he doesn't want to play me. I'm pretty much more ready for Kevin Durant than I've ever been. If he really loves the game, play me. If you really love basketball, Kevin Durant, play me. Kevin Durant knows I'm an American superstar, that I'm one of the most powerful and respected people in America. He plays American ball, so he knows what I do, he sees me. I more than deserve that game, that's just him being scared.

The real respect though, Kevin Durant should have never opened his mouth about me. If you say something about Lil B, you've got to be able to see me on the court. Kevin Durant isn't a good rapper, you know what I'm saying? So let's do this on the court.

Kevin Durant, play ball and go donate and help people and be a good Samaritan like you've been doing. But once you open your mouth and try to talk about rap, Kevin, stop. All this is for this interview. To make sure he hears this. So it's like Kevin, you can pay your money for good producers and good studios, people don't respect that. Money doesn't matter. The people made me. They're making me to this day.

So like I said, Kevin, see me on that court. I'm better than you. We can go at it. He was blessed with that height. I was blessed with a gift too, so it's like, let's play. I'm not worried about Kevin.
Only time will tell if matchup will ever happen, but it would surely be on for the ages. Let us know who you'd place your bets on if the matchup happened down below. To read the full interview, visit SB Nation.