One of Footwear's Most Iconic Designers: Steven Smith Discusses His Past and the Instapump Fury
The name Steven Smith may not ring a bell, but that's all set to change this year as one of the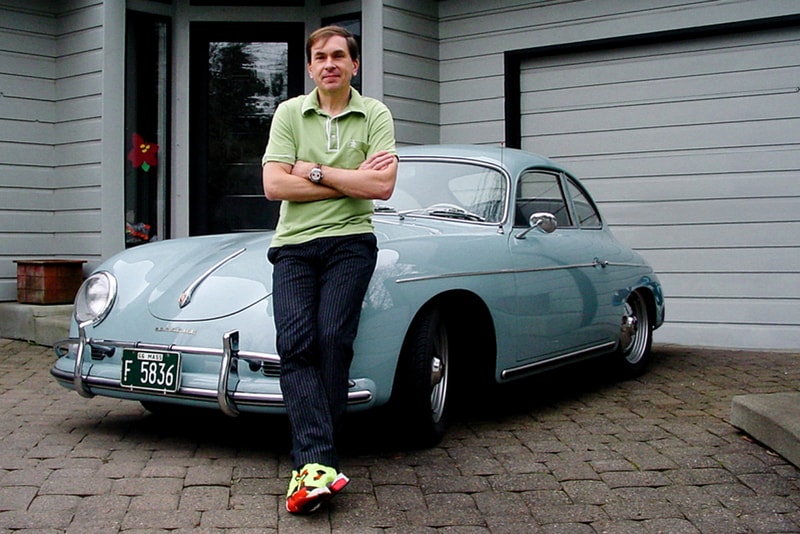 The name Steven Smith may not ring a bell, but that's all set to change this year as one of the designer's crowning achievements — the Reebok Instapump Fury — is celebrating its 20th anniversary this year. A man who has always held running close to his heart, it was this passion which led him to a career in shoe design. After graduating from college Smith cut his teeth as a designer at New Balance before upping sticks for a move to Reebok. It was here that Smith would design one of the more radical footwear silhouettes in the industry — one that even now looks ahead of its time. It wasn't all smooth sailing though, as the Instapump Fury had to overcome several hurdles during development but Smith stuck with his vision and as they say, the rest is history. We caught up with the designer to pick his brain and get the inside scoop on his innovative design. Check out the interview below and stay with us for more on the upcoming Reebok Instapump Fury 20th Anniversary collection.
---
Basics and Design Experience
Can you introduce yourself and what you do?
Steven Smith — Sporting goods designer. I have been designing since 1986. I also do some military and telecommunications product design. I love well-designed objects and machines of all kinds. In my spare time I race and restore vintage automobiles and motorcycles. I really enjoy spending time with my wife and daughter most of all.
How did you initially get your foot in the door of footwear?
It was driven by my passion for running. I went to design school to learn how to design consumer goods and electronics and got a BFA in product design from the Massachusetts College of Art. When I graduated I heard from a friend that New Balance was looking for a designer. I went for the interview and it was in a historic old mill in Lawrence, Massachusetts which I really loved. While in college I ran in New Balance 730s and 990s so it made perfect sense to design products for my own needs. Once I got there I found out I was only the third designer they ever had. I went on to design what are now their classic running models like the 675, 676, 574, 995, 996, 997, 1500, and the 428 basketball shoe.
You've built up an impressive resume over the course of your career including stops at various massive sportswear companies. How did your design language change with each subsequent stop?
New Balance was definitely a great place to learn my craft. They taught me classic shoemaking and pattern work. We also geared for domestic manufacturing since we worked right above the factory floor. There were concessions made for making them in the U.S. but true performance and honesty drove the aesthetic. Colors were definitely more neutral and safe for sure.
At adidas it was the performance drive from New Balance with a blend of New York City that drove my basketball products there such as the Artillery and the Phantom 2.
Reebok was a great opportunity to really explore new things. We had a great tight team there with myself, Paul Litchfield, Peter Foley, Steve Burris and most importantly Paul Fireman. Fireman really allowed us to go new places by being a dreamer himself. We were able to question the whole way sneakers were made and the Fury is a great example of this. It was really a magical time.
Nike was also a great experience in that it was a blend of performance and marketing. Storytelling was king. It was a shift for me from a very technical product to a very elegant aesthetic-driven product.
In regards to creating product that fit within a brand's DNA, how do you approach this?
I think one of the key ingredients to start with is to delight and surprise the consumer. Then it is a matter of what the brand means or what it could mean to that consumer. Does the product live up to and exceed what that consumer expects from you? What is the brand really about and how can the product support and enhance that reputation? How far can I push the envelope to make a sneaker better – not just different.
"I think one of the key ingredients to start with is to delight and surprise the consumer. Then it is a matter of what the brand means or what it could mean to that consumer."
Steven Smith speaks on his approach when creating products that fit a brand's DNA
---
Instapump Fury
What was the original design brief for the Instapump Fury?
There never really was a brief like today's regimented process. We saw some really interesting products and materials in the medical device and aerospace industry and figured out they could make a big difference in sneakers. The idea behind the carbon arch was to reduce the midsole material by a third with this stuff from the SR-71. On the upper side of things we were looking for a cool way to make the Pump the whole shoe.
What sort of inspirations did you have when going to the drawing board?
We were always chasing the need for better fit, feel and function in athletic footwear. The main inspiration is the human foot and you work it out from there.
On the aesthetic side I wanted the foot to look like it was on fire! One of the shoes I always wanted as a kid was the New Balance Super Comp but we couldn't afford it.
The Fury was a bit of a homage to that shoe. I also was thinking how can we reduce the number of parts that make up a sneaker. The Fury represents my Bauhaus ideal of minimalism and function. I also wanted to create something that looked like it was from the future.
Did the Instapump Fury solve any of your own personal problems from a running and performance perspective?
All product represents an answer at a moment in time. At that moment in time it solved the key issues of lighter, less components, and a great ride.
During its first release, what were the reasons why people loved the original Fury?
It really was a love/hate model. Actually it was more of a love/fear relationship. Paul Fireman asked us to go to new places for the company and that's what we did with this shoe. It really pushed Reebok and the industry to new places. I never set out to create industry icons but time has proven them to be right. It was one of the first 9-ounce trainers and it did have an infinitely adjustable fit.
And for those who weren't such a fan, what was their consensus?
I think that all good breakthrough design should make people a little uncomfortable and the Fury represented this ideal. Some people weren't ready for such a radical midsole or a shoe with no laces.
The Instapump Fury launched in a bold combination of neon yellow, red and black. Any reasoning behind the choice of colors?
I touched on it earlier with the thought of the shoe being so hot that your feet were on fire. I also thought if you are going to shake things up, really shake things up! It finally took Paul Fireman telling people to get out of our way and launch it in the colors I drew it in. It was kind of fun watching them squirm for Paul! It's the one everyone remembers the shoe for so it worked! I still think my favorite moment was seeing Aerosmith's Steven Tyler wearing them at the MTV Music Awards. As a kid from Boston there was no better honor than seeing one of my rock gods in my shoes!
We later became friends and I told him that story.
"Paul Fireman asked
us to go new places
for the company and
that's what we did
with this shoe. It
really pushed Reebok
and the industry to
new places."
Steven Smith talks about possible reasons
people loved the original Fury
---
Footwear and the Future
What's been your favorite Instapump Fury project over the last two decades?
I think the original shoe in the red, citron and black colorway. The next favorite I think would be the Jackie Chans. I did get a pair of those for myself.
What do you think is the future of footwear?
I think a true revolution in manufacturing needs to take place. I think 3D printing could be really big but what we really need is a bio-shoe of some sort that we can grow naturally and will decay like organic compounds.
Any last words?
Whatever you do, enjoy yourself doing it and have fun. Don't let the serious people drag you down. And most importantly, do the right thing. I have tried to do this in all my products. Oh yeah, WEAR your sneakers! It's why we make them!!! Stay tuned for the next adventure — never stop exploring!
"Whatever you do, enjoy yourself doing
it and have fun. Don't let the serious people
drag you down."
Steven Smith shares some advice