TOMS' Hajime Birnbaum Discusses the Future of the Brand and the "TOMS Tan"
Never resting on its laurels, TOMS continues to hit milestone after milestone in its quest to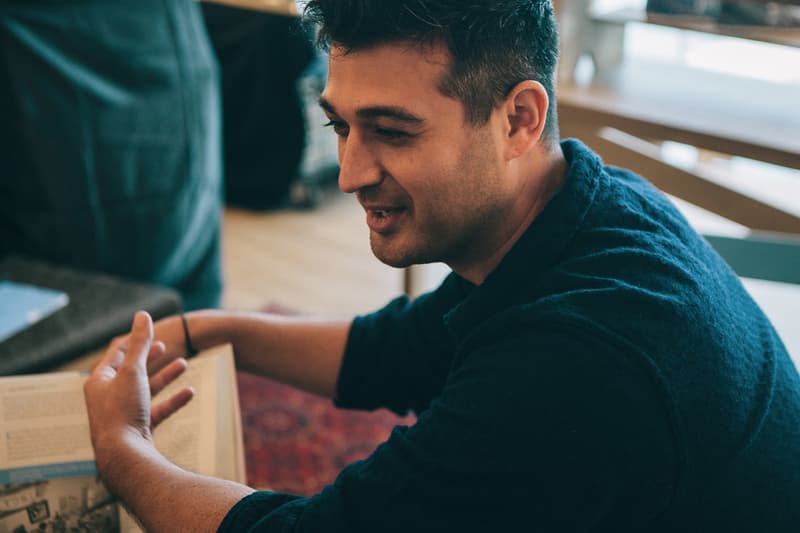 1 of 23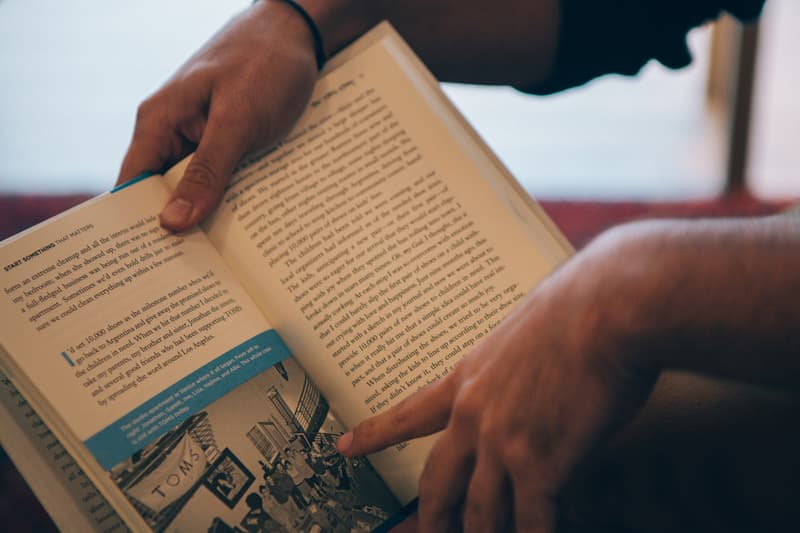 2 of 23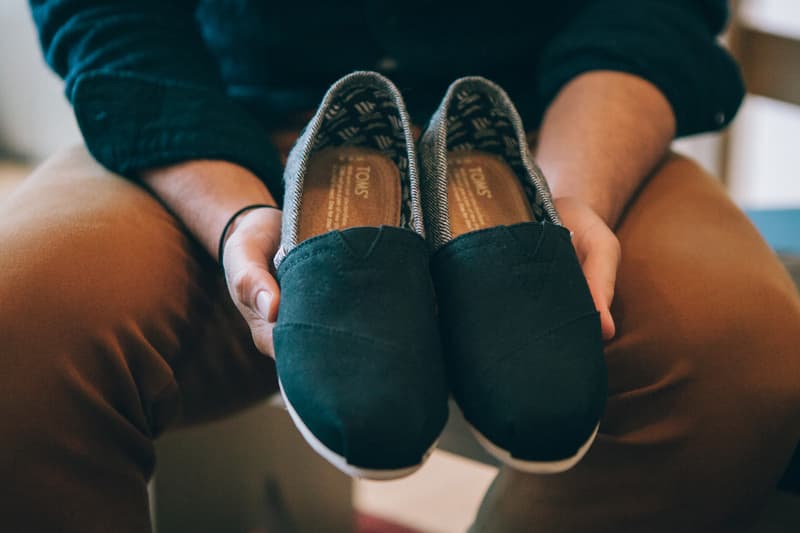 3 of 23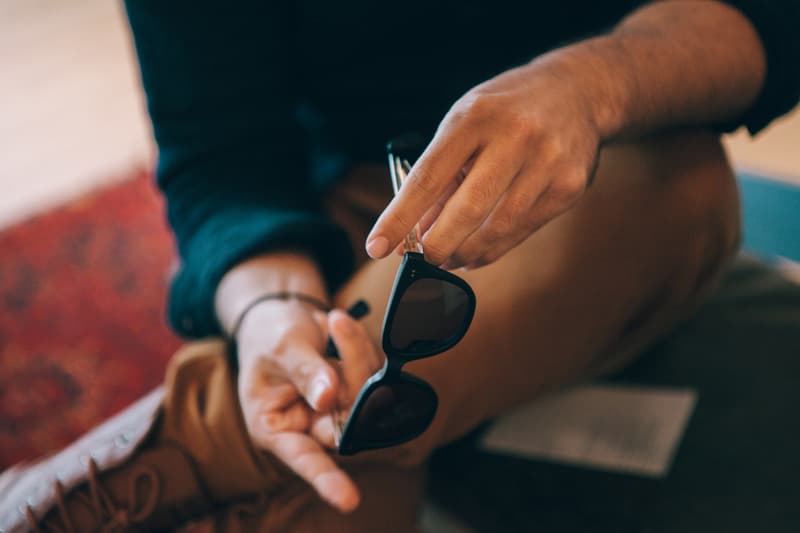 4 of 23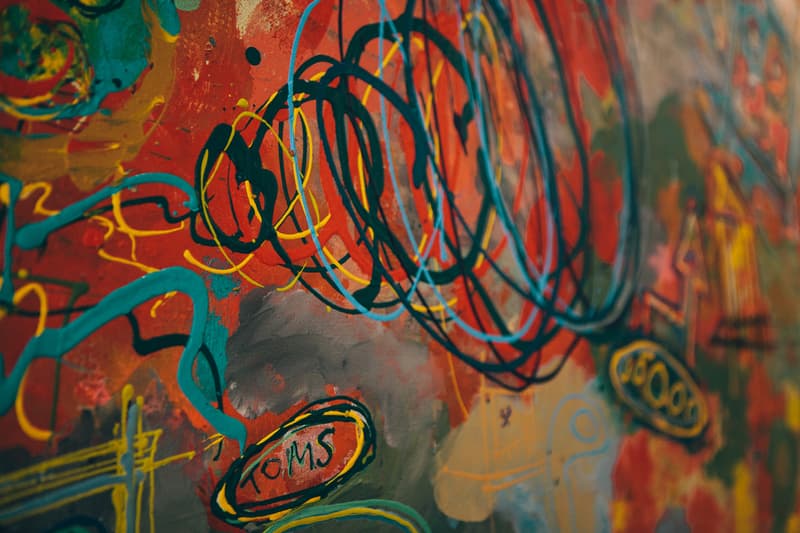 5 of 23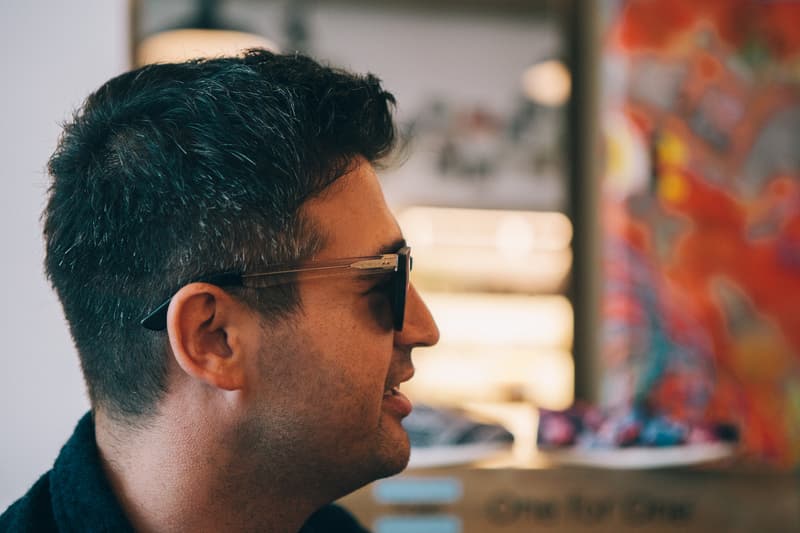 6 of 23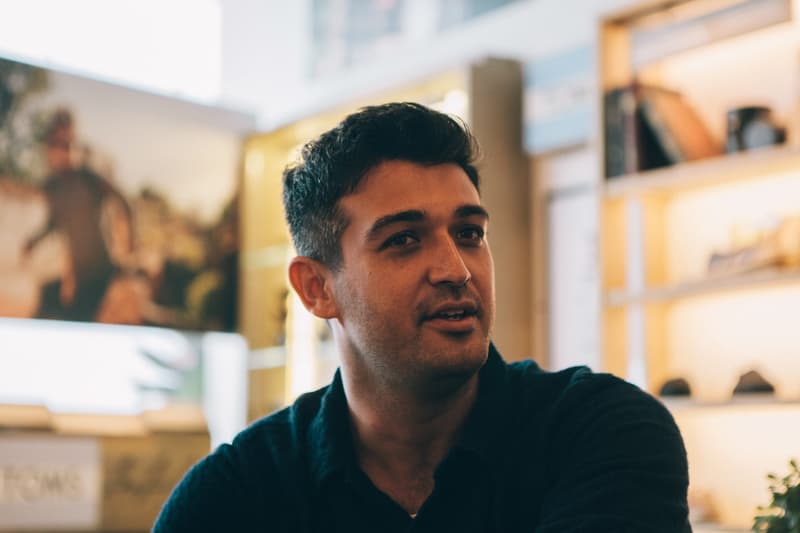 7 of 23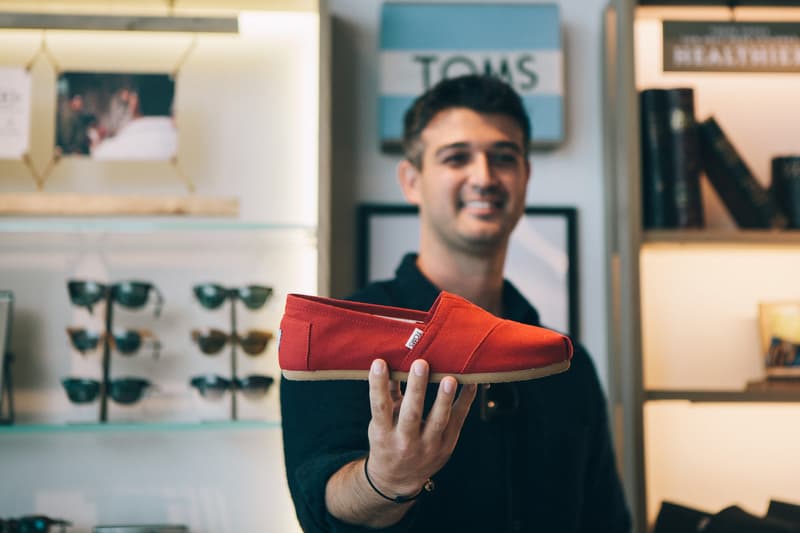 8 of 23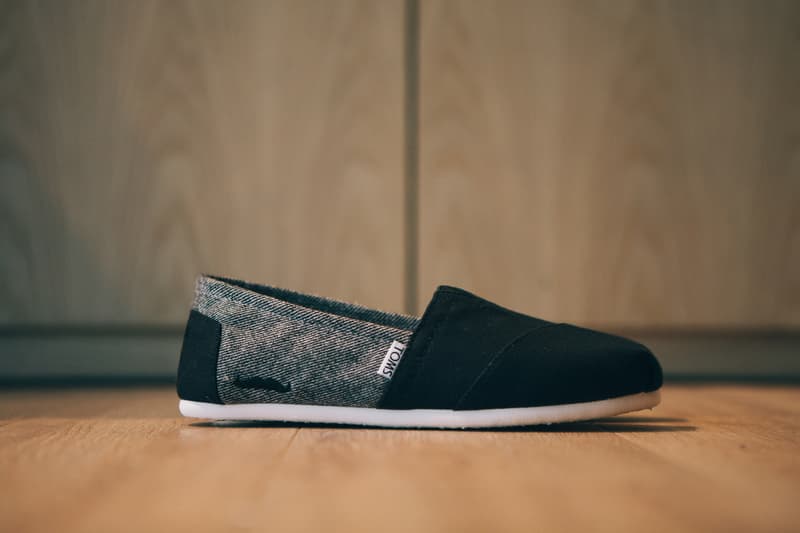 9 of 23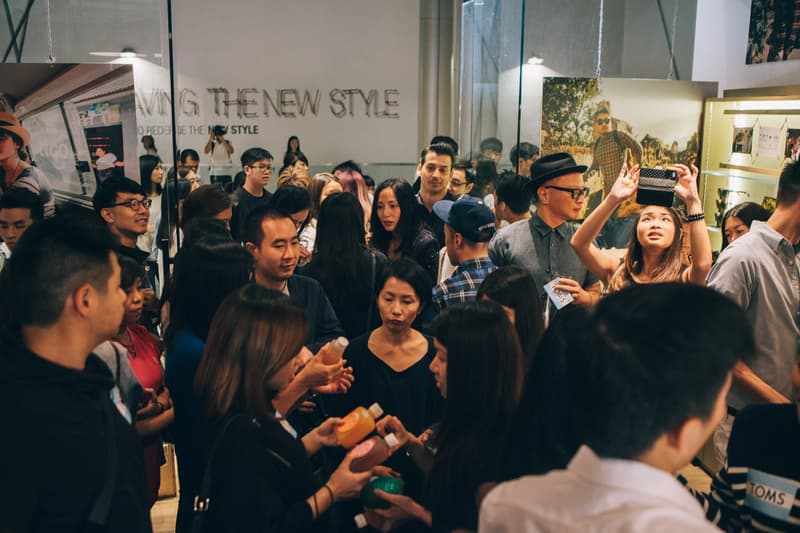 10 of 23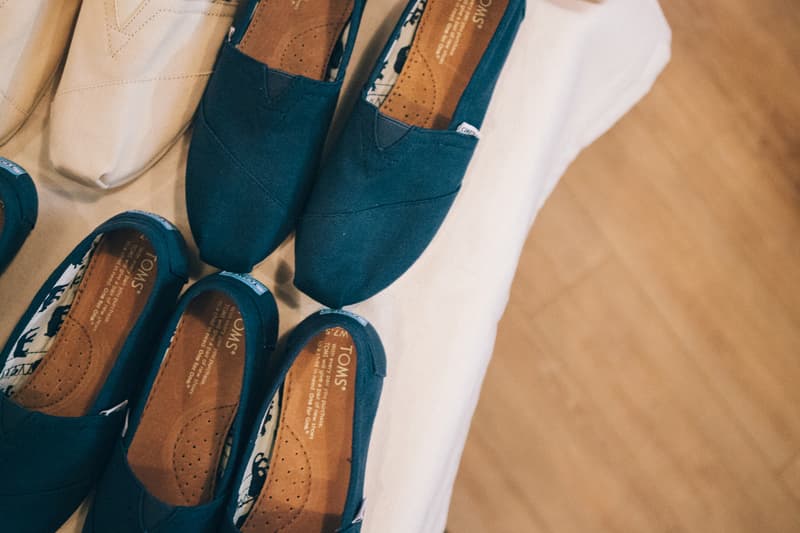 11 of 23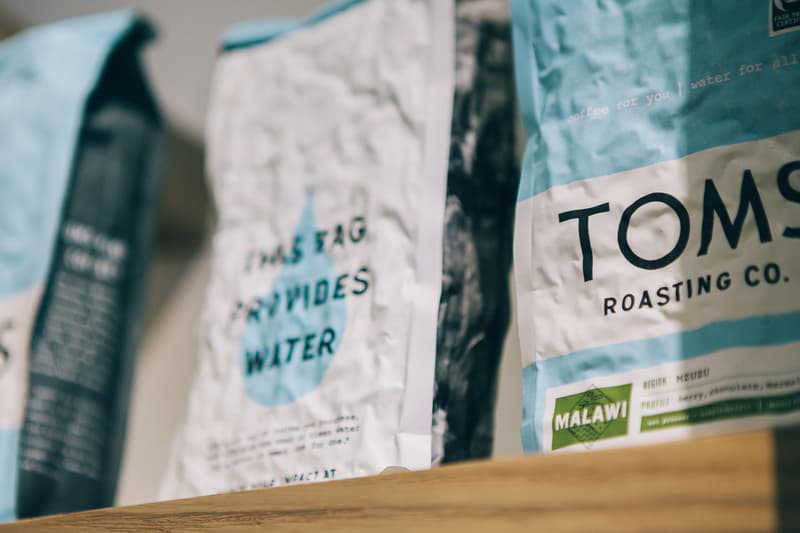 12 of 23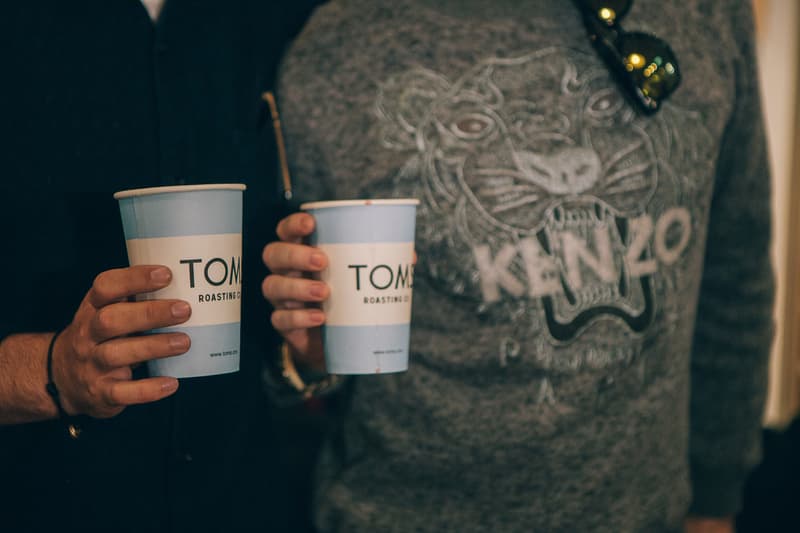 13 of 23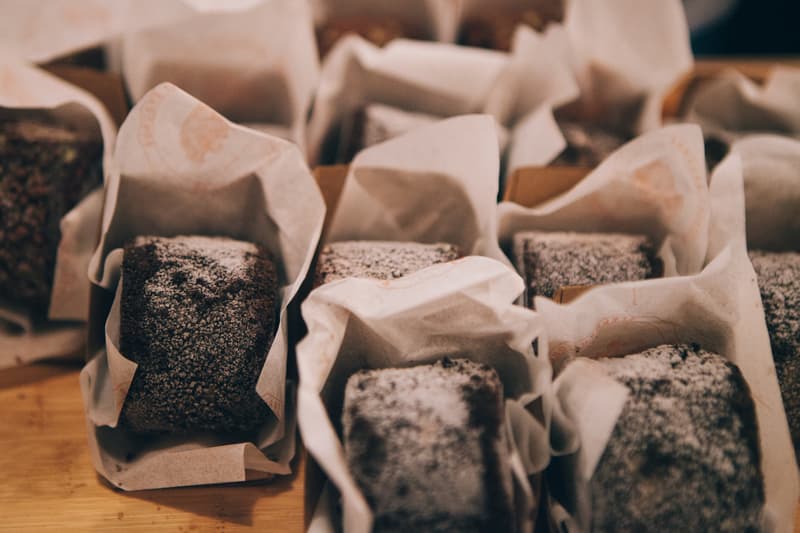 14 of 23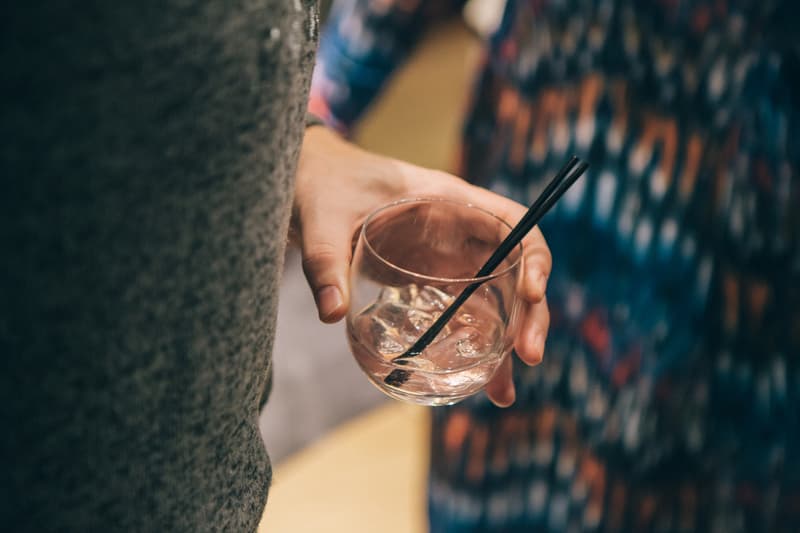 15 of 23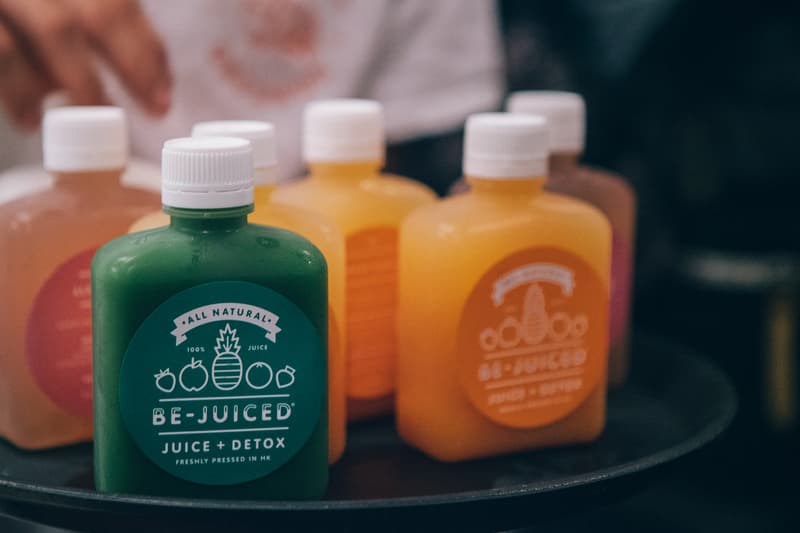 16 of 23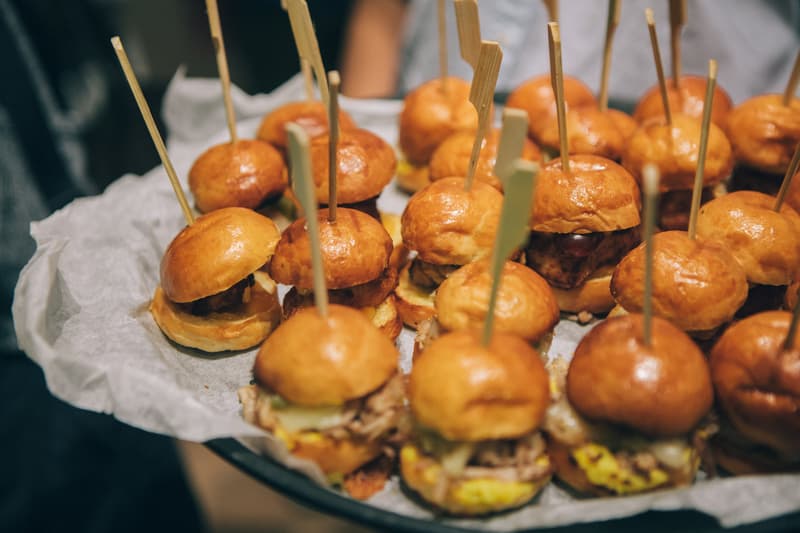 17 of 23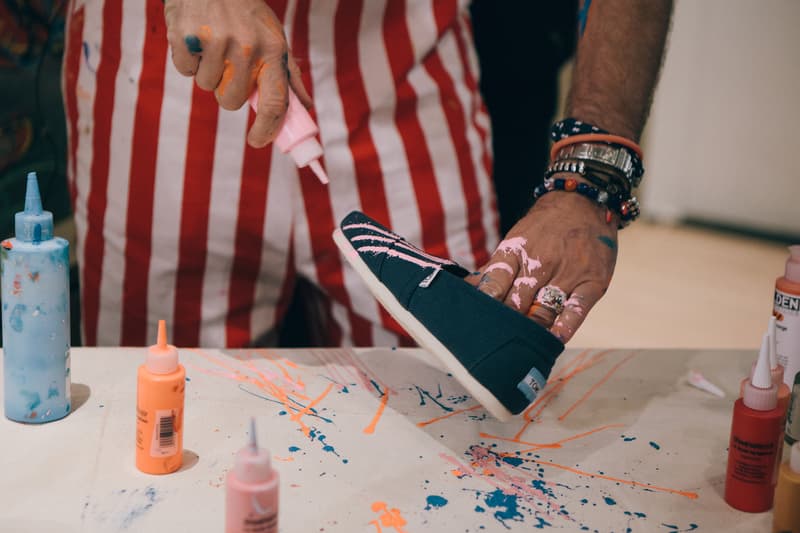 18 of 23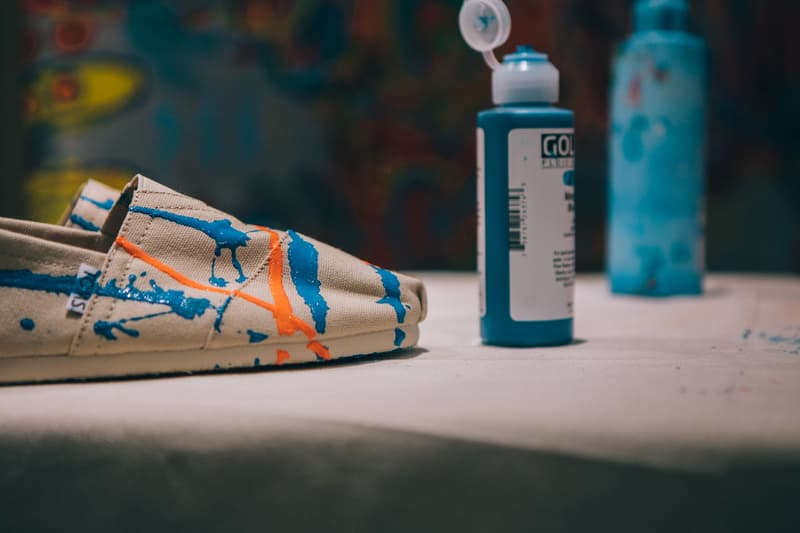 19 of 23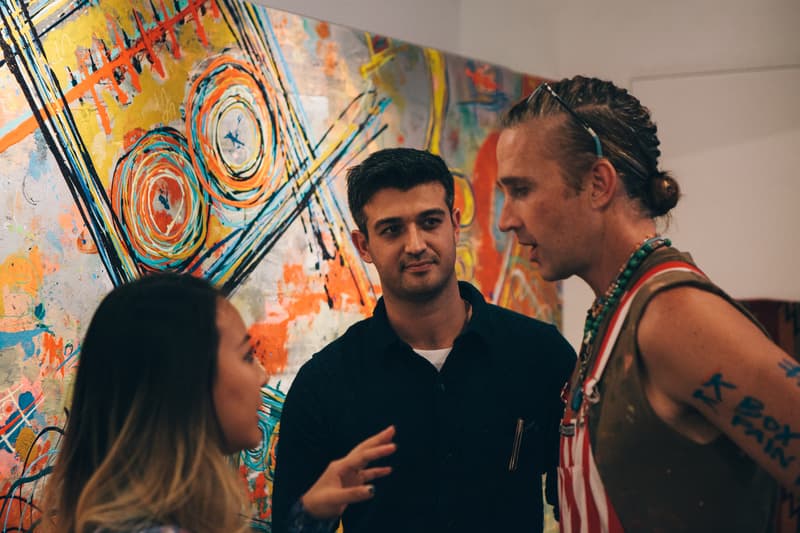 20 of 23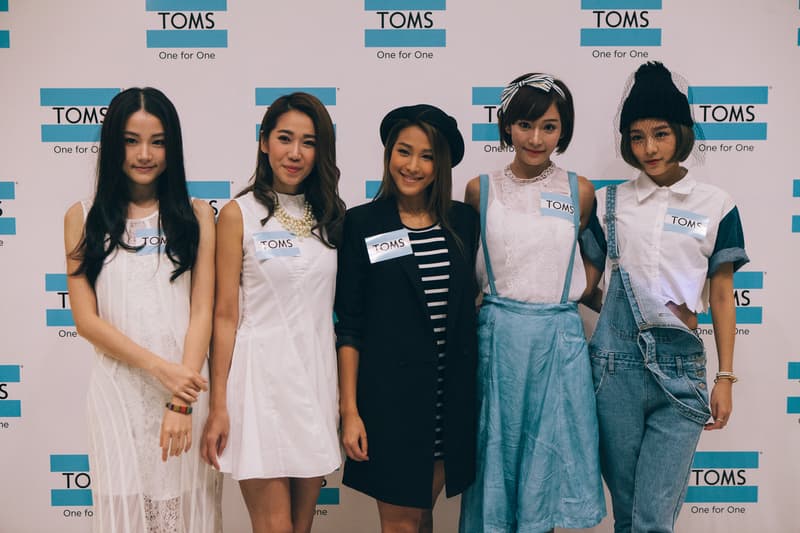 21 of 23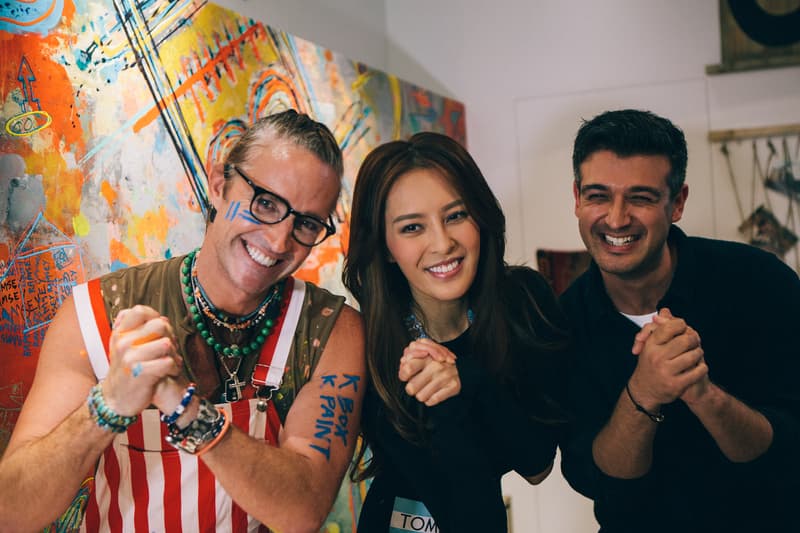 22 of 23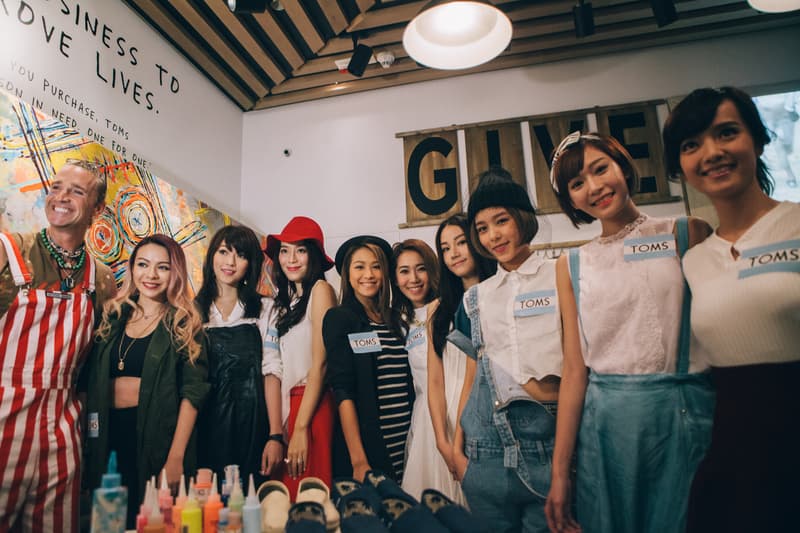 23 of 23
Never resting on its laurels, TOMS continues to hit milestone after milestone in its quest to change the world for the better through the business of fashion. Having given away a staggering 35 million shoes to children in need since its inception in 2006, TOMS opened its latest flagship store in the upscale ifc mall in Hong Kong's Central district on October 29, which will stock the latest collections from TOMS footwear and eyewear collections. The opening day began with a "Style your TOMS" session where customers who previously purchased TOMS shoes or eyewear were able to customize their newly bought items under the mentorship of TOMS resident artist Tyler Ramsey and fashion blogger Geneva Vanderzeil. Celebrities and influencers were invited to a cocktail party at night, featuring a live in-store drip painting by Ramsey. Before the event, HYPEBEAST was able to talk to TOMS Asia-Pacific and China Sales and Marketing Director Hajime Birnbaum at the new store about TOMS' mission to create an all-encompassing 'One for One' brand, how donkeys figure into the footwear business, and the philosophy and culture of living well and doing good.
How has the One for One model changed over the course of the program? Were there certain logistical issues that have been rectified thanks to technology?
When we first started in 2006, nobody had any footwear or philanthropy experience, so it was really a brand started by a bunch of kids. In the first year, we produced 10,000 shoes, and we gave away 10,000 shoes in Argentina, but we quickly learned that we weren't the experts in giving. There were a lot of local issues, local leaders that you need to work with. Unless you know who those people are, it's very hard to give successfully. Now we work with local NGO partners who are the experts on the ground, and through them we distribute our shoes. We've evolved a lot from a technology standpoint — now we have algorithms where the giving partner will tell us the numbers and ages of the kids, and then we'll know exactly what pairs and sizes need to be produced for them. But there's also an invoice in TOMS for donkeys, where we had to put boxes of shoes on donkeys to get up a mountain because no vehicle could get up there. It's an example where technology can help you in a lot of ways, but sometimes you just need plain grit and to get your hands dirty. TOMS is very multidimensional in that sense. We could try to push the envelope from an innovation standpoint, or we could see how we could put a Band-Aid over it to fix the problem.
TOMS Founder Blake Mycoskie once mentioned the use of RFID tags on shoes to show the consumer who the other pair has been given to. Any progress on that?
It's still a dream of ours to be able to give more information to the consumer as to how the giving is working. We obviously want to be respectful too of the children we're giving to. If I'm a parent in the Honduras I wouldn't want my kid's face is on someone's computer, but at the same time when you purchase a pair, you'll wanna know what's happening. In the future, we could communicate the country in which the shoes end up at, but that's still work in progress. We just announced though that we've given away our 35 millionth pair of TOMS in eight years, so to go from 10,000 pairs in 2006 to 35 million now, we're super excited about that.
Can you speak a little bit about TOMS' foray into coffee? Why coffee?
When Blake was traveling in Argentina, he fell in love with the alpargatas, but he also saw kids without shoes. That's where he came up with the idea to sell alpargatas and then to come back to Argentina to give these shoes to kids. For footwear, you start with the need. Even for eyewear, there are four million people around the world who are sight-impaired and don't need to be — it's fixable. So we tried to solve this problem by starting an eyewear line. With coffee, Blake realized that there was a real lack of access to clean, consistent drinking water in a lot of countries, so we asked what kind of business can TOMS approach to address that need. Our morning ritual is having a cup of coffee, so we decided to start a coffee line. We not only work with our giving partner to help establish clean drinking water facilities, but our beans are also single-sourced so we work directly with the farmers in Peru, Malawi, Honduras and Guatemala who are growing these beans. So not only are we stimulating economies in those areas, but we're also going back to those places to establish clean drinking water facilities. As our giving evolves, we want it to be more well-rounded.
How do you decide which countries to give shoes to and which to give sight to?
We work really closely with our giving partners — multinational experts like World Vision or Save the Children — but we also work a lot with small boutique giving partners like Hogar de Ninos which just specializes in Honduras. We partner with them on a seasonal basis and have a back-and-forth conversation about what their needs are, and we produce and distribute shoes based off of that. For sight, we give medical treatment and sponsor prescriptive glasses and cataract surgeries. Our giving partners tell us what their needs are for the year, and then TOMS will work out the sales targets to support their efforts.
Do you get to take trips to see what happens on the ground?
Yes. Every employee at TOMS gets to go out into the field and does shoe giving. I was in Honduras 18 months ago and if the kids weren't barefoot, they were wearing very tattered shoes that were clearly their big brother's or sister's. Not only was TOMS the first pair of shoes those kids had ever worn, but in a lot of cases it was the first present that they had ever received from someone. You literally take off their shoes and put on a new pair of TOMS while you watch their faces glow, so it's a very intimate and personal experience. We also go back every three to six months to give those kids their next pair of shoes because kids grow out of them pretty quickly.
Could you elaborate a bit on the "TOMS tan"?
When you wear the alpargatas, the top part of your foot is exposed so you get this TOMS tan. These kids are wearing our shoes every single day — they're going to school and playing in them, they're actually getting used. When I used to live in Venice Beach, California, I always wore my TOMS so I would have a TOMS tan too. My life in Venice Beach and these kids' lives in Honduras couldn't be more different, but we have a TOMS tan in common. I think that's one of those things where as a brand TOMS has the ability to connect people. Despite geography and your economic circumstances, by wearing a pair of TOMS you have something in common with so many people around the world that you haven't met. That's a powerful thing that I didn't quite realize until I went back to Honduras to do giving. That's why building this store is so important to me, because I wanted people in Hong Kong to have the opportunity to touch, feel, see what TOMS giving looks like at this store. Otherwise, it's a very ethereal idea that might not connect all the time. By growing retail around the world, we want to build that community. We want you to feel like you're participating in something. When you purchase a pair, you're literally affecting someone's life. I can't think of too many other brands in the world that do that with every product they sell.
How do you aim to change and revolutionize the world through this new coffee program much like you did with footwear?
For our dream, we want every element from our lives to have a component of helping those in need. I think the best way to do it is don't even think about it. Today I was gonna wear shoes anyways, but these TOMS made a difference. When I start my morning, I'll drink a cup of coffee anyways, but because I drank TOMS coffee I know that there was a positive impact. At TOMS, we want to have a way where every component of our day-to-day lives has the opportunity to serve people. Our dream is to create a culture of where even if you don't think about giving, you support brands that make a difference. When you buy shampoo, you know now that it's a standard to not do animal testing. In the same way, I hope that TOMS is part of a movement where in the future it is the standard that when I buy something, something good happens to someone. In order to do that, you have to expand outside of just shoes. You have to be able to do that with different channels of our lives and hopefully in the future, everything we do benefits someone. I want TOMS to lead that movement. We want to make it easy for people to do good while living their lives. At the same time, we all have an individual responsibility to solve a problem. I think we all want to leave a better world for our kids and grand kids, but TOMS as a brand embraces the mentality that it's not just us, it's about humanity. Everything we do needs to push humanity forward.
What's your coffee ritual?
At TOMS headquarters back in Los Angeles, we have a coffee bar setup where everyone waiting in line [for coffee] will be chitchatting about their day. It's very much a family atmosphere, so that time we spend around the coffee bar is a really integral part of working at TOMS because it's more than a job. You inevitably end up living and breathing it, so I consider the people I work with more than just colleagues. The coffee ritual is a way for the TOMS tribe to reconnect, regroup, feed off of each other's energy, and then start the day.
You said once that TOMS will release an additional One for One product every year. Any hints on what the next product will be?
We definitely have something in mind for Spring 2015 that we're really excited to announce in the coming months, but it might not be every single year that we introduce a new product. As a business, we always start with the need. From there we back out and design product. One year there could be a lot of people who are hearing-impaired and we might create headphones, or for people who don't have access to financing, we might create a TOMS bank for example. When you bank with us we might give microloans in India. For homelessness, we might create TOMS hotels. Even though people may know us as a footwear brand, we're really a One for One company. With every interaction you have with the brand, in the back end you know that there are positive changes happening. I'm really excited for what the future holds; for us to continue to blow people's minds with what the next innovations will be.
How do you think the TOMS aesthetic has transcended footwear onto your other goods, including eyewear?
In Argentina, [the alpargata] is a farmer's shoe, but when you go to Buenos Aires in the discotheques, clubs or restaurants, cool people wear this shoe, so Blake was really inspired to have that shoe as the basis. It's just a very simple, elegant shoe. If you talk about design, the Nike Roshe Run only has four or five panels, for example, but it's so elegant and so simple and that's why people love that shoe. In the same way, the alpargata is very deconstructed but elegant. That's what makes the alpargata and the Roshe iconic. We really try to look at design from a really minimalistic sense, but a big part of TOMS too is traveling to a lot of places like Argentina, Honduras, and Guatemala and bringing a piece of that back. We want simple, elegant designs, but we also want it to say something about who we are and what giving means to TOMS. For the eyewear, it's something you wear on your face, so it's not something you want to be super busy and complicated. We've taken the alpargata approach, so we've looked at very classic, iconic designs like the Wayfarers. We're really inspired by that timeless design, so we try to incorporate pieces like that into our eyewear line.
What does TOMS do to make their designers more receptive to inspiration?
Inspiration comes from the street in the giving areas – it comes from London, from Paris and Hong Kong. Inspiration will hit you from any direction, but we do find ourselves inspired when we're out in the field. That's when we're most sensitive to new materials or ways we can innovate. At our new and larger office in LA, there's a slide that goes from the second floor to the first; there's a coffee bar and a yoga studio where you can chill out if you wanna do some yoga inside the office. It's just a place where you feel very comfortable, and I think that if you have a comfortable environment it helps you stay creative and stay inspired. It's about having a work-life balance: living well, but also doing good.
What sort of special releases do you have planned for the Hong Kong store?
We collaborate every year with a group called Movember that raises awareness around men's health, particularly testicular cancer. On the month of November, they encourage men to grow out their mustaches in solidarity, then they fundraise to sponsor and finance men's cancer research. Proceeds from every Movember pair purchased go back to Movember for men's health research. This is exclusive to our shop along with a few other products for the holiday season that you can only get here. We also want the store to be part of the experience where you can come here and learn about what TOMS giving looks like. What we do every year is an event called One Day Without Shoes where we ask our supporters to come out, whether it's for the day, an hour or five minutes to just go without their shoes, because when you live in Hong Kong or LA, chances are you've had shoes all your life. You don't know how to live with those types of hardships. We held that this year where we marched around the city and did a yoga session, so we're really excited to do that again next year.