Gary Warnett Weighs In On Whether LeBron's Shoe Line Can Ever Reach the Heights of Jordan Brand
Suffering from shoe fatigue yet? To memorize rollouts, colorways and nicknames requires a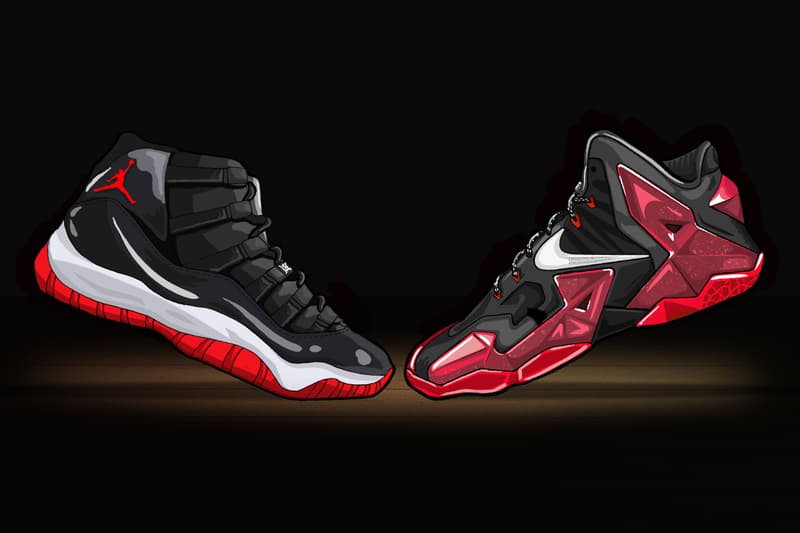 Suffering from shoe fatigue yet? To memorize rollouts, colorways and nicknames requires a database-like aptitude for information recall. Speculative market share stats indicate that Michael Jordan and LeBron James' signature releases are the most valuable sneakers in the industry, but the Jordan Brand still seems to eclipse the LeBron output. Everything seems to require a comparison to justify its existence these days in the era of lists and over analysis of everything, but the MJ and LJ ones are a constant for both player and shoe alike.
Instead of sitting on the fence, let's concede that the Nike LeBron line can't compete with the Jordan line in 2013. No matter how much the materials devolve and no matter how much some Retro+ colors might sully those original braces of AJ masterpieces, it's the moments in time that make the Jordan range – for want of a non-corporate buzzword – iconic. Writing as a fiend for Nike LeBrons (bar the rushed replacement look of the VI), James' shoes get better year after year, but with a market still locked into Jordan's 1988-1991 drops, the audience is already dedicated to past triumphs, kitting out their kids in junior editions and forging future nostalgia.
---
THE SHOES
From the start of LeBron's professional career, he existed in the shadow of Jordan. A "chosen one" in the post-Jordan climate, a special edition of his second signature shoe carrying a "Dunkman" to deliberately draw attention to the Jumpman and those references to the player that owned so many seasons before him in The LeBrons commercials faced the elephant in the room head-on. The decade following James's professional start would see both franchises expand significantly.
The movement of both series' defined their future. When Nike launched the Nike Air Jordan in 1985, the colors were a key feature rather than the shoe as a design, which despite being a classic of its kind, was merely a minor evolution of models like the Nike Airship, throwing lurid colors on an existing design. It's the Bulls colors (and Jordan himself told David Letterman on national TV in 1986 that he thought it was ugly) eliminating the traditional NBA white-on-the-upper rules, that made it legendary. The Nike Zoom Generation's 2003 release was a significant one, but it wasn't a hugely creative time for Nike basketball and the quasi-militaristic (sitting with hip-hop's aesthetic at the time) Hummer styling was created around comfort – it's a great shoe but it isn't a turning point, emerging at a time when collector culture was established and speculators were already putting their shoes on ice. There were few surprises and no accidents in the early 2000s – the "First Game" edition's low, low numbers were part of a more calculated approach to collectibility. It's safe to assume that few people were grabbing Jordans pre-1995 (Japanese collectors coveting the XI from the moment it dropped changed the dynamic significantly) with money in mind.
The Jordan I sold well in 1985/6 but was actually overproduced – it was released in far too many colorways and in huge numbers, resulting in some issues for Nike at the time, but even its sale rack status (appearing at half price in DIY stores at one point) gave it an extra life as a much-loved skate shoe. That's how an error becomes a minor triumph and luck became an extra legacy.
The 1980s seemed to be a time of roads untrodden, meaning the hit-and-miss nature of the time created unique product – the Jordan II's Italian-made, futuristic look and decision to dispense with a Swoosh was drastically different. Discontentment with his deal after that second shoe led to Tinker Hatfield's masterful Jordan III design in 1988 and it's here that the synergy really started, giving each chapter a cohesiveness but constant evolution. The LeBron and Ken Link relationship gave LeBron a visual language of its own, but the Zoom LeBron II and III were too similar. Take a look at a timeline of both lines and it's clear that the Jordans each have their own identity, with a leap between parts two and three and another vast step to part four, which coincided with Michael Jordan signing a deal with Nike where he'd be with them for the duration of his playing career.
After the misstep of overproduction the first time around, each Jordan post 1986 dropped in a more careful edit of colors, whereas the LeBron line has been going ham with the makeups since the LeBron 8 dropped in 2010. A definitive colorway feels like a lynchpin of icon status – that shoe that springs to mind or a personal favorite, but the modern consumer seems to favor volume, raised on an abundance of choice. There was no NIKEiD in Jordan's heyday, ensuring a slower trickle of memorable makeups.
The LeBron IV has its fans, but does anybody prefer it to a Jordan IV? A bold move for the series, but not a classic. 2009′s Air Max LeBron VII was a reboot for the Nike LeBron line, with a new designer on deck – a great shoe and the start of a rise in interest in new models in a retro saturated marketplace. Sure, you can see the Uptempo nods and the glossy toe was destined to draw comparisons with the Jordan XI, but what designer could avoid being influenced by past triumphs? Tinker's genius was to pull design cues from anything but sports footwear – even at part 11, those shoes could only be a Jordan release and it's tough to track the DNA. No two shoes were alike, whereas LeBron's line occasionally hit a comfort zone. Tinker and Mike had no precedent to riff on and that challenge to innovate forced them to break new ground.
"LeBron's big guy (albeit a big guy who's the fastest on court with a vast leap) status created different design needs that wasn't going to create a commercial shoe like Jordan's shooting guard status."
---
HYPE
Pair groundbreaking shoes with groundbreaking marketing like the Spike Lee Air Jordan spots and you're in charge of the zeitgeist. Even bad publicity like a Sports Illustrated cover on shoe-related crime was the byproduct of doing something too right (alas, the shoe robbery seems to have undergone something of a retro in recent years). Marketing is a #hashtag, YouTube, digital realm now rather than that water cooler ad break moment and hip-hop references are no longer a point-of-difference. Memories cemented on psyches supersede today's modes of advertising.
Both players have been made into cartoons – LeBron in the not-very-good takedown of those excellent The LeBrons ads and Mike in the terrible ProStars cartoon – but Mike's place in the pop-cultural canon takes a lead for Space Jam, a staple for nostalgics and their offspring, but also a great ad for a Jordan XI. If Shaq's Shazam and Steel hadn't been so atrocious, maybe we would have had a real LeBron movie by now. With assistance from the aforementioned Mr. Lee, Jordan's shoes made some bonus appearances on celluloid throughout the 1980s and 1990s. Every pop culture moment pre-internet helped.
LeBron's big guy (albeit a big guy who's the fastest on court with a vast leap) status created different design needs that wasn't going to create a commercial shoe like Jordan's shooting guard status. Both might have had multi-positional needs, but LeBron's cushioning, fastening and resilience was always going to get a little chunky, whereas the deftness of Jordan shoes was destined to be a little more accessible. That the LeBron franchise could be as lucrative as it is – and break the commercial limitations of big man footwear – is significant.
While Retro+ releases that applied new colorways to old make-ups hit with a thud in the late 1990s, Jordan Brand's ability to keep retroing means kids have their own era to make a memory from (oldies can remember IIIs from 1988, the next wave of oldies can remember 1994, the next can remember 1999, the next can be on a 2003, then there's nostalgia for 2006 – even 2009 can be the old school to a kid who got into shoes in 2012). With 28 years out there to LeBron's decade, the lead is significant – that's more than just older brother or cousin influence. It's fathers, sons and grandchildren raised as disciples of the Jumpman. The LeBron line doesn't have that – yet. The Jordan III was a smart piece of design – easy enough for sweats and jeans but capable of slotting into trends and sitting with today's breed of ninja-esque black on black dressers, too. Once the Zoom Generation reissues, it can start a similar rotation, but that shoe's look doesn't offer the same versatility.
Kids might even know Jordan as a shoe rather than a human being – the brand almost transcends the athlete, but it overcasts the space for any opposition in the market. While there were spin-offs (the Jordan Knockoff KO edition, the Sky Highs and the XI IE variations), it took 13 years before Jordan Brand emerged. LeBron's had his share of spin-offs too – AF1s, Soldiers, and the recent lifestyle extensions of his franchise, but whereas Jordan's early lifestyle releases were secondary to the real deal, it's the cork, suede and denim EXT, off-court drops that seemed to give the LeBron line that Jordan-style hype. It's likely that a spin-off LeBron brand could exist by 2016 when LeBron is 13 years deep into his deal, but can the accessories and apparel ever be as popular as the Jumpman was when it was stitched on cotton?
"There's one thing LeBron definitely can't take – Jordan never wore LeBrons, but LeBron wore Jordans. Jordan owns a period of time that just keeps echoing and becoming more rose-tinted with each subsequent season."
---
INSTAGRAM ERA
Can we still provoke in the feedback era? Does the hypercritical nature of commenters put a brand off creating anything too abstract? Product never leaked back in Jordan's heyday – it was just there, telling consumers what a shoe looked like now. When Nike reissued a Jordan in 1994 (to minimal success) it helped build a retro market that would make it tough for any of Jordan's successors on court to supersede his achievements – in retrospect it was a typically Jordan-esque move. When the Air Jordan 28 made a hyped appearance, the deliberate strangeness of the shoe clashed with the conservatism of shoe hoarders in 2012 and the LeBron X delivered a shoe more appealing to a contemporary audience. Thankfully, Twitter and Instagram didn't exist in when the Jordan XV dropped in 1999 – a willfully insane creation that capitalized on the fact Jordan would never have to wear them.
Every single misstep LeBron has ever made happened in the digital age. It's there as a JPEG or YouTube clip. Jordan still has the luxury of mystique – was the infamous banned Jordan shoe actually a player edition of the aforementioned Airship in those colors? Where is that footage of the Boyz II Men Jordan XI award show appearance? Even the barely seen and apocryphal is part of a narrative that gives the Jordan line a mystique.
For better or for worse, the Jordan line helped birth shoe queues and even caused mini riots in retro form circa 2000, after his playing career ended – no blogs or tweets needed. That's power. Jordan finally bowed out at 40 – if LeBron retired at 40, he could be at the LeBron 23 when he stops playing professionally. That's more models than MJ played in. If LeBron went on into Mutombo years, the possibilities would be amplified – hell, maybe there'll be a market for futuristic geriatric performance footwear at that point. Regardless, as a player who made a mark young, LeBron has several more years in the prime of his career.
What about the players as people? Jordan existed on a plateau whereas LeBron exists in the engagement era. If Instagram existed in Jordan's heyday, would he have embraced it? Would it have got him vilified? Despite the criticisms, LeBron can showcase a life beyond the court and avoid dull athlete stereotype – partying without the George Gervin pitfalls. That's where brand LeBron can flourish in the world of high-end collaborations, rather than the bad tailoring and cheap fragrances Mike put his name to. Name drops aside, MJ wasn't a rap fan, but LeBron's hefty frame fills a hard-to-define space between music, high-end, low-end, streetwear, shoe fandom and everything else that typifies 2013. That – plus some interesting business decisions – could be where LeBron takes a lead one day.
There's one thing LeBron definitely can't take – Jordan never wore LeBrons, but LeBron wore Jordans. Jordan owns a period of time that just keeps echoing and becoming more rose-tinted with each subsequent season. How long can we be locked into a loop of past triumphs though? If that pattern ever breaks, LeBron's the next contender, but even as a retiree, Jordan's signature line allegedly turns over billions compared to LeBron's millions. That's staggering in terms of both numbers and a testament to Jordan's superhero status in the present day. It's a tough legacy to topple, but for selling units as a giant on court and popularizing the new rather than the retrospective, the Nike LeBron series should be appreciated beyond the other guy's shadow.
Poll
Can LeBron James's Footwear Line Reach the Heights of Jordan Brand
What to Read Next
Debuting at the Monaco Yacht Show.
---
Arriving on the rapper's 31st birthday.
---
The show is billed as "bending reality… and exploring the human condition."
---
In an attempt to encourage community-led moderation.
---
Tourne de Transmission channels its inner English major for Fall/Winter 2013 by unveiling
---
WTAPS comes strong once again for 2013 fall/winter with their Woodland Camouflage capsule
---
At its basis, the very talked-about Maison Martin Margiela and Converse collaboration is about
---
Rumors running the internet come to fruition as buzzing streetwear brand Been Trill unveils a close
---
Headed by Victor Tell and Mikael Söderlindh, Happy Socks provides durable and comfortable sock with
---
On February 5, 2012, M.I.A. performed as a guest of Madonna during the halftime of the Super Bowl
---
Japanese labels NEIGHBORHOOD and M.V.P. have teamed up this season for an outdoors-inspired capsule
---
Hong Kong restaurant Ronin and Baxter of California have teamed up once again, this time for a
---
Pushing the envelope in digital design, Kazunori Yamauchi is the architect behind the celebrated
---
Continuing the promotional run for his sophomore album Hall of Fame, Big Sean took a short break
---
More ▾