The HYPEBEAST Review: Nike Kobe 8 System Elite 2.0
When perennial All-Star Kobe Bryant ruptured his Achilles back in April it undoubtedly brought an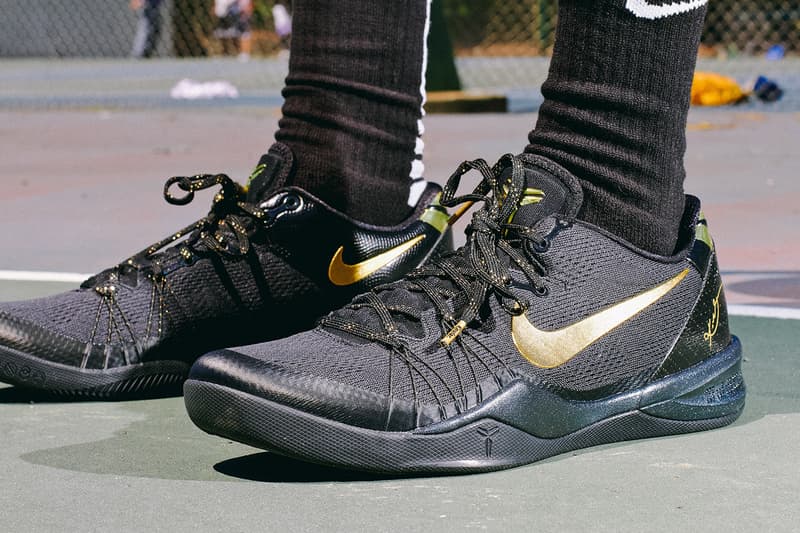 1 of 5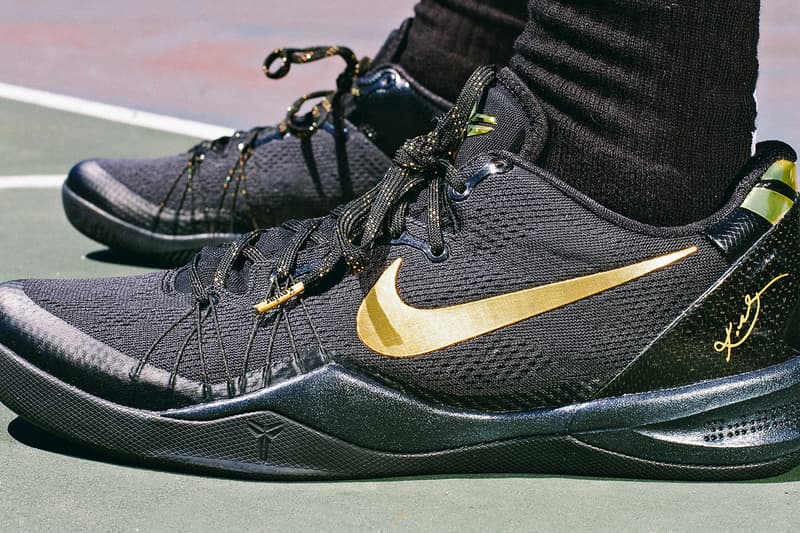 2 of 5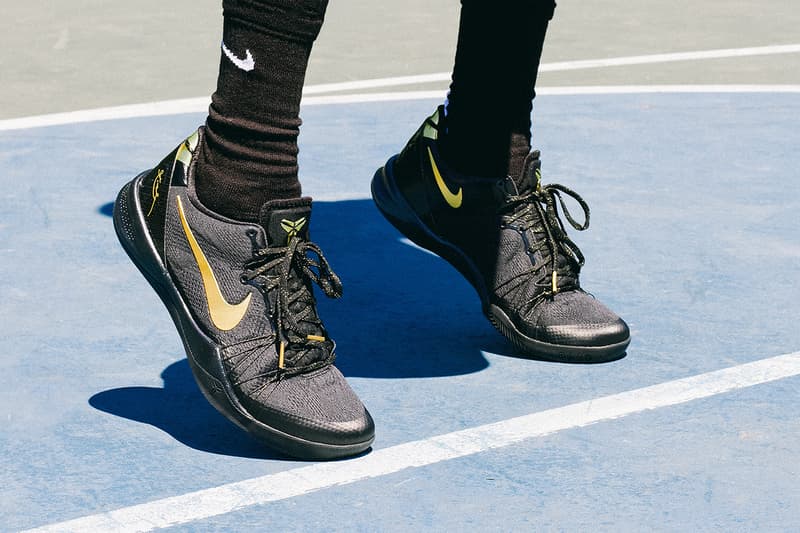 3 of 5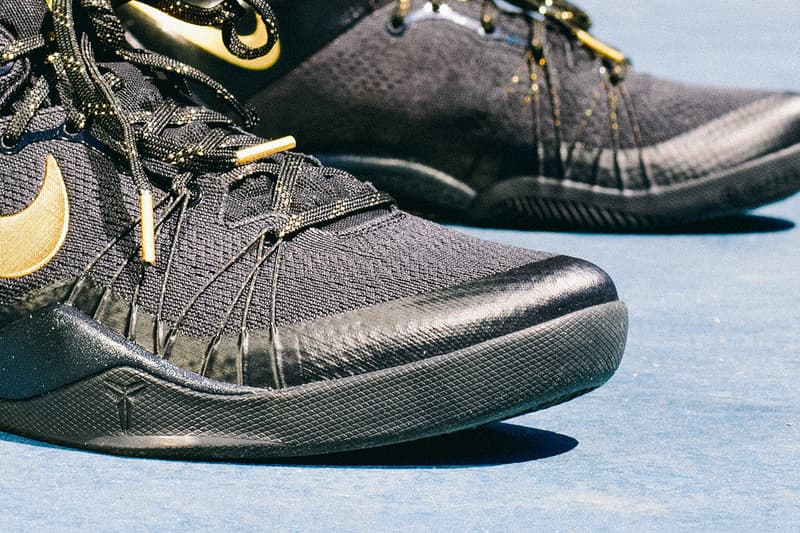 4 of 5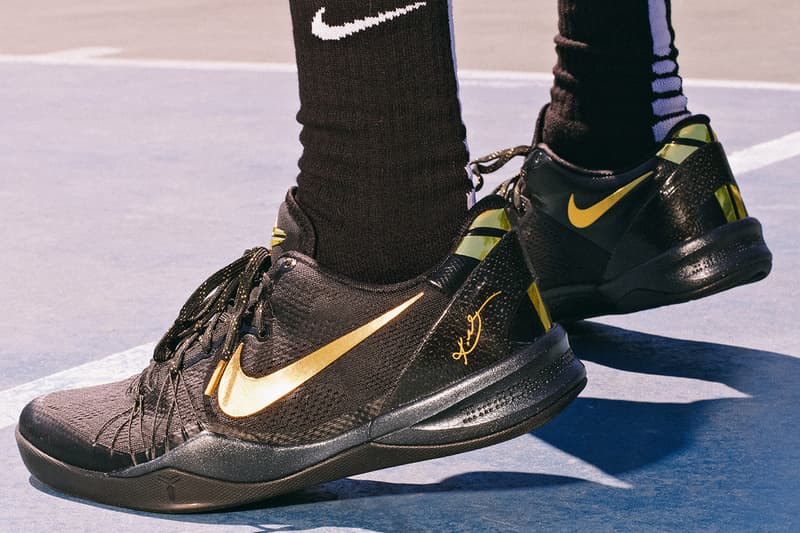 5 of 5
When perennial All-Star Kobe Bryant ruptured his Achilles back in April it undoubtedly brought an end to the Los Angeles Lakers and their already improbable title run. As an endangered Orlando Magic fan from a forgotten era I can cold-heartedly say I couldn't have cared less about their series of unfortunate events. Yet looking back on a Kobe-less postseason I can't help but dream of what could have been different had the Black Mamba been healthy enough to take on the Spurs in round one of the playoffs – a setting that brings out the best in number 24. What also catches my imagination is the visual of Kobe adding to one of his finest statistical seasons to date with a stellar playoff push heightened through the utility of his performance-based Nike Elite sneaker – a spare-nothing model designed specifically for the grueling postseason. Although we'll likely never see the Kobe 8 Elite reach its intended playoff potential, we did get a chance to see Kobe sporting the above black and gold Elite model in a must-win game against Portland two nights before tearing his Achilles. The result; a Lakers "W" and a historical stat line that read: 48 minutes, 47 points, 8 rebounds, 5 assists, 3 steals, 4 blocks and only 1 turnover. Needless to say, Kobe's play that night offered an excellent recommendation to my next on-court sneaker.
By many accounts the Kobe 8 System is very much an improvement to last year's somewhat underachieving signature model. In going for a more minimalist approach Nike was able to redesign a lighter sneaker that featured advancements in its stability, comfort and ventilation components. Although this year's rendition seemed to position itself as the best low-cut basketball sneaker since Kobe moved to the ankle-high silhouette in 2008, its Elite variant hit the hardwood with some enticing upgrades. Touted as being "stronger for postseason play," Nike's Elite series incorporates premium materials and a few subtle design tweaks into its selection of signature basketball sneaker models for Kobe, LeBron and Durant. However many wonder if the Kobe 8 Elite 2.0+ and its upgrades are worth $220 USD, a price tag that is nearly $100 USD more than its regular season version. I'm inclined to say yes, and here's why.
---
Aesthetics
At first glance the Kobe 8 resembles more of a runner's silhouette than your traditional high-top basketball sneaker. Nike chose this height in an effort to maximize as well as support Kobe's adept speed and precise footwork. Although many associate its low cut design as lacking the necessary ankle support, that assumption couldn't be farther from the truth. The 11.6 oz (2 oz more than its regular season counterpart, yet still super lightweight) Elite model features a collar that covers its wearer's Achilles to provide exceptional stability. That collar is reinforced through the addition of a carbon fiber heel clip that travels from the midsole on its lateral side, up towards the Achilles-high collar and back down through its medial midsole. That combination along with the help of a snug lacing system secures your foot in place whilst allowing your exposed ankle to move naturally and freely without any fear of injury. The heel also displays a large gold Kobe emblem, his signature on the black carbon fiber heel clip and a cryptic "Kobe Code" that translates to "Chase Perfection" wrapping around its midsole. A scaly snake-like premium leather can be seen on the heel as well, continuing to the medial side where a gold Nike Swoosh is present. The cushioned midsole and carbon fiber arch plate run into its minimal, scale-adorned rubber outsole at its forefoot. Before reaching the underside where it features both a herringbone and triangular traction system, the outsole features another Kobe logo on its lateral side as well as more Kobe Code along the medial forefoot. Its engineered mesh upper displays a hidden "KB24" etching at its toe box, a large gold Swoosh, Kevlar® black and gold Flywire cables for a lockdown fit, and a black runner that separates the upper from its sole for added protection, especially at its toecap where many tend to slide their foot pivoting or driving to the basket. As for the lacing system is concerned, each eyelet is strengthen with a plastic material, while its gold-flaked laces are made with Kevlar® and the perforated tongue provides added padding for a tight lace.
Aesthetically, Nike spared no costs in making this model both exceptionally purposeful as well as appealing to the eye, which is why it comes with a hefty, yet warranted price tag. Even with an endless supply of colorful basketball creations on the market, the subtle black and gold colorway still garners plenty of attention on the court.
"Aesthetically, Nike spared no costs in making this model both exceptionally purposeful as well as appealing to the eye, which is why it comes with a hefty, yet warranted price tag."
---
Fit
Even for an ankle-high sneaker this may be one of my favorite attributes to the Kobe 8 Elite. Its articulated foam tongue and stretch-resistant Kevlar® aramid laces allow for a tight lace without feeling stifled or uncomfortable. Those lightweight Kevlar® laces pass through seven plastic-reinforced eyelets to keep each from stretching when faced with constant motion pressure. Made from the same Kevlar material, both its medial and lateral forefoot features a total of four exposed dynamic Flywire cables (two on each of the first two eyelets) to provide superior stability or "lockdown" during quick cuts and abrupt direction changes. Those Flywire cables also allow for a massive reduction in weight as the material is used only when needed. While others find the addition of Flywire to be useless as the regular season model performed just as well without, I find their addition offers a tad more support in certain lateral transitions. The mesh collar padding gradually gets denser traveling from its tongue to its heel to give more support at your Achilles, which is then supplemented by the stiff carbon fiber heel clip. That heel clip shined during tough pivots, jab steps and quick spins. With a tight lace, strategic collar padding and durable heel clip, my ankle felt immovable during rigorous full court play. I'd like to also mention a few additional, yet minor characteristics. When sporting these Elites you may notice a little wiggle room in the toe box area. I can assure you however this does not affect its performance. I played in a pair of cushioned, two-layer Elite socks (sported above) and Kobe's signature socks, both of which are made thicker for a snug fit, removing the need for two socks. Other reviews mentioned the Elite socks will have you slipping within and I can honestly say that never occurred. Furthermore, I'd like to see how the Kobe 8 Elite would perform with a full-on bootie-like interior as opposed to its tongue being attached at each medial and lateral forefoot. This is just my curiosity running rampant as the only part that moved during pay was the minimal material left above my lace knot. As a guard who enjoys defensive challenges, I can truthfully say the Kobe 8 Elites kept me from touching Earth plenty of times. Its true-to-size tight fit allowed me to initiate full-court presses, step over screens, defend quick lateral transitions, jump forward to challenge step back jumpers, mimic Kobe's pivoting post-play, and so on. After hours of play I felt no discomfort whatsoever. Be sure to try these on before purchasing however, as they're snug and narrow along the sides.
"Its true-to-size tight fit allowed me to initiate full-court presses, step over screens, defend quick lateral transitions, jump forward to challenge step back jumpers, mimic Kobe's pivoting post-play, and so on."
---
Breathability
Although the engineered mesh upper could have been mentioned above for its soft, sock-like fit and feel, I thought it would be best to speak on its super breathable make-up here. Nike removed the minimal TPU material that was featured beneath the regular season's upper, choosing to make the Elite's exterior thicker and tougher by incorporating a double layer weaving process to offer 360 degrees of breathability. The articulated tongue is also made with perforations for added ventilation. Playing in the Kobe 8 Elites felt like a soft glove (not to be confused with Gary Payton's signature Nike sneaker) that contours to your foot. The double layering made it very durable with only a few sprints of break-in time needed. With this model Nike seemed to have figured out how to create a very minimal upper whilst providing exceptional stability.
Traction
Nike looked to what made the Kobe 7's traction system so well-liked – herringbone patterns – and brought more of it to the Kobe 8 and its Elite rendition. In addition to that extensive herringbone pattern, the outsole also displays a unique triangular design appearing around the edge of its lateral side traveling down to the beginning of its heel. In an attempt to keep this model as light as possible, Nike took a minimalist approach to this year's outsole making it very pliable, yet not offering the "squeak" you'd expect. Although it's still very responsive, I wouldn't mind seeing a stiffer construction. In playing on a less-than-ideal indoor court that could have used a good buffing or two, I had no issues in pressing fellow guards or pulling up for a quick jumper. Unfortunately, because of its soft rubber design however, the outsole will likely wear out within a few plays on outdoor surfaces.
Cushioning
Although Nike chose not to incorporate an interchangeable liner specific to various types of play in the Kobe 8 like its predecessor, it did however feature a collection of midsoles depending on which model you purchased. The Superhero Elite rendition switched from the favorable Lunarlon sole to the less than welcomed Phylon bed with Nike Zoom units in its forefoot and heel. The black and gold model imaged above however seemed to integrate the best of both worlds with a Cushlon forefoot and a bottom-loaded Nike Zoom heel unit. I find Cushlon to be a bit more responsive and softer than Phylon, whereas the bottom-loaded Zoom unit does just the opposite. So when you're running down the court at top speed on your toes or jumping and landing on your forefoot, you feel it immediately allowing for quick, precise reaction times. The Zoom unit however is less responsive as it absorbs most of the impact for you. So when you come down on your heel, which is the incorrect technique, you may not even realize the impact that occurred. I actually find that to be a positive, as others may not. If I'm landing incorrectly I want the sole to take away the negative impact as much as possible so I can continue with play as normal without missing the beat of a dribble. Furthermore, the placement of Nike+ within the midsole was unnoticeable, most likely due to the heavier Nike socks I've been sporting and the fabric insole that lays over top. Speaking of which, because of the need to access the Nike+ unit in its midsole, the fabric liner is not attached to the midsole from your midfoot to your heel. As a result, the liner did slide just a tad under my foot, and although unnoticable during play, I did have to adjust it after leaving the gym.
"Playing in the Kobe 8 Elites felt like a soft glove (not to be confused with Gary Payton's signature Nike sneaker) that contours to your foot. The double layering made it very durable with only a few sprints of break-in time needed."
---
Durability
Nike chose to incorporate a slew of premium materials not only to maximize on-court play, but to also provide a long-lasting sneaker. Over several weeks of play I noticed no sign of wear. Its Kevlar® laces and Flywire cables will remain sturdy for what I expect a few years to come. Moreover, the plastic reinforced eyelets will keep the engineered mesh from tearing under motion pressure. I've heard of people sporting the regular season model and having their TPU heel clip crack after several games, yet the addition of carbon fiber on the Elite dramatically lessens the chance of that occurring. The only problem some may have with its durability is the outsole on the Elite model is really intended for indoor play and will likely wear out very quickly outdoors.
Conclusion
Some find the Elite models to be a bit gimmicky with unnecessary material upgrades and a ridiculous price tag. Sure, the regular season model performs fairly similar without the use of Kevlar® or carbon fiber however, the presence of the aforementioned premium materials allow its wearer to trust its cushioned ride a bit more as well as extend its life. I also think Nike did an excellent job in combining Cushlon and Nike Zoom in its midsole for a comfortable play that also provides stability and support. Although there were a few tweaks I wouldn't mind seeing added to this model, it still exceeded my expectations to become the best on-court model this year. If you have the extra cash to drop $220 USD or by luck find them at a Nike factory store, I highly recommend the Kobe 8 Elite in the above black and gold for any guard or wing forward. If you played in this model let us know your experiences below.
"Although there were a few tweaks I wouldn't mind seeing added to this model, it still exceeded my expectations to become the best on-court model this year."