HYPETRAK Mix: Ta-ku – Drive Slow, Homie
Our compadres at HYPETRAK proudly present the second installment of their new Mix series, this time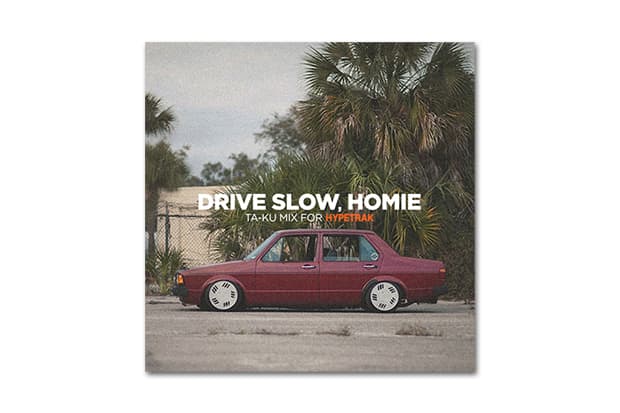 Our compadres at HYPETRAK proudly present the second installment of their new Mix series, this time linking up with Australian DJ Ta-ku for the exclusive. Known for his combination of soul's melodic elements with that of hip-hop's percussion and taking inspiration from pioneers like J Dilla, Ta-ku's 33-minute curation includes laid-back tunes from Harrison Blakoldman, Falcons, Teen Luc', Esta, and even his own track "Electr(on)ic Relaxation." The appropriately-titled Drive Slow, Homie is available to download below in its entirety.
How did you approach this mix?
It's basically a culmination of tracks i love to play in my car. The mix starts on that top down / beach side / hair blowin in the wind / laid back trill tip. Then slowly moves into top up / nightime / grown man dancing like a grown woman / meet you at the spot / jersey jamz tip.

The top three most played songs on Ta-ku's iTunes are….?
Dimlite – Roo (Dedication)
Foreign Exchange – Come Around
Tribe Called Quest – God Lives Through

Favorite place to DJ in the world?
My bedroom.

Superman or Batman?
Batman ALL DAY.

Barack Obama or Michelle Obama?
Fred Armison.

If Ta-ku could be any Transformer, he would be?
Optimus Prime without a doubt.
Tracklist:

Harrison Blakoldman – Obsess Me
Danny – Remedee
Weep – I Know You Got Work
Penthouse Penthouse – First Class
starRo – Any Time, Any Where
LTGL – Cabin Fever
Esta – Latch
Teen Luc' – There
Ta-ku – Electr(on)ic Relaxation
DJ Hoodboi – I Get Lonely
FS Green – Deep
Falcons – Boy Is Mine