The Rise of Fashionable Technology
"As hardware gets smaller and grows more powerful, the devices are now bred in another form.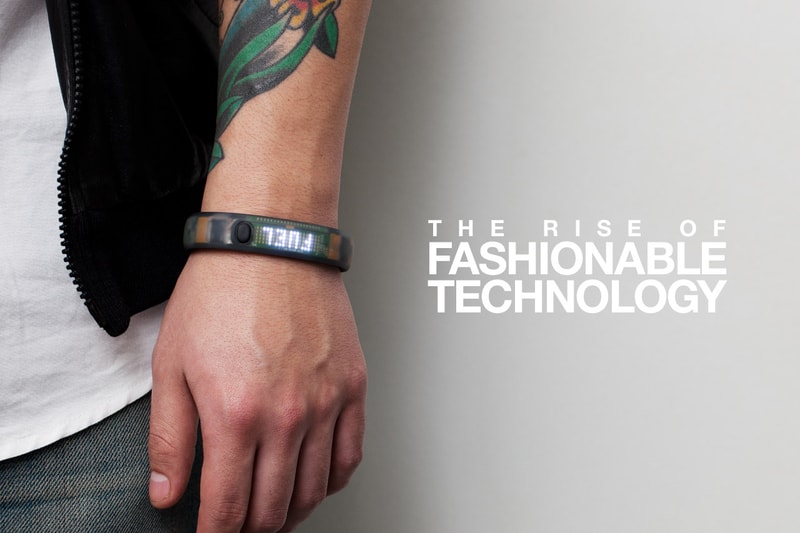 "As hardware gets smaller and grows more powerful, the devices are now bred in another form. These new devices are sleeker, better-designed and offer more practical methods of improving our lives."
I've always been fascinated by the next big thing. I still slap myself for missing the boat in a major way three years ago.
"There's an app for that." With those five words, Apple launched what is now known as the app economy. It's not an exaggeration – the app economy has created nearly 500,000 jobs according to The Miami Herald, and it has birthed fast-growing companies such as Rovio and Zynga (albeit it has seen better times). It is also projected to be worth $55 billion by 2015.
It was the BlackBerry and the iPod that initially ushered in the age of mobile devices. As hardware gets smaller and grows more powerful, the devices are now bred in another form. These new devices are sleeker, better-designed and offer more practical methods of improving our lives. They can help us track our habits, improve the way we feel, and offer more control in our lives.
The most bizarre part is a lot of the new technology take the form of accessories. Let's look at some products that are bringing about the rise of fashionable, wearable technology, firstly by examining the most practical of fashion functions: clothing.
---
Improving Clothing Function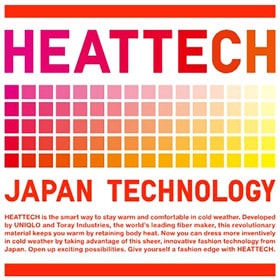 UNIQLO HEATTECH – Incorporating technology to generate and retain body heat into their fabrics.
The essence of clothes, in addition to fashion, is to protect wearers from the elements. Japanese company Fast Retailing has focused on using technology to improve their garments functionally. In comparison to typical fast fashion companies (Zara and H&M), which manufacture small batches of items to follow trends extremely quickly, Fast Retailing's primary subsidiary UNIQLO maintains its low prices by manufacturing large batches of clothes up to a year in advance.
Because UNIQLO is known for its basics, demand for its items are forecastable and stable, and UNIQLO is able to continue manufacturing in large batches. UNIQLO's offerings resonate well with consumers because it weaves technology into its items. This includes technology like HEATTECH, a technology used to generate and retain heat in its fabric, and AIRism – the counterpart of HEATTECH – UNIQLO's cooling fabric. This technology allows UNIQLO to create basic articles of clothing that stand the test of time.
Fashion and technology are starting to converge. While fashion companies like UNIQLO are making it happen, there are even stronger catalysts coming from the other side of the field: technology companies are churning about gadgets disguised as fashionable accessories. How will these changes improve our lives?
---
Altering the Real World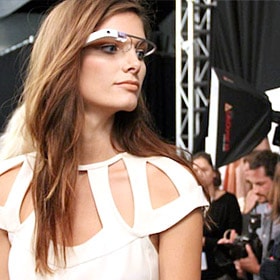 Google Project Glass – Offering a new interconnectivity that displays information regarding one's surroundings while a built-in camera shoots photos and videos. 
Google's Project Glass has made a strong statement in 2012. This concept device connects to your smartphone via a set of glasses, and displays information on a screen built into the lens. You can have your text messages, emails and media beamed into your field of vision, or summon them via voice command. Google Glass also has a built-in camera, which means you can snap photos and video clips hands-free (and inconspicuously).
Project Glass is one of the harbingers of augmented reality; as this video demonstrates, in addition to integrated communication, it can overlay your world with maps, reminders and all sorts of neat additions. Glass holds some serious implications for the way we communicate with others, the way we interact with our environment, and the accessibility of information.
Despite riding the cutting edge of technology, Google Glass has been embraced by the fashion world. Fashion designer Diane von Furstenberg armed her models with several pairs for a fashion show that took place a few months ago. "It's a very important component of making technology desirable and compelling," said Google co-founder Sergey Brin in an interview. "It's got to be stylish and fashionable."
It's Brin's, and Google's hope that its integration into fashion will remove some social risks and accelerate mainstream adoption of this technology (or prevent it from ending up on this list).
---
Tracking Biometrics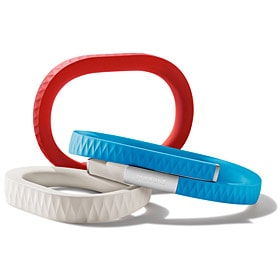 Jawbone UP – Offers the ability to track activity, sleep, food consumption and more for analysis. Through smartphone synchronization, it allows you to measure and track your goals as well as make suggestions for success. 
While a device like the Google Glass is capable of adding on a layer to our visual reality, other devices are dedicated to bringing more clarity to a less visible aspect of reality. Wearable technology and audio device manufacturer Jawbone recently launched the second version (after a disastrous first) of its biometric bracelet, UP. The Jawbone UP's premise is built on the principle of changing habits: the first step to improving your life, and building better habits, is tracking and dissecting your current habits.
The Jawbone UP primarily tracks three types of information: activity (such as steps throughout the day, which then measures calories burned), sleep (hours spent, and how much of it was deep sleep), and the types of food you eat (either through scanning a barcode, or manual input via UP's food glossary feature).
The Jawbone UP syncs to users' iPhones via a headphone jack, and the measurements are then compared to the goals they had set for themselves. This gives users insight into where they can improve most in their health, and how much they must adjust their daily routine in order to reach their personal goals.
In addition to its tracking ability, the Jawbone UP also has an outstanding built-in alarm clock function. Built on its abilities to measure user sleeping patterns, the UP also has the ability to wake users up with a gentle nudge while they're in a lighter form of sleep. A review on The Verge claims that this function makes waking up a lot easier.
---
Giving Watches Superpowers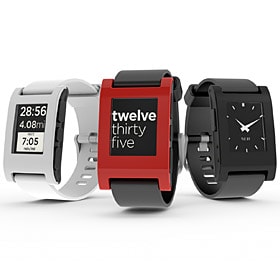 Pebble e-paper watch – Built using a high resolution e-paper display, the watch is readable in all conditions while a Bluetooth connection enables one to work in conjunction with a smartphone. 
In addition to telling the time, watches have doubled as a fashion statement. The Pebble e-paper watch goes beyond these two functions by connecting wirelessly via Bluetooth to users' iPhones or Android smartphones.
The Pebble is built using a high-resolution e-paper display (similar to a Kindle), which makes its image readable even outdoors. The use of a digital display means that the watch face can be customized according to user preference; it can display time digitally or as a traditional analog watch face.
The killer feature of the Pebble is its ability to run apps. The Pebble watch is connected to your phone, which means that it can act as its remote control and display (i.e. change music while you're on a run, measure speed with its accelerometer if you're a cyclist, or display text messages and alerts). Pebble's team makes its product expandable by allowing third parties to develop apps, and so the watch comes with an open SDK.
The possibilities for Pebble apps are incredible. For example, its built-in vibrating motor (I unsuccessfully tried to find another way to say that) combined with its connectivity to users' phone means that it can serve up reminders based on user locations. If a user needs to buy milk today, it could display a reminder when he's near a grocery store. The concept of the Pebble is simple enough; it builds on the power of current mobile devices. This next piece of fashionable technology builds on the power of something everyone already uses every moment of their lives: the brain.
---
Opening up the Mind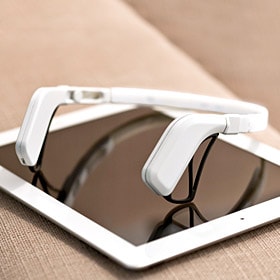 InteraXon Muse – A headband that measures brain waves. Users are able to track and look into how certain activities affect their minds. Future possibilities include controlling computing devices, matching users of similar brainwaves, and staying alert on long drives.
The InteraXon Muse is a headband that measures brain waves. It has four sensors: two in the front, and two behind the ears. InteraXon founder Trevor Coleman likens it to a pulse reader for the mind. "The same way taking your pulse will tell you how your body's doing during physical exercise, this'll tell you how your brain's doing during mental exercise," explains Coleman in an online fundraising campaign video.
Its initial application is based on tracking brainwaves. Users will be able to look into how certain activities are affecting their minds. Is the yoga class truly relaxing? Is the new promotion too stressful? Is the memory-training class they're taking working?
Within 10 years, InteraXon believes that Muse will be able to control other computing devices and toys, match users up with other individuals of similar brainwaves, and stay alert on long drives. This is huge – it could potentially extend to other connected devices, which holds enormous implications not only from a science-fiction telekinetic standpoint, but an extremely practical one for the bedridden or the paralyzed.
InteraXon is connecting the mind with the physical world. It has already created campaigns to demonstrate how the mind can control many things (ranging from a thought-controlled beer tap to mentally controlling lights several provinces away on the CN Tower). In contrast, Nike is looking to build upon people's current physical capabilities by using technology to improve the way they perform in their lives.
---
Breeding Further Change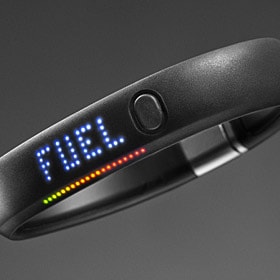 Nike+ FuelBand – A motivational tool to engage users in activity, it utilizes Nike's own proprietary Nike Fuel Points.
Nike has consistently been on the forefront of technological change. They were one of the first to leverage the power of mobile technology with the original Nike+iPod equipment, which connected with earlier variants of the Apple iPod and iPhone to measure exercise performance.
The Nike+ service evolved to take the form of a bracelet, similar to the Jawbone UP. Dubbed the Nike+ FuelBand, this product similarly measures physical performance (without the sleep or diet aspects that the UP tracks). While its feature set is more focused in scope, it is connected to devices via Bluetooth and served as a much more reliable product than Jawbone's first variant of the UP (which received complaints as UP bracelets randomly stopped working).
Recently, Nike announced a collaboration with TechStars to launch their own accelerator and help entrepreneurs bring their ideas to reality. It is focused on companies that plan to build software on the Nike+ platform.
The benefits of having entrepreneurs join the Nike+ accelerator is access to the extremely impressive TechStars network, which ranges from powerful investors to experienced mentors. The accelerator also helps with funds – in exchange for supporting each company with $20,000, TechStars will be taking 6% of each company entering the Nike+ accelerator.
Data has been huge when it comes to making decisions in corporations, and has been crucial to improving bottom lines. Now, these devices, platforms and applications mean that data can be accessed by consumers to improve their health, well-being and quality of life.
While the main function of technology has always been to make life easier, the importance of design used to be overlooked by most companies. Now, the fact that technology is becoming more fashionable simply means an even quicker permeation into mainstream culture.
While apps have made a huge dent on our world in an extremely short amount of time, their effects will pale in comparison to what fashionable, wearable technology has in store.
Herbert Lui is passionate about entrepreneurship, art, and technology. In his spare time, he covers technology and startup news for Techvibes. If you want to connect (or heckle), please feel free to reach out on Twitter.