Lee Holman Talks About the Revolutionary Reinvention of the Tech Fleece Fabric
Lee Holman is the Vice President of Apparel Design for NIKE, Inc., driving the apparel design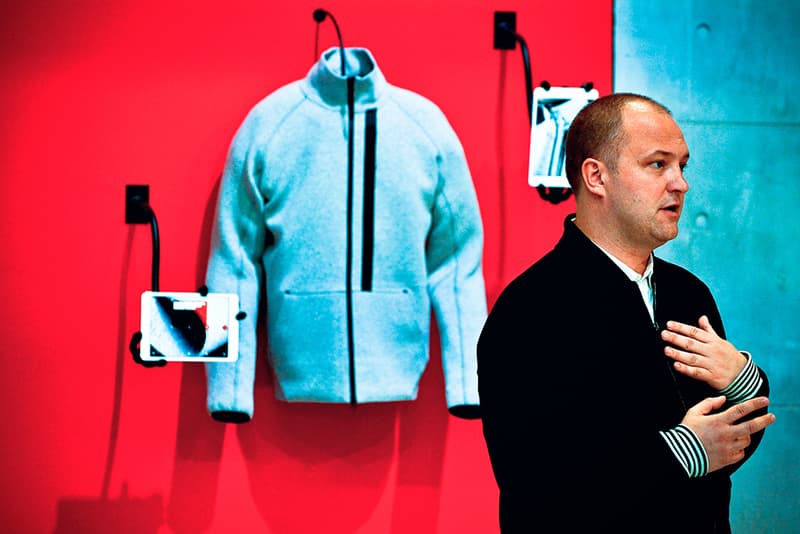 1 of 3
2 of 3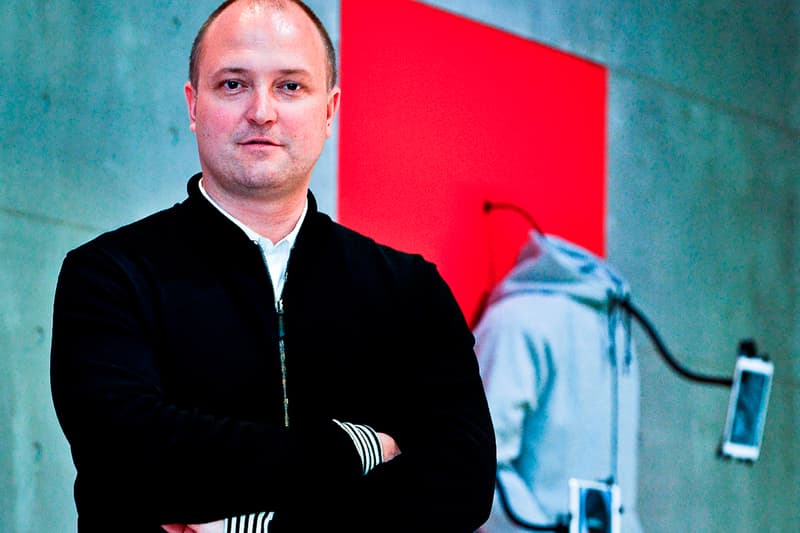 3 of 3
Lee Holman is the Vice President of Apparel Design for NIKE, Inc., driving the apparel design strategy across the company. Holman joined Nike in 2010 as the Nike Sportswear Concept Director before becoming the Creative Director of Sportswear Apparel and Footwear. Before Nike, Lee held many design leadership roles with style brands including Burberry, Habitual, Abercrombie & Fitch, Paul Smith, and Levi Strauss & Co.
During a trip to Paris to preview Nike's FW/HO13 collection, I caught up with Holman to speak about Nike's innovative addition to fleece fabric, "Tech Fleece." A revolutionary reinvention of the fabric of sport: fleece.
---
Pursuing Technical Innovation
Tell us about Nike's ongoing desire to create better performance wear and designs?
It's the DNA of the brand. We obsess and problem-solve around the athlete in motion. Getting the athlete to run faster, jump higher and score more points. Our approach to design is all about eliminating distractions whilst maintaining the functionality that athletes and consumers need. As we move through the different stages of product design and learn how to use new materials, we are able to eliminate various layers that make up a product. The end result is a clean and modern-looking aesthetic. That's the goal of the brand. It's this DNA that drives the designers to solve problems and it has been there from the days of Bill Bowerman.
How do you incorporate new innovations into new products?
Innovating around the needs of athletes and consumers is key. In some cases we look outside of the product's specific sport for ideas, which makes us ask ourselves pertinent questions. What you'll find is the technology used in one sport can be transferred and used in another. This is also applicable in daily life. When you start looking at everyday consumers, making things functional to meet their everyday needs is also a top priority.
When you can't solve a problem with available technology, do you take it upon yourselves to create that technology?
At Nike, we have innovation design teams that are devoted to working on innovations for the next 5 to 10 years. These innovation designers work together with our category designers to problem solve around the athlete. In apparel, we always start with the fabric because that is where our innovation comes from. When there is a new fabrication that we can work with, our designers are able to start creating prototypes from the yarn of that fabric. Our entire design team, even the teams that are involved with the color aspect, are collectively involved with the conversation throughout the process.
What are the major challenges in trying to solve performance setbacks by this method of technical innovation and material design?
At Nike we don't view this as a challenge. We get our designers to dream. We ask them, what do you want to do? How do you want to create the future? It is truly amazing to see at such a large company. We have "hives" and "kitchens" at Nike that focus on finding new methods of crafting products, which is fantastic.
Tell us about your recent projects and how have they progressed?
From apparel to footwear, when we design products we keep in mind an ethos that the entire design team buys into. For example, how can we be impossibly light? How can we make things fit closer to the body in motion? When working on a project we constantly obsess over these ideologies and that has had a positive impact on the progression of our work. The Tech Fleece collection is a great example of how we worked with the ethos of creating a product that is impossibly lightweight.
"How can we be impossibly light? How can we make things fit closer to the body in motion?"
"The Tech Fleece collection is a great example of how we worked with the ethos of creating a product that is impossibly lightweight."
Lee Holman discusses the motivations that drive his entire design team when working on new products
---
The Tech Fleece Collection
What's the inspiration behind the Tech Fleece collection?
I wanted to come up with a new aesthetic around fleece, and when I saw surfers in Portland wearing wetsuits I really liked the clean approach. The flat over-lock we used is taken from a wetsuit but I also wanted to take from the elements of Portland, it's a really rural place and I wanted to bring that aesthetic into the city. I was thinking about what people want if they are traveling around the city like the media pockets for phones or something that keeps you warm — some of these pieces can be worn as outerwear. I call it "indoor outerwear" because for a lot of people fleece is now worn as outerwear. The aesthetics and style of the product share an equal importance in terms of equipping athletes with confidence. If you are feeling great when you walk out onto the pitch, or even onto the street, and you are supported by all this technology and innovation, chances are you are going to perform to a high level.
Tech fleece is quite a difficult idea to grasp.
The idea around Tech Fleece is really solving the problem around thermal regulation, taking the neoprene fabric from the wetsuits and the idea of the two fabrics being bonded together so it's a natural insulator. It traps heat into the body from your body heat, but also acts as a windbreaker from the actual wind while it releases the heat as well. So if you cut the fabric to see the actual fiber you get these two fabrics with fibers in between them, so it creates a kind of air stream and air fleece. And then from there the style aesthetic was us thinking how we can take details of the product to make it simpler and more modern looking. So for example the simple way of approaching the zip with it being bonded. There is no stitching or taking the rib of the cuff and having a bound tape idea so again it's very minimal. With the silhouettes, because the fabric is so structured we've added more structured articulated arms so you get the feeling that it's more sculpted and gives it shape even when it's off the hanger. When you put it on, it's closer to the body, but [it] also moves with the body as opposed to a traditional fleece.
So that gives it a better balance between lifestyle and sports apparel?
Yeah for more of a running jacket I would probably design it with differences to put breathability and motion into consideration. We study the athlete all the time, where we are taking that knowledge and putting it through a lifestyle lens. It's definitely a fabric story but then the aesthetic and innovation have to work with style, otherwise it just becomes "oh a cool piece!" But then who wants to wear it, you know? It's important to get that balance right. That is why it is important to incorporate style with innovation.
Are you conscious of the fact that you are molding the style and look of the future?
When using certain innovations in the design process, "less is more" becomes a byproduct of the design. We are driving to own the modern look of sports and with innovation comes modernity. The aesthetic choices that we make are very clean, modern and functional but also pull from our past so they're there for a specific reason. We get our inspiration from going back to the heritage and DNA of the brand and using innovation to create a new adaptation of an iconic piece. This method of design allows products to evolve with a more modern aesthetic, whilst maintaining classical elements that people love. When it comes to product design there are a range of dynamics such as travel, architecture and sculptures that have an influence on our design. Although, it is the open dialogue that we have with the athlete about how to achieve higher level performance via the fabrics that we offer in terms of providing that lightweight, breathability, mobility and perfect fit.
"When using certain innovations in the design process,
'less is more' becomes a byproduct of the design. We are driving to own the modern look of sports and with innovation comes modernity."
Lee Holman explains how he is helping to mold the look and style of the future