Pusha T - My Name Is My Name (Review)
While hip-hop fans could openly argue day in and day out over whether or not Pusha T's Fear Of God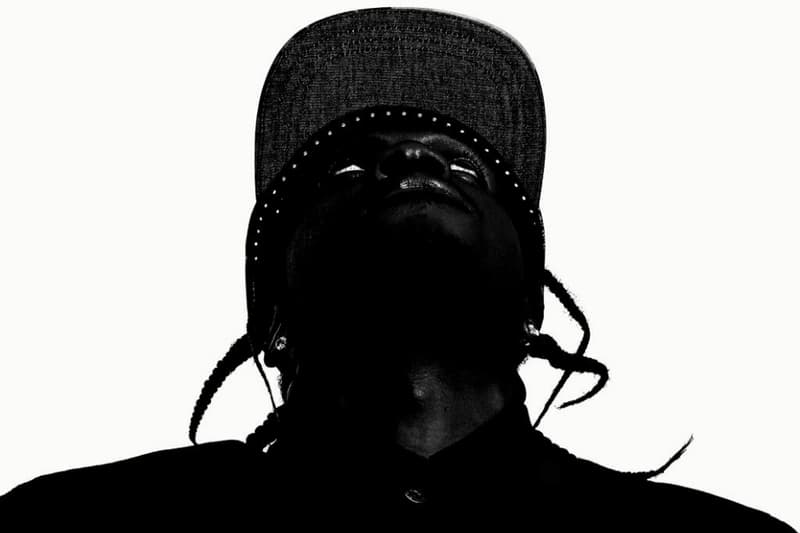 While hip-hop fans could openly argue day in and day out over whether or not Pusha T's Fear Of God mixtapes properly fulfilled their expectations from the Virginia-raised emcee, Push now looks to shorten up those arguments up quickly, with the release of his solo debut project My Name Is My Name. Known for his memorable wordplay and vividly pictured drug-related lyricism, Pusha T takes the momentum he and his brother Malice built up in their days as the Clipse, and now showcases his ability to further his success on his own. Released under Kanye West's G.O.O.D. Music label, My Name Is My Name surely looks to be another golden gem graced by Mr. West's Midas touch. Go gather your Pyrex measuring cups and digi-scales and tune in to my thoughts on the highly-anticipated LP.
Off the bat the album opens up with one of Pusha's strongest singles "King Push." If you were thinking he was just going to give you a simple DEA gum rubbing to open the album, you quickly come to realize that you're actually headed for more of a Tyrone Biggums-styled crack party once the Kanye West co-produced drum line kicks in. The realness of his lyrics in relation to his real life experiences are what make true rap enthusiast throw shade on artists such as Drake, and being that Push raps about trap life and doesn't "sing hooks," no one can take away his authenticity. With artists like Drizzy having to validate lines such as, "Just bought my niggas some caine, so much it came with a plane," with bars about him not lying in his lyrics in the same verse (see Meek Mill's "Amen"), listeners have earned the right to make such judgements, but it's hard to even come remotely close to denying what Push says. Pusha is able to keep things a little too real at times on the intro track, even going as far as poking fun at himself in expense, with a line such as "My first Grammy was my first brick." And although actor Joaquin Phoenix didn't actually get behind the production board on the track, the fact that he's even somehow closely tied to the single also adds a layer of keenness that just fits.
Now that we're already engulfed in the $450,000 "crack party," Pusha now looks to keep the album's momentum steady, so right on time he places "Numbers On The Boards" — one of this year's top street anthems — and his Chris Brown-featuring single "Sweet Serenade." If we're going to keep things Tyrone Biggums-related in this review, you could easily consider these singles to be the "Red Balls" of the album. Transitioning from the high-energy single to the more mellowing track, we continue to receive classic lines such as "I might sell a brick on my birthday/ 36 years of doing dirt like its earth day." With Swizz Beatz on the production and Chris Brown on the hook, "Sweet Serenade" looks to be more of a radio-friendly track required to balance out the album's raw and gritty nature, but in reality it's another solid single that garnishes some notable names along with it. Pusha thankfully refrains from letting C.B. or Swizz try to lyrically compete with him on the track and just allows them to do what they're more suited, as he befittingly handles the verses on his own.
Up until this point in the album Pusha T had yet to have another rapper featured, but from track four and onward, the LP sees rapping guest appearances on seven of the nine remaining tracks. Calling upon "The Boss" himself, Pusha gets Rick Ross on the Kanye West and Hudson Mohawke co-produced single "Hold On," and we again see Push calling out fake rappers. "I sold more dope than I sold records/ You niggas sold records, never sold dope/ So I ain't hearing none of that street shit/ Cause in my mind, you mothafuckas sold soap," he kicks off the track, sandwiching in Rozay's verse between Kanye's auto-tuned hymn. Still on the slower pace of things, the album now looks to pick back up as we get ourselves another rap feature.
For Pusha fans who've been riding along since the Clipse days, "Suicide" will send you back earlier in his career, as he reconnects with Pharrell and Re-Up Gang member Ab-Liva. You can look at this track as the "5 o'clock Free Crack Give-Away" that actually happened, no false advertisements needed. Pharrell brings out his bag of Neptunes sounds and we get what we've come to expect when Push and Skateboard P get together. If there's one track on this album that needs a Re-Up Gang remix, look no further than here. Malice and Sandman should already have their verses penned and be entering the studio to record them as of yesterday. As with many parties there's often a brief moment before the party gets all the way turnt up, and for that moment on this album we have two tracks.
Although the album dips slightly for tracks six and seven, being that we've been so spoiled with the album's earlier production, both "40 Acres" and "No Regrets" gained mixed emotions through their initial listens. The-Dream and Pusha continue to collaborate together on "40 Acres," as one of Atlanta's top-notched cocaine cowboys-turned-rapper, Jeezy, lends a feature on "No Regrets." While both tunes don't deserve instant passes in the slightest, after you hear his Kelly Rowland-featuring single "Let Me Love," you may get the feeling that the two earlier tracks may be slowing you down something more upbeat and fulfilling.
Now Pusha previously stated that he had no problem playing the Shyne role to Kanye West, in correlation to the Belizean emcee's relationship to Diddy, but when listening to "Let Me Love," it's evident that Push is now looking to upgrade to the role that '98 Ma$e played. Giving us his best recreation of Ma$e's "What You Want" single, Pusha resurrects the catchy flow that the Bad Boy emcee made famous back in his heyday. You almost get the feeling that all of the Ma$e signing to G.O.O.D. Music talk stemmed from someone getting an early listen to the track, and without getting all of their information straightened out, leaked that the Harlem World rapper was heading over to Kanye's camp. As one of the more notable tunes on the album, the fun single is actually just a precursor for the cocaine mountains Pusha is setting to roll out for the album's closeout.
Linking together with his G.O.O.D. Music affiliates 2 Chainz and Big Sean, "Who I Am" is the closest thing we get on the album to a "posse cut." Also co-produced by Kanye West, the single sees the three emcees exchanging boastfully lyrical verses over the trunk-rattling beat. With "Who I Am" representing the moment the drug mountains first appear at our "party," we can metaphorically let the second we go Tony Montana style into that said pile as "Nosetalgia." Getting a verse from Kendrick Lamar, the two rappers lyrically display two different perspectives on their drug-referencing stories, and both do it beautifully. Following the overwhelming euphoria that runs through your body as the KRS-One sample plays over the twanging guitar, we're then allowed to briefly come up for air as "Pain" knocks its way on.
Kanye West and No I.D. handle the production on track 11, and Future does what he's best at: supplying a quality hook. Pusha speaks on some of his life's possible negatives and how he's been able to successfully elude them, and instead turn them into achievements. With the festivities now set to come to an end, we close out the album with another Pusha and Pharrell collaborative effort, titled "S.N.I.T.C.H. (Sorry N****s, I'm Trying To Come Home)." Quite the fitting of a title to go along with our metaphoric story. We see the two VA artists giving fans yet another timeless tune, as we hear Push share words on hip-hop's most shunned people — the snitches — and Pharrell singing the song's chorus.
With so much expected from his solo debut, Pusha T sure enough delivers with My Name Is My Name. We can either be picky and argue that the project had too many features or not enough tracks, or we can do what Push is expecting of his fans and take in this body of work as we have always in the past — with open ears and eager attentions for dope lyrics (see what I did there?). Being that he came in the game with his brother Malice, we in no way should be expecting an Illmatic-esque featureless album. Instead we get raw stories and an honorable LP. By this time your Pyrex cups and scales should be overflowing with product so feel free to loop the album again to further help you with your distributing tactics.
Written By Richard Brooks