BASOUK Puts Over 50,000 Items Together for the Perfect Shopping Experience
Online shopping has gotten more and more difficult over the past few years. In a landscape that was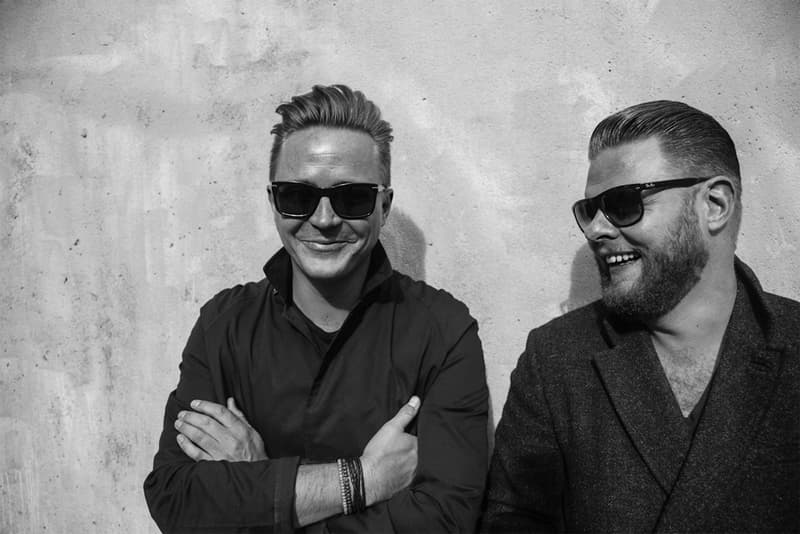 Online shopping has gotten more and more difficult over the past few years. In a landscape that was previously untapped in terms of menswear fashion outlets online, the market has since developed into an often overabundance of e-commerce shops with an overwhelming array of goods. For BASOUK co-founders Olof Lindblom and David Höök, there was a desire to offer a source for men who were on the hunt for some of the most exclusive goods and hard-to-find labels, without having to scour hundreds of Google result pages and crowd up their bookmarks folder. Pulling from some of the most well-respected and highly influential e-tailers such as oki-ni, MR PORTER, LN-CC, End Clothing and The Goodhood Store to name a few, their shopping experience gathers apparel, accessories and lifestyle products into a centralized shopping experience. We had the chance to sit down with the two co-founders to hear their perspective on BASOUK and touch base on their own personal styles.
Additionally, BASOUK is giving away a $1,500 USD shopping spree to its partner site, oki-ni! Entries end on September 30th and you can enter yourself for the winnings here. If you're looking to stay up to date on the latest menswear selections from Basouk, keep up with them on their Facebook page as well here.
Could you introduce yourselves and give us a little bit of information on your backgrounds?
We both grew up just outside Stockholm, Sweden and we've have been friends for the majority of our lives — about 20 years now. The reason why we kept hanging out is probably that our interests overlaps to a great deal. We both have great interest in fashion and are absolutely in love with all things digital. BASOUK is our lovechild combining these interests. We still live in Stockholm and it's from here we run our business.
Olof has worked with digital marketing since 2003, most recently as Account Director of Goviral Sweden — a London-based web agency specialized in branded content distribution, which he took an active part in co-establishing in Stockholm 2010.
David has more of an academic background. He has a master's degree in Engineering Electronics from the Royal Institute of Technology, where he has also studied IT Management at a doctorate level and authored/co-authored over 15 research papers on new information technologies. David also holds a position at The Interactive Circuit in Stockholm, an award-winning web agency that specializes in online communities, e-commerce sites and social intranets.
What is Basouk.com and how does the site work?
BASOUK is an online fashion site solely focusing on men's apparel, accessories and lifestyle products. The site gathers all the essentials for inspiring and maintaining the style of the conscious man of today. This is made possible through a unique set of collaborations with some of the greatest and most well-known online stores out there. Today we work with stores such as oki-ni, MR PORTER, LN-CC, End Clothing and The Goodhood Store to mention a few.
By giving our visitors an unlimited access to all their favorite brands on one site and putting the brands and products instead of the store in focus, BASOUK aims to speed up and personalize the shopping process. At checkout, customers are directed to each individual retailer to complete the purchase.
To get the complete BASOUK experience you should also like or follow BASOUK in our social channels www.facebook.com/BASOUK, www.pinterest.com/BASOUK and www.twitter.com/BASOUK.
What are your respective roles at Basouk.com?
There are two aspects of our roles. First the roles on the paper; here David is the CEO handling the more economical aspects of the business. Olof is the marketing guy. The second aspect comes largely from the size of the BASOUK organisation, which still is rather small. Due to this our roles gets mixed up to a great extent.
On an everyday basis we both oversee the merchandising, the creative production, advertising, public relations, and the always-ongoing business development.
In addition to the two of us we have three other guys focusing on the development of the technical platform upon which BASOUK is built. So the size of the team is still rather limited. But for now this is more of an advantage then a disadvantage. We can still fit into a medium-sized office and everyone's opinion on how to perform a certain task, etc. can be accounted for instantaneously. Soon we will be forced to hire new talents, but there are still quite some time left until we become a large-sized organization enterprise.
What inspired you guys to start the site?
The market for men's fashion online has been growing rapidly the last couple of years and great stores, with impressing brands list, are popping up in all corners of the world. We came up with the BASOUK concept when we discussed how awesome it would be if we could get an easier overview of all products from our favorite shops and brands in one place and thereby avoiding the hassle of going through the stock of around 20 different stores using 20 different tabs in our browsers. As time went by we developed the concept so that all style-conscious men would be able to appreciate BASOUK, not just the two of us. That's why we have such a wide range of partners, from giants such as MR PORTER and Farfetch to narrower niche boutiques, such as LN-CC and The Goodhood Store. This is where we are now, but this is just the beginning. Loads of exciting new stores and features will be added within the next couple of months.
What are you wearing at the moment?
Olof: Common Projects chukkas, A.P.C. jeans, Acne tee, and a vintage leather jacket. A Miansai bracelet and a Seagull63 Air Force watch on the wrist.
David: Converse sneakers, Edwin Jeans, Our Legacy shirt, Nike Destroyer, Ebbets Field cap, and a Tsovet watch.
What are some of your favorite brands?
Here we have to be a bit patriotic. We really dig the upcoming Swedes such as Our Legacy and BLK DNM. But we're also very fond of the more established fashion houses like Acne, A.P.C. and Martin Margiela. But there are a lot of brands, from all over the world, that are doing great things at the moment so it's hard to just choose a couple. That's the beauty with BASOUK, you'll find all the classic brands and all the upcoming players, all in one place.
How do you see Basouk.com evolving?
By introducing more inspirational content we want to create incentives for our visitors to visit us for more reasons than to just shop. You can now look through interviews get to know cool, inspiring guys with different backgrounds, from various parts of the world and with different styles. Learn what's inspiring them, what their favorite brands are, and how they have got to the place and position they are on now. We have also added a section called People where interesting guys recommend their top 5 products right now. So, the users of BASOUK will act as "product filters" for other users and it's in that direction we're heading.
The ambition with BASOUK is to become the natural starting point for men shopping fashion online.
Do you guys work in conjunction with the retailers that are on your site?
Yes, of course, we have a great relationship with our partners. Our ambition is to have an even closer relationship and give the BASOUK users unique content from all our partners as well as store credits, promo codes, contests with exclusive prizes from our partners, etc.
We also think it's interesting to hear what the people behind the stores have to say. We recently published an interview with James Nuttall, the marketing director at oki-ni, talking both about the creative part and the challenges of running a big online store.
How do you aggregate all the different items on your site? Is there a selection process for what you feature on your site? Any guidelines for product selection?
The first thing we do is to conduct an assessment of the store as such. We try to focus on such things as; how their conversion funnels are configured, will a visitor we redirect to the partner to find their way on how to purchase the item he's looking for? We are always very thorough with going through the delivery and return terms and shipping costs of the store that wants to join us. There's a huge difference in conversion rates for stores having free worldwide shipping and those who adds an additional shipping cost to the price of the product. We really advise all online stores to skip their shipping costs, their revenues will increase tremendously. There are fairly easy models on how this can be done. There are of course even more factors that we take into consideration before we choose to feature a store on BASOUK.
The other category of things we look into is the brands the store is stocking. The question we ask ourselves here is if the store will add any extra value to the BASOUK visitors. We also have a separate admin where we can leave out certain brands of the stores we choose to work with so that we can obtain a good mix of brands. Here we partly choose brands that we, due to visitor behavior analysis, know that our audience loves. But, we also try to introduce yet not so popular brands so that our visitors are given a chance to discover new and exciting brands that they wouldn't have found otherwise.
How would you recommend navigating the site for the first time?
It depends on what kind of visitor you are. If you're just a "window shopper" looking for inspiration we suggest you to check out the Editors picks section or an interview. You can also go to the People section where you can easily get inspired by some cool guys and their point of view on style, brands and what products from BASOUK they recommend. It's fairly easy to identify oneself with a couple of the guys, click on the products they recommend, and lose yourself in browsing similar and related products through the product pages.
If you in some way know what you are looking for you should go straight to that brand or product category through the main menu. In the brand view of say, Acne, you are able to browse the Acne stock from all our partners. The same principle of course works for our product categories where you can browse for T-shirts, sneakers, jeans, etc. And when you've find what you're looking for we'll direct you straight to the checkout of the store selling the product.
How would you differentiate Basouk.com from other fashion or retail platforms?
The first thing would be the fact that we've gathered more than 50,000 products from the most well-reputed online stores for men. It's all there – so you will find whatever you're looking for. The second thing is that we're not telling our users what to wear or buy, we're more into recommendations and we're giving our users the opportunity to speak their mind. Personally we're more interested in what a cool random dude on the street or a blogger has to say than the fashion mob at Pitti Uomo. The third thing is that we don't believe that style can be aggregated through an algorithm. Style is all about subjectivity and individuality. Therefore we must approach it with a human's touch.