A Conversation with Sam Huff of Tanner Goods
Sam Huff is the creative director of Tanner Goods, a small leather goods company operating out of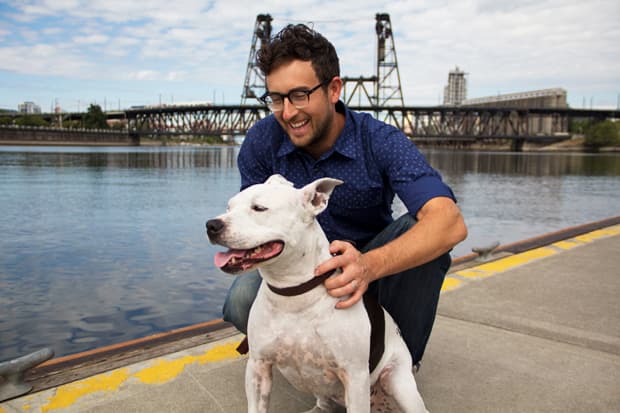 Sam Huff is the creative director of Tanner Goods, a small leather goods company operating out of Portland, Oregon. A manufacturer of belts, wallets, bags, and a host of other accessories, Tanner Goods products are made exclusively from premium, domestically-sourced materials and are sewn by a heritage saddle maker who has been honing his craft since 1964. The label has also lent its creative touch and production expertise to a host of other American brands — 3sixteen, Danner and Tellason, among them –  for collaborative products which, like all Tanner Goods items, are designed to last for years and look better with age. In our latest edition of "A Conversation With," the insightful Huff, who helms the label's day-to-day creative undertakings, discusses the "heritage" trend, his relationship with leather, and the way he built up an immunity to red Thai chilies.
My role at Tanner Goods… is a little bit of everything, but most of my day is dedicated towards guiding the ship on a creative level. It's still a pretty small company so I also help keep the machine running business-wise, but as we've grown I've been able to shift away from production and put more of my energy into design and development. I'm also the default beer delivery guy for the workshop, so our crew would probably rank that pretty high on my list of responsibilities.
The things that inspire me on a daily basis… are conversations I have with my wife, co-workers and friends about the bits of stuff we're presently keen on. For me, most good ideas have been born out of everyday interactions – kicking an idea back and forth and having it develop into something more. More often than not these conversations start with a book one of us have read recently, an album we've been listening to on repeat, or a film we caught. I think on the outside, it's hard to draw a direct correlation from something like listening to music to a new product idea I have, but that's the beauty of indulging in bits of culture — sometimes it just puts you in the right head space to create something interesting.
The most important aspect of the design process… is the very beginning. Essentially, I start with two simple questions: "What problem am I solving, and why does it need to be solved?" That answer will dictate everything that follows, and most likely determines a successful execution or a failure. I try and define my path from the outset, or else I'll just drift aimlessly.
The heritage "trend"… is an unfortunate byproduct of a menswear market that loves to beat a dead horse, but something that's inevitable I guess. I think you really have to bisect heritage into two groups –  the legitimate and the faux shit. I was in Berlin for Bread & Butter this past summer and saw more than my fair share of faux-heritage brands. It's at a comedic level now. It's novelty. For me, the notion of "heritage" really boils down to a set of values that transcend time. Heritage is making something that doesn't become obsolete because of the styling or construction. Ask yourself one question: is this something that would last long enough to be used by another generation? If the answer is yes, then it's real heritage.
To me, leather is… the most universal material I've worked with. You make any number of things with it, and it's properties make it extremely flexible in terms of use. At Tanner Goods we mold it, split it, sew it, glue it, stamp it…the list goes on and on. There aren't many other materials that fall into that category. Leather also tells a story unlike any other material. Consider an old leather chair that's been sat in for years or a weathered saddle some rancher throws on his horse everyday – those things are ten times more beautiful at a ripe old age than when they were new. Not many materials look better as they age, but leather definitely does.

My most cherished possession…is my collection of 45s. On a music lover level, a financial level, and pure collector-geek level there's nothing that trumps my records. Luckily, my wife Meghan is big into vinyl as well so I can get away with bringing a few dozen 45s home every week. I don't really have an exit strategy for my vinyl if our place goes up in flames though. I've been working to archive all of them digitally, but it would have to be a pretty slow burning fire to save many of them. That's something I should probably consider soon.
In upcoming seasons, you can expect… two things — a more diverse range of Tanner Goods products and my head to sprout more grey hairs. Developing our new bag line was a huge undertaking, and something that is equal parts fulfilling and stressful. It's a big check mark on our list of things to do. There are a couple other ones we're just starting to tackle now, but they involve us going a bit outside of what people would consider our typical consumer base. It's stuff I use daily though, so I'm excited to innovate in areas I'm familiar with.
My favorite item from our current product offerings… is our Wilderness Rucksack. It's actually coming out in a few weeks time, but I've been using various versions of it for close to a year now. It's simple, reliable and extremely versatile. I use it every day, whether I'm riding to work, traveling or camping with my family.
The menswear scene in Portland… relatively eclectic now, whereas five or six years ago it wasn't so much. I think in the past guys here in Portland have been more straightforward with what they wore — clothing suited to a particular lifestyle and the Northwest climate. But the past few years I've seen a lot more of these little style niches popping up just like you see in larger cities. It's the same stuff you see in Free and Easy magazine. Essentially men reaffirming they're men. The only difference is people's style here tends to skew more towards the outdoors. More granola-hippy rock climber types.
Style is… a reflection of one's personality — one's perspectives, likes and dislikes, nuances, insecurities, and values.
Right now, I am wearing… an old pair of 3sixteen jeans, a vintage button-up shirt, a pair of Chup knit socks from Japan, and some Chucks. I'm a pretty straightforward guy in terms of what I wear most days. I tend to spend more on good socks and heavyweight tees with a nice hand, so my outfits are usually more about comfort than trend. I tend to buy stuff I can wear for a couple years and not look like a kook.
My favorite restaurant/cafe in Portland… is the most difficult question you've asked, but gun to my head, I have to go with my old standby Ping. It's South East Asian street food essentially, and a somewhat overlooked sister restaurant to Pok-Pok. It's where we take all our out-of-town friends and do most of our lunch meetings. My ability to ingest large amounts of red Thai chilies wouldn't be where it is today without Ping.
A brand I would like to work with… is not just a single brand, but a marriage of four, more or less. Remember those "outdoorsy" co-branded cars from the late '90s and early '00s? There was an L.L.Bean Subaru Outback and an Eddie Bauer Ford Explorer signature model I think. The idea was there but I think the execution was a little lackluster. I'd love to team up with GoWesty, an aftermarket Volkswagen van builder and bring in a couple other brands along with Tanner Goods to fully kit out a Vanagon. Snow Peak would do the gas burner/fridge/utensil outfit, Thule would do the rack systems and box, and we would do the upholstery, trims, window shades and outdoor packs.
In the works are plans… to open a couple more flagship stores here in the states and dive deeper into new ways we can engage our consumer directly. There's a lot we can do to loop the customer into our process directly, from something as simple as customization in-store all the way up to having a hand in assembly at the point of purchase. I think people appreciate knowing the details of how something is manufactured, and if they have a direct connection to that process it becomes even more powerful.