HYPETRAK INSIGHTS with Lindsay Gabler, Social Media Strategist at The GRAMMYs
As the last few years have shown, social media's significance for recording artists is invaluable,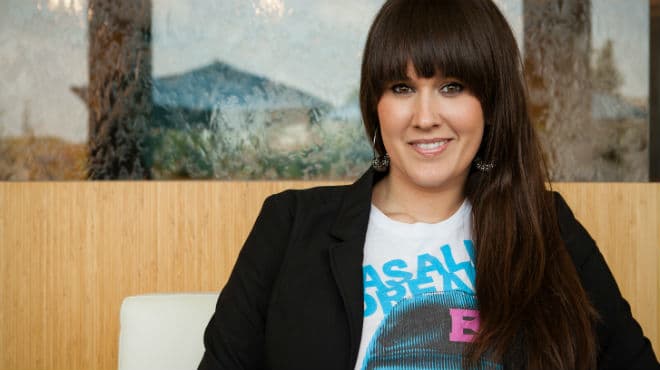 As the last few years have shown, social media's significance for recording artists is invaluable, enabling them to spread their own music and information with ease. Obviously, managing one's social media channels requires lots of work that encompasses proper planning, a healthy dose of spontaneity, and quick action. Showing that it is indeed much more than just updating Facebook and Twitter profiles, we spoke to Lindsay Gabler, Social Media Strategist at The GRAMMYs as part of our HYPETRAK INSIGHTS series. Having been added to Billboard's Twitter 140: Music Industry Characters to Follow list in March 2011, you can rest assured that Lindsay knows what she is talking about when it comes to day-to-day social media activities. Read below and find out about her story within the music industry.
How did you get started in the music industry?
My start in the music industry was with an internship in college at a management company, Michelle Ozbourn Entertainment. I remember being a junior in college and staying up late one night and sending my resume to a bunch of different internship openings. I heard back from a few, including Warner Bros. Records who offered me an internship, but decided to go with Michelle. Michelle (former A&R exec) managed up-and-coming singers, songwriters and producers. At the time, she managed Ryan Tedder (lead singer OneRepublic) as a producer. This was before OneRepublic blew up and before he was producing for Beyonce. I used to help her package his demos to send to A&R execs at all the record labels. I learned so much from her about the business side of the industry as well as music licensing and placement. It was really an amazing moment this year to be working for the GRAMMYs and see Ryan win his first GRAMMY on stage with Adele. A real full circle moment for me.
What is the biggest obstacle you have/had to face professionally?
The biggest obstacle I have had to face professionally was the decision to leave Universal Music Group to come to the GRAMMYs. After my internship with Michelle Ozbourn, my senior year of college I got an internship at Universal Music Group Distribution in the Digital Marketing department. After my internship, I stayed on part-time for a year before I was offered a full-time position. I oversaw the internship program and grassroots marketing and then transitioned into overseeing social media marketing. I learned so much from the four years I was there and my co-workers really became my family. It's always the hardest decision you'll face, knowing when to follow your instincts and when to move on.
What does your day-to-day schedule look like as a Social Media Specialist for the Grammys?
As soon as I wake up, I'm pretty much on Twitter checking my feed for the latest tech/social media/music news. Once I get to work, I begin to update all of our social platforms; Twitter, Facebook, Tumblr, Pinterest, Instagram, Soundtracking, Spotify – to name a few. I am constantly monitoring the feedback and analytics from all of our social platforms, what works, what doesn't work and how we can increase engagement. In between, we have brainstorming meetings whether it is with our GRAMMY.com team on new content ideas or the marketing department about our latest partnership. Now that it is summer, we also have a summer concert series where artist stop by GRAMMY HQ to learn more about The Recording Academy® and membership as well as perform for our staff. I also work with our 12 chapters across the country to increase awareness for chapter events and communicate about the benefits of a Recording Academy membership through social media. As of right now, we are already in the early stages of planning for the 55th GRAMMY Awards®.
What sort of qualities does one need to be a Social Media Strategist?
It is important when working in social media to be able to adapt to the fast pace nature of the industry. There are constantly updates to the platforms and new applications being delivered every day. It is up to me as the strategist to understand and analyze which platforms make the most sense for our brand and how we can use them to communicate effectively. It is important that we choose the tools that will help us to continue to tell our story in an engaging and authentic way.
What does it entail?
It is critical to always be aware of new technologies and how various brands are utilizing social media. I love to look at examples of content, campaigns and promotions being implemented outside of the music industry. Music has always been my passion, but since working with social media, I am just as passionate. I love to test out new technologies or new applications and then see if it is something that makes sense for us. We pride ourselves on being thought leaders in our space by continuing to update and adjust our digital strategy as the industry evolves. This past GRAMMY Awards was the "Most Social Event In Television History" to date. We had over 13 million total social media mentions. Now it is up to us to think of how we can top that next year.
How does the day-to-business for the GRAMMYs as an organization look like? Obviously, there's more than just the award show.
Yes, the general public only sees the GRAMMYs as an award show once a year. However, the foundation of the GRAMMY Awards is the Recording Academy. There are 12 Recording Academy chapters across the country with a total of 20,000+ members. Members are made up of singers, songwriters, producers, engineers, and a wide range of music industry professionals. The chapters serve the needs of the music community in their region with networking events, educational programs and concerts celebrating local musicians. The Recording Academy members are the ones who vote on the GRAMMY Awards every year. Along with the chapters, the Recording Academy also has two charitable affiliates — the GRAMMY Foundation® and MusiCares® — as well as our Producers & Engineers Wing and our GRAMMY U program for college students. We also have an advocacy department in Washington, D.C. that produces our annual GRAMMYs on the Hill event, and we work closely with our sister organization The Latin Recording Academy® on the annual Latin GRAMMY Awards®. There's also the GRAMMY Museum® in downtown LA that's now in its fourth year and doing very well. Needless to say, we are much more than just an award show once a year. Our overall mission is to celebrate music 365 days a year.
Is the industry the very same way you expected it to be?
I would say no. However, I don't think I really knew what I thought it was going to be like. All I knew is that I was going to work in the music industry, some way somehow. I feel like I started in the industry when it was at its tipping point. Digital was starting to take over and social media was on the rise. I would always hear from coworkers who had been in the industry for years about the 'good ole days.' I still believe in the music industry, it just looks a lot different than it used to…and that's not necessarily a bad thing.
What changes need to happen in the future in order for the music industry to remain sustainable?
Of course new revenue models are extremely important for artists in order to continue to evolve. From a marketing perspective, there is no longer a blueprint of how to break an artist and/or record. Therefore, we need to continue to create and curate exciting music experiences around an artist through their album release, tour, endorsements, etc. With the rise of digital, we have lost the excitement of running to the record store after school to buy the latest album or stand in line at Tower Records to buy concert tickets. Instead we can sit home in our pajamas when an album is released and click a download button and that's it. How do we create experiences online and move them into real world experiences. I have been a fan of Benjy Grinberg and what he and Mac Miller have done with his career, which led him to have the first number one album from an indie artist in 15 years on the Billboard charts.
What do you love about your job most?
I love music, so the fact that I am a part of the most prestigious award show in music with such a rich history is a dream come true. I get to help celebrate music and educate about the history and future of the GRAMMY Awards every day in my role.
What do you hate about your job the most?
Hate? Hmmm, don't think there is anything about my job that I hate. Difficult, yes, but not hate.
What is your advice to people that are looking to pursue a career within the music industry?
If you are truly passionate about music, there is a role for you. Be open to new opportunities that you may not have originally thought about pursuing. I have worked with a lot of interns and most of them have a very limited view of what the music industry is. About 90% of them would say they wanted to be in A&R. When I originally started my internships, I did not know much about digital marketing, but was soon able to find my way. From there, work hard and be confident in what you know. And ALWAYS remain humble!
Photography: Brandon Shigeta for HYPETRAK
Join Our Discussions on Discord
The HYPEBEAST Discord Server is a community where conversations on cultural topics can be taken further.