HYPEBEAST Trade: Michael Akira West of 686 Technical Apparel
In November of 1992, apparel brand 686 was born with the goal of providing fashionable as well as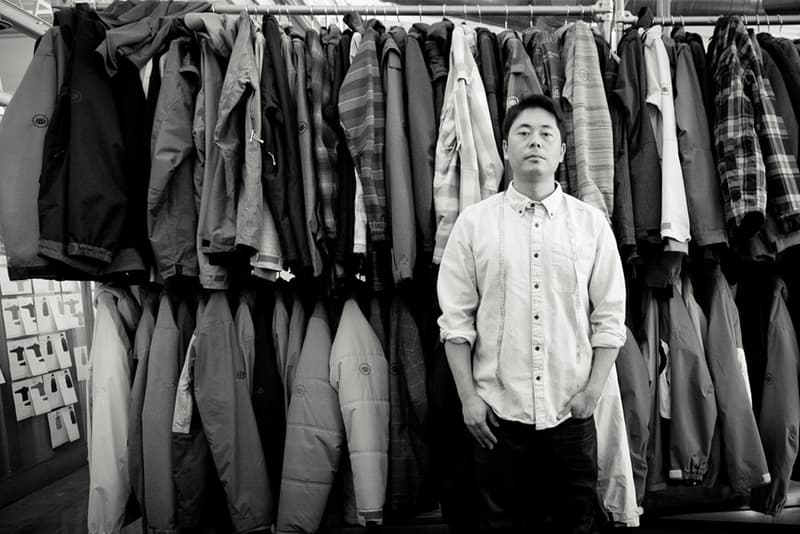 In November of 1992, apparel brand 686 was born with the goal of providing fashionable as well as technical outerwear inspired by the unique Los Angeles appropriation of street culture and its nearby mountaineering lifestyle. Doing the unheard of in the technical apparel industry, Owner Michael Akira West manufactured his early lines entirely in the United States. However having understood the best materials for its ski-lodge-dwelling consumers came from Asia, 686 soon outsourced many of its production to Japan and Taiwan. Since the transition, the progressive outerwear purveyor has grown into an internationally sold label, offering year-round collections ranging from technology-driven snowboarding apparel to stylish base layers and unique collaborative efforts. Still managing his brand now with the help of a strong staff of 25, Founder and Owner Michael Akira West sat down with HYPEBEAST to discuss the humble beginnings of 686, competing with the better-known brands while maintaining its founding ideologies, Asian production, research and development, and much more.
Can you introduce yourself and your role at 686?
My name is Michael Akira West. Owner, operator and creative Driver for the 686 technical apparel company.
Can you provide an overview of your company structure?
Westlife Distribution LLC is the umbrella for 686®, which is comprised of 25 young, passionate family members. You live the lifestyle 110% or you don't work here. Because of what we do, heads think we're located in the mountains, but our global headquarters are actually in Los Angeles. We use our street and artistic roots mixed with the mountaineering snow culture to bring something different to the table. From LA, we take care of all aspects of the biz. Design-Development-Testing-​Operations-Finance-Accounting-​Sales-Marketing-Customer Service-Warehouse-​Distribution. With the exception of actually manufacturing our technical garments, nothing is farmed out as we've learned to do it ourselves over 20 years in business. Our European headquarters is located in Montebelluna, Italy. We have about 30 independent sales agents which we work with directly in the US, Canada, France, Germany, Austria, the UK and the Netherlands. From there, we have exclusive partnerships with distributors in Japan, Korea, Russia, Czech Republic, Finland, Norway, Italy, Switzerland, Sweden, Australia, Greece, Israel, New Zealand, Poland, Spain and Andorra. We also have exclusive collaborative agreements with New Balance®, Levis® and Dickies®.
You're an extremely hands on guy that seems to oversee almost all aspects of 686. What are the benefits/detriments to this approach?
Coming from nothing, except a drive to create something different, I've learned how to start a business from the ground up. Packing boxes, sales, marketing, crunching numbers, design, cleaning the toilets, it's what you do when you're trying to make it. Along the journey, you figure out what you do best as well as who else can do it better than you. I have 4 incredible managers that help me drive the ship. Doug (Ops/Finance), Jono (Sales), Kristin (Marketing), and Julie (Product). They've been with me from 7 to 18 years so they know what's up and what we need to do. Without proper people, you'll fail. My primary role now is all things creative ( such as design, development, ​merchandising) and the vision of what's next. I continually challenge my team to do things better, but I'd rather do it continuously over a long period of time versus peaks and valleys. The Japanese in me calls it "Kaizen."
As one becomes overcome with a multi-million dollar business, how do you ensure that the creative core of the business isn't comprised at the hands of the business side?
This can be very difficult at times, but it's all how you approach it. When you're young, you're ignorant and naïve. You have expectations, but you don't have experience. You learn along the way from the mistakes you make and the people you hang out with. If you're lucky enough to overcome these mistakes, have a good work ethic, be a better listener than talker and get another chance, you hopefully approach it a different way. When I started, I had no design experience at all, but I had a drive to keep learning. I just knew what I liked and had an uncanny way of trying to figure things out myself. "Creativity" is a natural process that comes with time. Some sooner than others, but you have to recognize what you and the brand should stand for. Once decided, everything should flow from there. 686 is a "purposeful product" company, which means that we make product for a specific technical and functional purpose. Since we're private and I'm the owner, product integrity takes precedence over any spreadsheet or financial gain. In my mind, without loyal heads and good product, you have nothing.
What are some of the most difficult things you've faced in the expansion of 686?
Too many to list. A few notables would be getting compared to other much larger, deep pocketed companies; "So and so brand does this, why can't you guys?" Being a major fall and winter branded company, cash flow is king and the more you grow, the more difficult it is. The pressure to make sure you continually support your employees and their family's future – We don't hire that much and we don't fire that much either. And finally, industry BS.
As an independent, how extensive can this "indy" tag be angled on a marketing level? In a time where fast fashion is so dominant, are people more often overlooking this aspect?
From the outside perspective, I don't think it gets translated that well. What I mean is that at the end of the day, heads like to see what's in front of them. If you turn out good shit, have good peeps that rep you and stoke out kids, that's what people really want. People don't care all about all the intricacies and politics of running a company. I don't either, but what I do believe in is the owner-operator mentality of running a private company. I've always preached the INDEPENDENT nature of 686. 2012 marks our 20th year in biz and our mantra is to do things on our own terms without answering to shareholders or someone behind the curtain. 686 is not about being confined to a box. If we like something, we do it. Case in point was doing a special project for the heads at Cadence. Since my knees are shot, I don't skate that much but like to get on my bike. Dustin from Cadence wanted to do something different, but also legitimate to the cycling world. We got together, flipped things up and introduced the Rain Project.
How does the in-house testing and product development of the company work?
Technical apparel is a different beast than casual goods. Since we specialize in winter outerwear, we have to make sure every aspect of the development process is tested inside our labs as well as on the mountain in harsh winter conditions. From the fabrications we pick to the waterproof/breathable technologies we develop, such as our trademarked Infidry™ lamination to the extensive construction process, shit has to be on point. We have world class athletes that test our goods from the urban rails of Salt Lake City to backcountry expeditions in the Austrian Alps. In addition, I sign off on it in two ways where I test it myself. I head to the factories in Asia and do personal Quality Control (QC) inspections with my team. More importantly, I ride the gear. I just got back from a helicopter trip inside interior British Columbia and am about to climb Mount Kilimanjaro in Tanzania, Africa in a few months.
Production in China has seen a consistent rise in pricing. But despite this, the southern regions still provide the most streamlined and logistically sound place for sourcing and production. At what point do you need to move your production elsewhere but at the cost of increased headaches?
I actually manufactured 686 garments in downtown LA back in 1992, which was unheard of in terms of making technical products in the US. I purchased shell fabrics from Oregon, polar fleece lining from Massachusetts, found my pattern maker in Alhambra, Cali and cut and sewed it all on 6th and San Pedro in LA. Not until my second year, did I realize I didn't have all the proper resources or the right pricing. Winter technical apparel requires the most skilled labor of all garment production. Over the past two decades, I wish I could say we've mastered all levels of production, but I don't think anyone can say this. China is a monster (in good and bad ways) and they have the best skilled labor for what we do, but it's unpredictable in the rise in costs and manpower. For close to a decade, we've stayed away from Southern China and pioneered our skill set up in the North. Our fabrics, materials and trims come from Taiwan and Japan which costs more, but we rely on only the best. The future is untold, who knows what will be next. Maybe a full circle back to LA?
Given the difficulty in acquiring credit the last few years, has this slowed any potential expansion opportunities?
When the economy tanked and shit hit the fan from 2007 on, we actually had our best years in business. This showed the strength in what we do, but it wasn't always like that. There's an old saying in biz, "banks will lend you money when you don't need it." It's 100% true. In 1992, I borrowed $1,000 from my mom, which quickly turned into maxing out all my credit cards then eventually to my parent's entire lifesavings. We didn't have much and it was a tremendous amount of pressure to make it. The next step to finance the business was purchase order financing (which was more crazy than loan sharking, but the good thing was they wouldn't break your legs if you couldn't pay, they'd just take everything you had including the shirt off your back). The step after that was factoring which was manageable, then finally to present day, which is a large line of credit with a reputable bank. Because I didn't have partners or a sugar daddy, we had to go through all these steps and luckily now have a strong balance sheet which will allow us to take the next steps of expanding the Westlife portfolio. One of them is to incubate young brands and creative minds to let them shine without the hassles of dealing with the business BS I dealt with.
As a self-made brand head, how has the management learning process been for you?
I'm fortunate enough to be able to make it this far without the need to rely on selling out. However being self-made means you absolutely need to have the right team in place. In the early days, I micro-managed way too much. There's a HUGE responsibility of having the final say. However in my mind, it's better when you can have your managers and employees make the decisions instead. I don't want to or need to be the final say, growing is being able to let go and empower the people that got you there in the first place.
Was it easier to start a company in the pre-Internet days where it was a seemingly less complicated landscape? It seems there was more room for error in the past?
I started 686 in my South Central apartment at the University of Southern California while working at Bear Mountain in the early 90's. There was no internet, no email. I used my large Apple IIc desktop, an old roller Panasonic fax machine, a beeper, pen and paper, blood, sweat and tears to start something I believed in. There was no comparison and I was young and had nothing to lose. The good thing was timing was on my side and I learned how to run a business by just doing it. It was much more forgiving than it is today. Now, everyone has good shit – people are more financed, there's more competition, more eyes on you, more expectations, and of course, more chances to fail. As soon as you've seen it all, someone will come up with something that will change your mind entirely. That's what's exciting more than ever.
Any last words you'd like to share about the business side of 686?
Anything is possible. Stop making excuses and learn from someone who's done it. Set yourself apart by going the other way, do your own thing, live for today and plan for tomorrow. Be happy, be humble. Much love and peace.