HYPEBEAST Approved: Bottle Openers
This encouraging tale goes out to my amiable peers coerced into the early stages of alcoholism by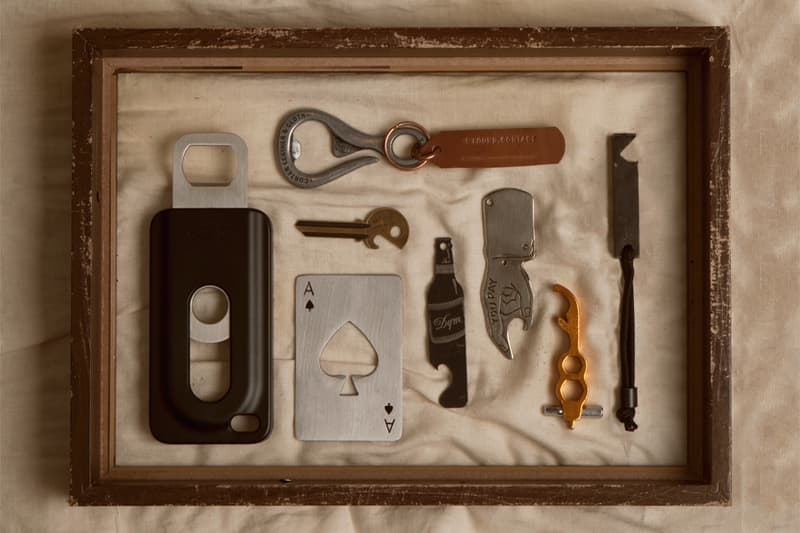 This encouraging tale goes out to my amiable peers coerced into the early stages of alcoholism by way of attaining the "Social Drinker" badge in Foursqaure. Sure my leg instinctively starts twitching at my prison-like cubicle around 1pm as I begin to romanticize about bear-hugging the only man that has ever truly understood me (I need you Sam Adams). But that doesn't make me an alcoholic (step one to the road of recovery is denial). I'm just another man that enjoys spending time with my friends adding to a long list of stale, overused, movie inspired inside jokes, temporarily freeing me from the financial responsibility we all wish would just disappear. I'm coming for you Sallie Mae!
So let's set the scene. We've all been there: backyard cookout, late night speakeasy or B.Y.O.B. eatery in Hipsterville U.S.A., you reach for that liberating brew, attempt to twist its top and it doesn't yield. Your buddy subsequently blurts out, "It's not a twist top bro," and at that very moment, a miniature anxiety attack overcomes you, similar to the one I get when reaching the subject line in an email message. Your sole mission in life now centers upon opening that refreshing bottle of hoppy goodness. Since the spirit of a frantic child now overcomes you, leaving you incapable of logical reasoning, you incoherently scramble around in search of the nearest adept drinker, one who has adopted many bottle-opening traditions from his or her worldly travels around college campuses. There's bound to me one of these crafty vets in attendance: the MacGyver, this resourceful individual can pop someone's top with nearly any random household product, certainly a great friend to keep around; the Jock, he's willing to destroy any countertop on his way to intoxicating freedom; and the Hobo, this guy is known for a deadly slap box game and the ability to open the celebratory bottle with his teeth.
Sure these guys may be entertaining to have around, but wouldn't life be much easier with your own personal bottle opener? Now don't be afraid to flaunt your desperate love affair for alcohol by sporting one of these, ladies love a man who's prepared for a challenge, just don't get carried away with a Bat Belt full with party gadgets. With that said, style and innovation remain at the forefront of our defining ethos, so to help you struggling drunks reach your inevitable destination of an alcohol-induced curbside nap we wanted to present a few alternatives to the aforementioned bottle openers. From our new series, HYPEBEAST Approved we offer a list of unique, expertly crafted personal bottle openers that should never leave your side, ever.
Subcrew
Designed for the self-proclaimed MacGyver HYPEBEAST who enjoys the taste of a crafty brew, celebrated Hong Kong-based streetwear purveyor Subcrew delivers a Multi-Tool Bottle Opener. Looking to brand every product you own with its familiar logo, Subcrew supplements an ordinary keychain bottle opener with two socket wrenches and a hex key, just in case the bolts on your bar stool need tightening (note, that wobble you're experiencing may in fact be the alcohol running its course). Although mechanical engineering expertise is not included, this item can be purchased through the brand's fully-stocked webstore for $10 USD.
Kikkerland Design, Inc.
Next time you're at a summer cookout slamming dominos on frail surface or caught in a fiery game of spades with Gambit, you will want to pull this clever bottle opener from your wallet. Kikkerland Design, Inc. cuts the deck displaying a stainless steel Ace of Spades Bottle Opener that will surely have unsuspecting players fearing your card skills, or lack thereof. Available here for $12 USD, be prepared to back up your affinity for unique design with an equally intimidating card game.
Makr
By way of Winter Park, Florida, Makr Carry Goods has been in the business of meticulously crafting personal leather goods and bags for a few years now. Adding to a comprehensive collection of timeless accessories, Makr presents the Bottle Key available here for approximately $9 USD. Blending seamlessly with other keys on your carabiner, this bottle opener is ideal for the sophisticated gentleman not yet willing to flash his eagerness to twist that top and get his drink on.
J. L. Lawson & Co.
From a family of trained machinists comes a collection of masculine bottle openers any man, brawny or not, will happily pull from his pocket or even hang around his neck. Manufactured in California without the use of any computer technology, J. L. Lawson & Co. produces stainless steel jewelry you'll want to pass down to your grandchildren, because they're made that well. A small selection of hand machined bottle openers can be purchased from the company's webstore with prices starting at $40 USD.
HYDE
Solving a perpetual waterhole debate, HYDE presents the Spin to See Who Pays Bottle Opener. Cast in Rhode Island, this omniscient polished brass bottle opener features a small dimple that allows it to spin indicating which one of your buddies will cover the next round. This item is currently available at New York retailer Partners & Spade for $28 USD.
Opena
Transitioning to the techie drinker, we present Opena's self proclaimed world's first iPhone4 case with a slide out bottle opener. If you're anything like me, your phone never leaves your side, and since Apple hasn't patented the bottle opener app yet, the Australian design team decided to beat them to it. Order yours here in either black or white for $40 USD.
DQM
DQM is synonymous with cool guy swag. Purveyor of the pioneering brands in streetwear and rare footwear, the New York-based retailer added the Cheers Bottle Opener to its seasonal collection. Made of black steel, this bottle shaped bottle opener (makes sense right) is available for $12 USD here and fits on your key chain. Got you open huh?
Corter Leather
By way of the "super small, one man operation" that is Corter Leather comes the Bottle Hook bottle opener. Casted out of steel, this multipurpose keyholder features an ergonomic hook for your belt loop that doubles as a bottle opener. And the best part, it includes a natural hand-stamped vegetable tanned leather tab for your personal information, because let's face it, people tend to lose sight of a few important objects when knocking a few back. This item is currently available through Kickstarter with a few enticing rewards for larger donations, and should be available at Corter's webstore shortly with a price tag of approximately $37 USD.