Bon Iver x Keep Ramos Shoe
Indie music sensation Bon Iver doesn't seem like the first place one would expect to find a sneaker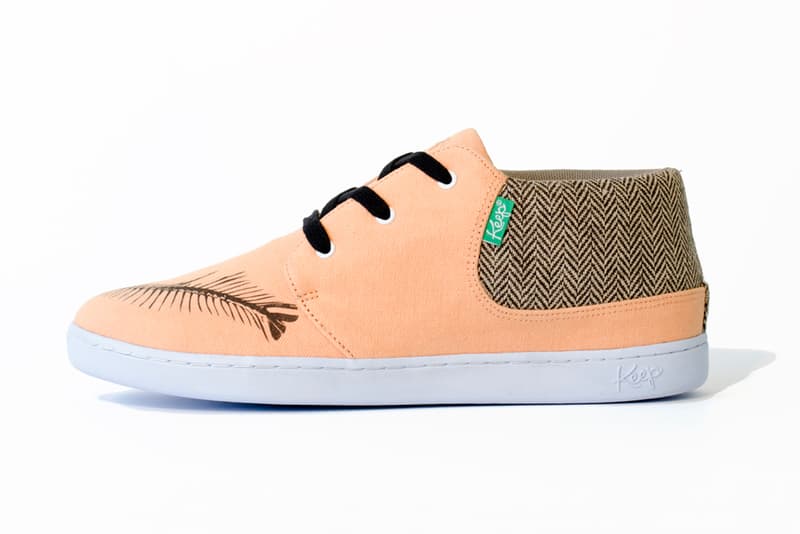 Indie music sensation Bon Iver doesn't seem like the first place one would expect to find a sneaker collaboration, but Los Angeles-based Keep footwear has made it a reality. The partnership was a natural one, as both Keep and Bon Iver share a common love for both music (of course) and animals – with a portion of the proceeds from sales of the shoe going to the Best Friends Animal Society. The limited edition collaboration shoe follows Keep's classic Ramos silhouette, with a canvas upper, white rubber sole, and a fishbone graphic across the toe. While the shoes aren't expected to ship until October, pre-ordering from the Keep web shop is now available, extending until July 1. We had a chance to speak with brand founder Una Kim about this project in a brief interview below.
Can you introduce yourself and your role at Keep?
Hi, I'm Una Kim and I started Keep in 2005. I still run it today including everything from the business to the creative.
How would you describe Keep as a sneaker brand? What differentiates it from others?
We're an independent, boutique brand that make cruelty-free shoes. We are more than a shoe company, we're a family and I think our interests in nature, metaphysics, literature, sustainability, animals and much more are embedded in the DNA of the company. Because of our small size, we're able to operate a business on a personal level that is not not typical for this industry.
One of the defining features of Keep shoes are its cruelty-free approach, how important is this to you and the company's culture?
The most important thing about Keep's culture is its inclusivity as opposed to exclusivity. I'm a firm believer in respecting people's individual lifestyle choices; we're not all vegans chilling in our office drinking cashew milk (though some of us are). At the same time, as a brand I felt it was our responsibility to only offer products that were consciously made. To manufacture hundreds of thousands of things in an interconnected world with limited resources is a privilege, and should be treated as such.
What was it like hooking up with Bon Iver?
Pretty sweet and very natural. We loved Justin's first record and one day he and the entire band came by the shop — nine guys total in a not very big store. Despite the cramped space, it kind of felt like a party. We were looking for the next band to do a shoe with after the Animal Collective collection and things just fell into place. I hadn't met Justin before and he was so kind, genuine and down to earth that it just felt like a very right thing. Along the way to this release, Bon Iver won the Grammy and have just gone completely astronomical, but although they're busier, they are still very real. That's a very rare thing to find and I love them all the more for it.
Aside from the mutual interest in animals, what other commonalities exist?
Bon Iver has a sense of integrity and a love of nature that really connects with Keep. Even though they're incredibly popular, they're still an independent band which is the culture we come from. Keep was born out of the indie/punk community of the late '90s/early '00s. Our choice to be cruelty-free and our sense of integrity is very much influenced by Dischord, the label that put out Minor Threat, Fugazi, Nation of Ulysees — bands I grew up watching as a kid in Baltimore. Our aesthetic is influenced by Kim Gordon (Sonic Youth) and Daisy Von Furth's X-Girl. The sense of community that came from that era, the way that brands worked with different friends across disciplines, is something that we very much embrace. They weren't just companies, they were interwoven families. That's the approach Keep takes and in many ways we carry on that tradition. For Keep to collaborate with bands is as natural as gravity. Our first collaboration in this series was with Animal Collective last year. I grew up with those guys, went to countless shows with them, had them play at my house as a teenager when my parents were out of town. We were and are part of the same community. Bon Iver is a continuation of that community.
What was the creative process like with Bon Iver, as musicians were they able to properly communicate their requirements and did they in themselves have a lot of ideas they wanted to apply?
Justin knew exactly what he wanted from the very first moment. He was very specific about the color of salmon he wanted the shoes and handpicked the shade from about 100 salmon pantone options we gave him. I think he has a prized sweatshirt whose hue is the original inspiration. He also wanted the fishbone design, and when I suggested accenting the shoe with herringbone — a reference to the fishbone — he was totally game.