Robin Gibb of the Bee Gees Dies
After a long battle with cancer, Robin Gibb, one-third of the Bee Gees, died Sunday, his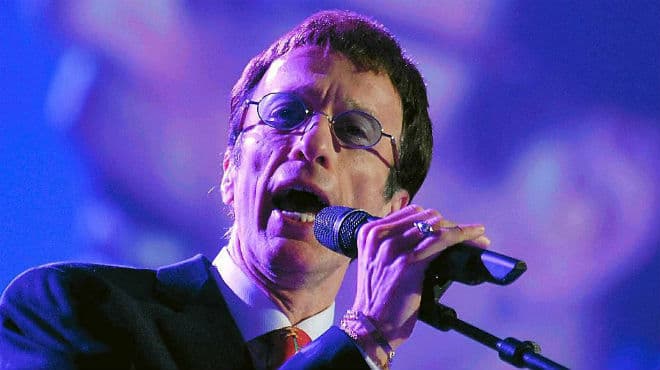 After a long battle with cancer, Robin Gibb, one-third of the Bee Gees, died Sunday, his spokesperson has confirmed via a statement. Gibb was 62 years old.
"The family of Robin Gibb, of the Bee Gees, announce with great sadness that Robin passed away today following his long battle with cancer and intestinal surgery," reads the statement. "The family have asked that their privacy is respected at this very difficult time."
Gibb had several health scares in recent years. Two years ago, the Australian artist battled colon and liver cancer. Although he initially made "spectacular recovery," a secondary tumor recently developed, complicated by a case of pneumonia in April. The singer was hospitalized last month and fell into a coma at one point. He was later said to have regained consciousness and communicated with family members.
Gibb was born on the Isle of Man, later moving with his family to Brisbane, Australia. In 1958, at the age of 9, Robin formed a band with his brothers Maurice and Barry and released their first album seven years later. In 1969, they released the double LP Odessa, which was critically acclaimed. Robin quit the band the same year because of his difficult relationship with his brother Barry and released his solo offering Robin's Reign in 1970. Robin rejoined the band, and starting with their 1975 album Main Course and single "Jive Talkin'," they helped in shaping the sound of the disco era. In 1977, the band reached their peak by providing five new songs for the outstanding soundtrack of Saturday Night Fever, one of the best-selling albums of all time. Robin, both solo and with the Bee Gees, released albums through the subsequent two decades. In 2001, the band released This Is Where I Came. Maurice Gibb died in 2003, making that album the band's last.