MANUFACTURE: Simon Foxton
There's a rampant and longstanding unspoken "truth" of sorts in the outdoor industry, which is that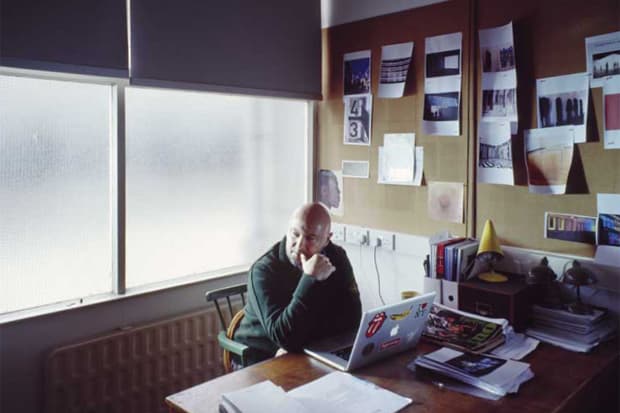 There's a rampant and longstanding unspoken "truth" of sorts in the outdoor industry, which is that technical outerwear, like performance-oriented down jackets or weatherproof shells owe much of their mainstream success to the the fashion marketplace, instead of their intended end-users. Think of where the vast majority of The North Face Steep Tech jackets are probably worn. What about Patagonia Down Sweaters or Arc'teryx Alpha SV shells? KTC Manufacture Magazine believes that the tipping point between fashion and function for these performance brands was sometime in the 1980s, at the hands of a man named Simon Foxton, a stylist for the magazine i-D, who started using performance sportswear from names like Levis and Nike in fashion shoots. The very foundations of performance manufacturing were irrevocably shaken, bringing us to a very different world today, where The North Face means significantly more (and equally less) than wilderness survival or exploration. In this fascinating interview, KTC recently sat down with Foxton to chat about his current work with branding, as well as those pivotal days with i-D.
PART [1/2]
We just want to know how you work with brands, how you help present them and how you develop concepts with them? Can we start with how you got involved in the industry?
I came down to London in 1979 and studied at St Martins School of Art. I did a foundation course and then a BA in Fashion. I left there in 1983 and started my own design company; a label called Bazooka and then followed this up with some freelance design. I then kind of drifted into styling, some friends from college were at i-D and having no previous burning desire to do it I found myself involved with styling and it went on from there. By chance I was asked to style some sort of brochure/catalogue from Levis in the late '80s and became quite friendly with the marketing director. He asked me if I would come in and talk to them and their sales teams about trends. I suppose I was quite trendy at the time (laughs) and that's how I got into the whole business of consulting. I worked with Levis UK for quite a while after that and it was a big part of my career.
I remember Levis campaigns back then, there was a lot of Americana?
Well it was very much about their heritage. It was about their history. It was about nostalgia, harking back to the 50s and finding that authenticity.
Similar to the 'heritage' menswear trend these past few years?
Yes, absolutely. Recently, it is very much a trend but back then it was all-pervasive. So I worked at Levis for 6 or 7 years and it kept me very busy. I did all their point of sale and printed stuff. I didn't do much advertising but did work on a few campaigns but it was mostly below the line stuff. Following that I consulted with different brands until I came to Stone Island.
And throughout that period you were working for i-D?
Yes, I started at i-D in 84 or 85. I'm not sure what my title is there now… consultant? Contributing fashion editor? Something like that. But i-D is kind of where my home is, as it were. They have been very good with me and let me get away with quite a bit over the years. It is a magazine that I understand and that I grew up with. However, I don't just shoot for them exclusively, I will shoot for whoever asks me to.
Who were your contemporaries around that time?
In the 80s? With the whole job of being a stylist I never really knew what it was, Caryn Franklin asked me if I would do the Clothes Show and asked me if I would do some styling but I really didn't understand what she meant. There weren't that many stylists, there were people like Ray Petri and myself and Judy Blame and we kind of made it up. Ray was older than I was and I'm not trying to sound as if I'm lumping myself in with him but we were definitely contemporaries. It felt like a very inventive time, there was a lot going on so I think although there weren't a lot of 'stylists' there were a lot of stylish people doing stylistic things. It felt a good time to be around in terms of invention, it was a very creative period.
Do you think that it is as a result of there being a decline in more traditional lines of work, in industry and so on?
That was partly it but I put it down to a number of influences, we had come through punk and suddenly it had freed us up to do what we want with clothes and make our own and customise things. Then it moved into the New Romantic scene. You have to remember that the early 80s was still very austere and people felt the need to express themselves. When I think back to how London was when I first moved down it was nothing like it is now, there was no 'sitting outside and sipping cappuccinos' it was quite a bleak place. Everything looked a bit rubbish (laughs).
I am always aware that when I talk about it I can easily sound like I am glorifying my youth and looking at it through rose tinted spectacles but I am very aware now how privileged I am to have lived and been part of that scene then. Of course when you're young you think it's normal but it was very exciting, everyone was dressing up and experimenting and it was such a hotbed of ideas. There were also some very talented people that came out of that whole scene. It seems to have lasted the test of time. I am aware that a lot of the younger people I work with view it as this golden age but it really wasn't, there was a lot wrong with it but I am happy to have been part of it,
This time was the first time sportswear became part of the fashion scene?
Yes, with the sportswear thing I had always dressed like that when I first came down to college and I had picked it from the gay scene, which played a big part in the 1970s. Sportswear was one element of that whole dressing up phase, people took bits of sportswear, bits of workwear, so it was all about picking and choosing and making something new. It's weird looking back now when sportswear is so ubiquitous that it really wasn't so popular back then. I remember buying a pair of trainers and it was quite a big thing.
I remember when you had to buy your trainers in the same type of shops you bought shin pads or shuttlecocks.
Absolutely! It was your local sports shop. I picked up on the whole sportswear thing quite early but I was certainly not the inventor of it! (Laughs)
You are known for it.
I definitely used it. For my final collection at St. Martins I mixed suiting with trainers but again it's just how my mates and I were dressing at the time. And eventually it crossed over but it was going to anyway. I can't take credit for it!
PART [2/2]
You briefly touched on trends earlier and I read somewhere that you prefer concepts as opposed to fashion?
I've never considered myself to be a 'fashion stylist'. I am always wary of talking about this, as I don't want to do myself out of any work. You know, fashion is fabulous and I love seeing what people are wearing but I don't know whether it's the 'northern-ness' in me but I think it's something to do with not agreeing with the in built obsoleteness of fashion where something is right for six months and then suddenly wrong. There's a quote that says 'a thing of beauty is a joy forever'.
If something is good, then it should be good forever. I can't hold with the trend thing so I avoid things that are of the moment or trendy. As a result of this, when I look back on my work It doesn't make me shudder and I can still enjoy it.
I have to use fashion because that is what is available to me to make the images that I want to do but my photo shoots are about concepts and ideas and people, they are not about the latest trouser length or collar shape. This isn't what I am about, hence why I never get asked to do many fashion shows (smiles).
And as a result, you work with a brand like Stone Island.
Yes, absolutely. Stone Island isn't a fashion brand. It's a menswear brand and a sports brand but it's not about trends. We have recently shot a lot of their archive for their 30-year book and looking at some of their product from the 80s and onwards, it's amazing and just as relevant today. There's a thread running right the way through their garments, it's about fabric technology and the dying processes and military details and also the quality that runs through it, it is never shoddy.
How do you find working with Stone Island and developing concepts and how to present that brand, could you talk us through the process a little?
Well, I have to add that with Stone Island it is not just me, I work with my partner Nick Griffiths and he and I work on it together. We approach Stone Island with an awareness of their heritage and what they had done before and how they presented it. Because they don't want to be perceived as a fashion brand they had never gone down the road of photo shoots so they had always done still life photography and focused on the product. Their brief to us was that they wanted to update things and begin to appeal to a younger audience. They still had their die-hard fans; people who had been with them since the 80s but these people were all becoming middle-aged men now.
Consequently it was starting to be perceived as a middle-aged brand. Nick and I had a look at this and quickly realised that garments always look better when worn than stuck on a peg, but we didn't want to add any 'lifestyle' to it as that would be too much of a statement and it would become too fashion. If you had people in an environment or reacting against one another it immediately becomes about the picture so the idea for us was to show the product being worn but treated as if you were photographing a car or a fridge so its completely emotionless. You see the model wearing it but the focus is on the product itself and to shoot it in a very straightforward flat way. This result makes it very factual. Stone Island loved the idea and saw that it worked.
We've done this for 7 or 8 seasons now and it has worked very well, in fact we've noticed it being imitated quite a bit, which is very flattering.
Each season we change the casting, we've also shot the odd celebrity but we never flag that up because its just about different guys wearing the garments and looking good. Certainly in the UK we see a lot younger people wearing it now, which is very satisfying.
How did you develop this relationship with Stone Island?
A former colleague who began working for the brand put me forward for it. I had been doing some work for another Italian brand, Mandarina Duck who used to make luggage but began to develop an apparel line. She contacted me and asked me if we would be interested in meeting Stone Island. So we met and we chatted and began to see how the relationship would work. We got our foot in the door with some minor projects, window displays or something, I can't remember but I think they were testing us to see how we got on but it seemed to click. So the question of advertising came up and we came up with some ideas for them, which they loved.
Since then we have got involved with so many other areas of the brand, everything from advertising to brochures to online and in store.
So it's much more than just styling?
Yes, anything visual we generally have some sort of say. We also work with the design team giving input into colour ideas and so on, and we put together mood boards for them. So it's all encompassing.
Working with Stone Island has really spoiled us, as it's difficult to imagine working for anyone else. They really are an amazing brand, you really believe in the product. It has integrity and the job is very special. One minute we are doing kids shoots and the next minute exhibitions or books, it keeps us busy. It's a dream job.
So finally, what are your thoughts on the current menswear market now and how it is presented?
This is where I come unstuck, as I really don't know. I don't pore over magazines or websites. If I see something I like then great but I am not that aware of the menswear market.
Just out of interest, what do you make of it?
Well, walking around London I get bored of that classic 'British' look that has developed. Neat turn ups on your denim, satchel, neat haircut, maybe a beard. It's like style by numbers.
Yes, I have noticed a lot of this too, 'nippy' tweed jacket, maybe or loafer or red wing. Yes I agree but its also kind of interesting as there is far more of a definite 'look'. The 80's were all over the place as everyone did their own thing, the 90s… I can't even remember the 90s. I hate the 90s! (Laughs). It was bland and all about power dressing. The last decade became more fun but I have noticed this uniformity of look and maybe it has something to do with the advent of the Internet? There are still trendy experimentalists in London around Dalston and those areas, but again they are almost formulaic trendy and experimental. It seems to be within certain parameters but then you also get that smart young man around town. Maybe it's always been a little style by numbers and we are just aware of it now? Maybe smart young lads in the 60s were thought of as the same? I mean it's not a bad look.
Interview: Glenn Kitson and Mark Smith
Photography: Antony Crook
Join Our Discussions on Discord
The HYPEBEAST Discord Server is a community where conversations on cultural topics can be taken further.