Oyster Magazine: Interview with Tyler, the Creator
Set to drop this Wednesday, the current issue of Oyster Magazine focuses completely on the subject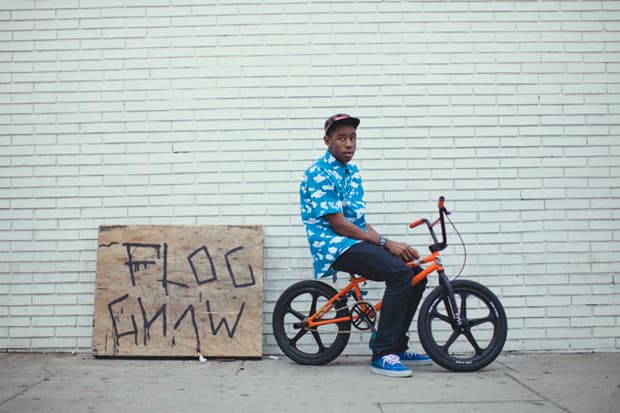 Set to drop this Wednesday, the current issue of Oyster Magazine focuses completely on the subject of music. Normally never an easy task – albeit one that comes with added interest – Tyler, the Creator sits down with the magazine to touch of an array of topics. From his comparisons to other hip-hop acts to the perception that his "wild and crazy" antics stem from mood altering chemicals, Tyler seems rather transparent during this line of questioning. Pick up a copy of Oyster #98 on April 4 at select newsstands worldwide.
Why do I feel like I'm about to be lied to every step of the way during this interview? I heard you don't like people to ask you about your song 'Yonkers'. How come?
Because that song is annoying as fuck!
Why? Because it's successful?
Yes.
I also heard you get very annoyed when people compare you to Wu-Tang or Kanye. How come?
Because I'm not Wu-Tang; I'm not Kanye — even though he's a cool guy. I talked to him the other day.
So, you like Kanye West?
Kanye West is cool. I'm a fan. He's an artist. He understands it. He's cool. He'll be wearin' leather pants — it's weird — but other than that we talk about videos and art and other cool shit. I don't know, he's cool. I was emailing him the other day and … I was like, "Oh my gosh, I'm having a conversation with fucking Kanye!" I told him I was just filming my friend skating and putting montages together and he was like, "I can't wait to see it. You really inspire me. Keep pushing." To hear that from him was crazy, 'cause I grew up listening to him and I always wanted to do videos, and he's one of the only artists who actually comes through with cool videos. So, to know that I inspire him — that's awesome. He's cool as fuck! Him and Lil Wayne — Lil Wayne's a really big fan. We hung out in Miami and it was awesome, we skated and shit. It was really weird and awkward, though, because when he came to my show, I looked back at him and he was singing all the lyrics to just, like, album cuts. So, he's a big fan. He supports us a lot.
Do you do tons of drugs?
No, I've never had a drink in my life. I mean, I troll people and tell people I do drugs, but truthfully I don't. I've never had a drink in my life. I don't smoke or anything.
Why?
I don't know. It's just not for me. I just don't have to. Plus, growing up at the skate park, there were a lot of kids that had so much potential to be pro — like, they were my age and they could have been pro by the time they were, like, 20, and they just got caught up in the party and drinking life and now they're failures. I vowed never, ever to become one of them. It's just not me.
What have you noticed now that people recognize you?
Being famous isn't that cool. I have to stop and take pictures; it's not as fun as you think. But there are plus sides to it: I get a lot of free shit, I check off my goal list, and I can put money in all my friends' pockets, which I always try to do.
Do you think a lot of your friends are mooching off you?
There's no possible way my friends can mooch off me. I decide when I put money in their pockets, and I always try to give them opportunities. Always.
The interview in its entirety can be read here.