A Conversation with Eunice Lee
The creative mind and driving force behind menswear label UNIS, New York-based Eunice Lee spent her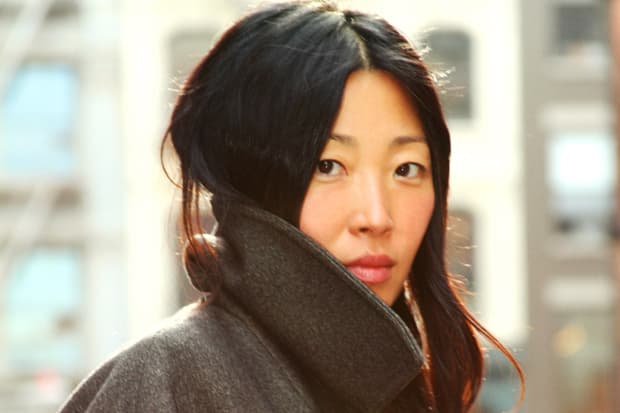 The creative mind and driving force behind menswear label UNIS, New York-based Eunice Lee spent her early years honing in her craft through a stint at DKNY, before opening up her first Elizabeth Street menswear outfitter in 2000. Since then, UNIS has grown substantially to create inroads on the West Coast with the opening of a La Brea brick & mortar shop. The success story of the sophisticated and understated garb of Lee's semi-namesake clothing brand is exemplified in not only the accomplishments of the brand itself, but the dedication of Lee herself into the day-to-day details and otherwise "grunt" work of the business side. Whether it be the material selection, the wholesale business side, or the sales, marketing and retail perspective, Lee invests a full measure of her time and energy into creating relationships through the UNIS brand — a decision that has aided in the longevity of the brand for over 12 years.
My pet peeves include… men without manners. Guys, seriously, open the door for your woman. Pull out her chair. Walk her home at night — or at least put her in a cab! On the flip-side, it drives me nuts when girls assume they don't have to pay their share of a bill. No matter how cute you think you are, it's not gonna cover the cost of your food. Pony up, or stay home.
Retail at the moment… is exciting. The landscape has changed dramatically, thanks to the recession. It's killed the old way of doing things. Designers are no longer beholden to fat, old, crooked dinosaurs. New shops have opened – in a tough economic environment – and they're more respectful of their brands and they're thriving. IN WITH THE NEW, OUT WITH THE OLD!
Understated garments… are tasteful. That's why I love menswear. It's the subtle details that set a quality garment apart. The fit. The fabrication. The feel. What a piece looks like on the inside. Those are the things that matter.
Something I get asked too often is… have you always wanted to design menswear? The answer is no.
Men like… reassurance. Every guy wants to hear his ass looks great.
My taste in design… is simple. I really don't like it when guys look like they're wearing a costume. I loved what the heritage trend brought to menswear, the return to classics. But now, it's starting to look like a three ring circus out there. No more costumes, please!
UNIS has become… and is becoming what I always hoped. One of the first brands that inspired me was agnes b. I loved the idea of having my own boutiques. It was always a dream. Now I have two (and I hope to have a few more).
I wish I had… more money. But that's boring. Who doesn't need more money? How about: If I had… Some extra time, I'd take a vacation. I need a margarita.
Expanding my brand… felt like it was never going to happen. It's been a long, hard decade. But I'm thrilled with where UNIS is at today. All the hard work has been worth it. You heard it here, "Hard work never steers you wrong."
Formal training… is crucial. Everyone and their mother thinks they can be a designer, but you have to have a foundation first. It's not just about a dream. It's a business. The more you know going into it, the better equipped you'll be to handle it.