A Conversation with Casely-Hayford
The father and son design duo that comprise Casely-Hayford are fueled by the passion to curate a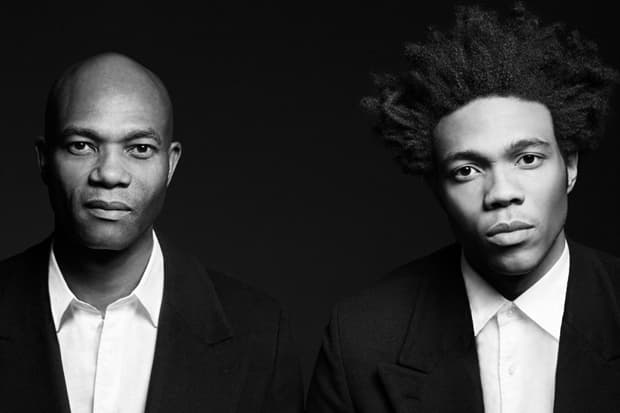 The father and son design duo that comprise Casely-Hayford are fueled by the passion to curate a fusion between English Sartorialism and British Anarchy. The tenure that characterizes the extensive working history of Joe Casely-Hayford combined with the youthful inspiration and modern sensibilities of a younger Charlie Casely-Hayford bring a holistic design process to the curation of each consecutive collection. With each retaining a high level of dedication to craftsmanship and quality, Casely-Hayford has struck a fine balance between timeless construction qualities and Savile Row tailoring with an air of British chaos and edge.
The importance of fashion photography… is paramount to creating our brand image. We don't do catwalk shows so everything relies on our imagery to communicate the lifestyle of the Casely-Hayford man. From day one we have tried to create something with meaning and integrity that stands for something more than just product itself.
Menswear currently… is more exciting than womenswear, The different tribes that are emerging – workwear, darkside, luxury sportswear and heritage purists seems to be coupled with a complete lifestyle that men choose to follow in its entirety in a more authentic way than womenswear where it is quite easy to flit from one trend to another. Authenticity of product and place of origin stand for a lot more in menswear than womenswear. Here in the UK this has been the driving force for reinvigorating British manufacturing. As a designer, that sense of a desire for integrity from your customers is reassuring and inspiring.
The use of color… is exciting for SS12, as well as prints – something that seems to have seeped into menswear from women's. Pattern and color have been instrumental in opening up men's acceptance of a much wider range of products and style options. It will be interesting to see whether this really translates onto the streets and the shop floor in a big way.


Creating a unified vision… can be challenging working as a father & son. With Casely-Hayford we strive to create a unified vision but there is definitely an element of duality in the handwriting. Sometimes, something that is new to me is old to my dad, what we realized early on was that often it is the context that has evolved and then from this we will try and work out how to communicate feeling that through our collections.

The balance of work… and play doesn't really exist, but I guess I never would really call what we do work. It's early mornings and late nights, but as a family business we all live and breathe the brand.
Formal fashion education…
Charlie…was a combination of growing up in a studio and working for COMME des GARCONS at Dover Street Market for nearly five years.
One gave me the formal training I needed to design, the other gave me an incite into the dynamic of the shop floor and from day one made me think more about what the customer wants rather than designing for design's sake.
Joe…before getting into fashion I decided that to become a well-rounded designer I should understand the history, craft and how to approach designing with an open mind. I learned tailoring at the Tailor and Cutter Academy in London before studying fashion at St Martins School of Art and then taking a course in Art History at the ICA. In my day to day approach to design I also draw a lot from the cultural experiences of being a Londoner.
Without sartorial craftsmanship… our brand wouldn't exist. My dad started his career designing avant-garde clothing in the 80's, dressing bands like the Clash and in the '00s was Creative Director of Savile Row tailor Gieves and Hawkes. Casely-Hayford sits somewhere between the two extremes – creating a language that mixes tailoring with sportswear, traditional English cloth with high tech Japanese fabrics, minimalism with maximalism, and youth subcultures with signifiers from England's wealth of tradition. It's not meant to be a smooth synergy, more a discordant one.
Working together at the creative helm… we hope creates something that is trans-generational but with a singular ideal. We have the same goals with regards to the direction of the brand, but bring different inspirations to the table. English subcultures have definitely played a large role in the design, but references are always subtle.
Defining modern trends with timeless tradition… is the backbone of men's fashion. Innovation through tradition generates something with greater permanence than a fleeting trend. Modernity shouldn't just be perceived as transience. I think there are two ways modern design can exist; to create something that defines a moment in time or create something that permeates through time – both can communicate lasting messages in different ways.