Nike HTM Flyknit Collection
Nike amplifies innovation with the unveiling of its HTM Flyknit Collection, signifying the ongoing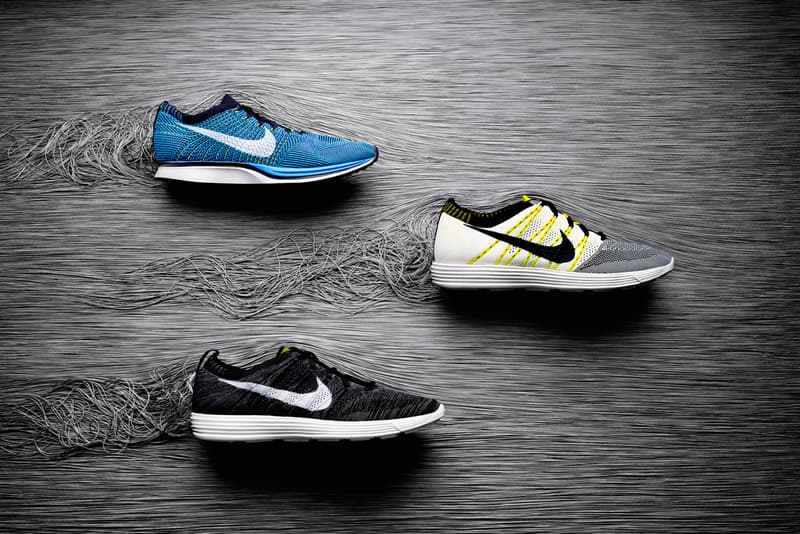 Nike amplifies innovation with the unveiling of its HTM Flyknit Collection, signifying the ongoing collaboration between Japanese design icon Hiroshi Fujiwara, the legendary Tinker Hatfield, and Nike CEO Mark Parker. Nike Flyknit will debut in a collection that celebrates the performance attributes of the technology, while at the same time hints at its future capabilities: HTM Flyknit. This initial offering welcomes three shoes into the mix, including the HTM Racer and two versions of the HTM Trainer+.
HTM Racer – Identical to the Nike Flyknit Racer in function, it features the colors of the USA Track and Field team. This version made its competition debut at the USA Track & Field trials in January 2012. The HTM racer will be dropping exclusively at 1948 London this Saturday 25th of February at 12pm.
HTM Trainer+ – The HTM Trainer+ pushes the boundaries of what Nike Flyknit could do and showcases the aesthetic possibilities of fabrics and colors and patterns. Pushing the technology in new ways, the HTM Trainer+ also integrates the tongue for an enhanced fit and shows off the personalization potential of knit, with knit-in the numbers of each of the collectibles, 1 to 100. The HTM Trainer+ will be released on Wednesday the 22nd of February at Nike Sportswear's 21 Mercer Street New York location. If you do not manage to get your hands on a pair, fear not, there will be another drop in 2 weeks and a final one 2 weeks after.