Keeping Score: Dwight Howard Should Wait To Be A Bull
One thing is for certain. Dwight Howard will not be taking his talents to South Beach to team with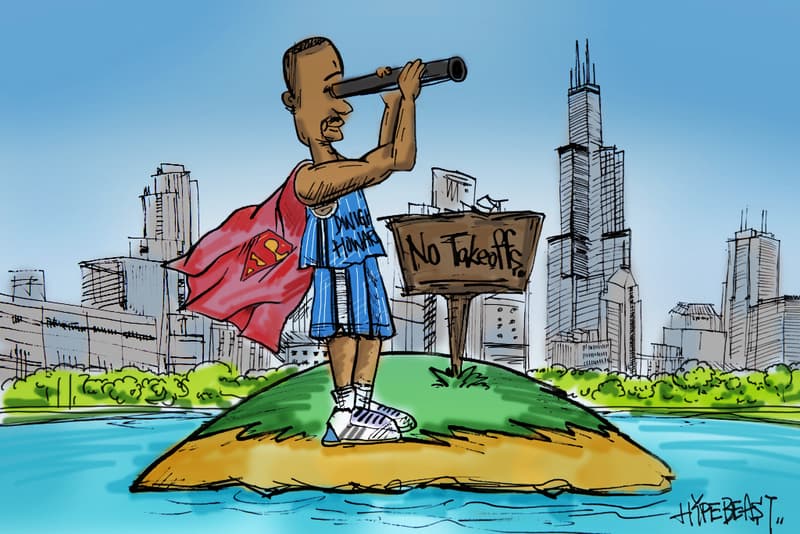 One thing is for certain. Dwight Howard will not be taking his talents to South Beach to team with King James, D. Wade and Chris Bosh in an extravagant ceremony involving capes, burning buildings and Clark Kent-inspired spectacles. That much we can say. What isn't so clear is where the seven-foot Adonis will call home for the rest of 2012 and beyond. With this, his final year left on his contract, and the outward desire to leave Orlando like a youngster looking to escape the watchful eyes of an Octogenarian guardian, his days in the Sunshine State are numbered. But what's next for the twenty-six-year-old?
This pre-free agency puffing of chests is nothing new to the contemporary NBA landscape. It was only last year that Carmelo Anthony held Denver's hopes over a rocky ledge threatening that he'd let go, and that it would be in their best interest to get someone else to carry the weight of the cities expectations. Rather than seeing Melo inevitably leave the next season without any compensation, they dealt him to the New York Knicks with surprise results for both franchises. Since the trade the upstart Nuggets have posted a 31-12 record while the Knicks have struggled to find a counter balance with two jump shooting frontcourt mates, going 21-27 over that same stretch. While the Knicks got a four-time All Star in Anthony, they parted ways with key role players in Danilo Gallinari, Raymond Felton, Timofey Mozgov, Wilson Chandler and the team's first-round pick in 2014. The Knicks weren't considered a legitimate title contender prior to the trade, but NBA insiders clearly saw promise in the upstart young players they had gathered. While it's way too soon to write off Melo in blue and orange, it's clear that gutting a roster of functioning and interchangeable parts for the sake of one elite performer results in more of a work-in-progress than a future Eastern Conference ring-night-r.s.v.p'er.
It's with that in mind that Dwight Howard's "allowance" to be moved to Chicago that should make Bulls fans, me included, proceed with guarded optimism. Chicago is yet another major market that Howard has told Magic brass he would okay a trade to, which already includes Dallas, New York, New Jersey and Los Angeles. There's no question that Dwight Howard is the big man of his generation, much like Shaq, Olajuwon, Abdul-Jabbar, Russell and Chamberlain were in days of yesteryear. A career 18pt/13rpg/2bpg performer, his prime is arguably a yet to be delivered entrée as opposed to ravaged breadbasket from the first course. He's the cornerstone for any and every NBA franchise; if it were the 2001-2002 season, the last time an NBA champ featured a top tier center (Shaquille O'Neal), discounting Tim Duncan because he'll go down as the second greatest power forward of all-time. The days of dominating big man hoisting trophies has been replaced by energetic swingmen and athletic point guards who fill up the stat sheet with a fast-paced bravado as opposed to a methodical, feed the post ethos.
Pairing Dwight Howard with Derrick Rose would be made up of the same steady and methodical construction as a deep-dish pizza. Built on top of a steady and thick crust boasting Tom Thibodeau's staunch commitment to defense, Derrick Rose would still easily be able to serve opposing teams with buttery splashes of spicy finishes at the rim, leaving defenders cheesing like mozzarella. But would those two alone, paired with a suddenly undermanned bench really be able to challenge Miami in the East and OKC in the West? In short: no. It's the Bulls core outside of D. Rose that makes them such a blue-collar charmer.
Imagine for a moment that Gar Foreman and John Paxson did pull the trigger on a Howard trade. You can immediately assume that Orlando would have free reign on anyone on the Bulls current roster besides Rose. Goodbye Deng. Au Revoir Noah. See ya' later Taj Gibson. Güle güle Omer Asik. That would leave Rose at the 1, an aging Hamilton at the 2, Brewer at the 3, a defensively challenged Boozer at the 4 in the 4th and Howard manning a paint where Bill Cartwright delivered swooping elbows nearly as graceful as his side winding style of shooting free throws. The bench would be gutted, leaving only the likes of Korver, Watson, Turkoglu (with a ridiculous contract) and mix-matched contributors like Jimmy Butler and Brian Scalabrine to fill vital minutes. While the Bulls would be adding a perennial Defensive Player of the Year at center, every single other position would suffer defensively upon his arrival. In a conference where Miami is the biggest threat, it's not realistic to suggest that a combination of Ronnie Brewer and Rip Hamilton could check LeBron and Wade in a best-of-seven format. Then, consider Rose's options on the perimeter when James takes it upon himself to guard the reigning MVP like last year. Without a slasher of Luol Deng's caliber, the Bulls become a "stand and watch" offense. Deng, Noah, Gibson and Asik all excel without the ball in their hands while Howard needs it in his mitts to make a significant impact on the offensive end.
If you go back to 2008, the last time a supposed "Super Team" of assembled and perennial All-Stars came together, in this case as a shamrock-inspired Voltron, it's wise to note that the Celtics of that year were ripe with burgeoning role players. Kendrick Perkins was a force in the middle that they would soon miss after he was shipped off to OKC. Rondo was the perfect complement to Ray Allen and Kevin Garnett's spot up and shoot propensity and he was unselfish enough to not demand the rock when Paul Pierce was looking to get to his sweet spot at the right elbow. Defensively, James Posey was as tough as they came, ensuring that Kobe Bryant didn't enjoy one dominant fourth quarter, a period in which he seemingly always delivered a series of Black Mamba kill-strikes. In the current Playoff format, one or two players can pull out victories, not entire series.
It's certainly curious timing that Howard's opinion on coming to Chicago has softened. For one, many believe Howard was initially reluctant to team with D. Rose simply because it would be bad for his endorsement deal with adidas. With Derrick Rose already a member of the three-stripe-posse and $250 million dollars richer because of it, it wouldn't be fiscally wise to have their two biggest superstars cornering only one market. Perhaps Howard's change of heart comes with an assurance from adidas higher-ups that having two game-changers in six-stripes wouldn't affect his bottom line. Secondly, Howard's comments come on the heels of a Bulls loss against the Heat. After defeating the D. Rose-led Bulls in five games in the Eastern Conference Championship last year, experts questioned whether the Bulls were a "piece" away from actually competing with the front running South Beacher's. Howard is certainly correct in his assertion that he would make the Chicago Bulls a far better franchise, but as with other things in life, timing is everything. He'd be wise to stick it out in Orlando and come to a D. Rose-led squad as a free agent in 2012-2013 that gained a cornerstone without losing its foundation.
Keeping Score is an editorial spanning the world of sports, ranging from thoughts about the state of the NBA to whether or not the United States National Soccer Team will ever challenge for a World Cup. Handled with words from HYPEBEAST Senior Editor L. Ruano and Staff Writer Alec Banks – both life-long sports enthusiasts and dedicated writers – no sport will go untouched.

Alec Banks is a Los-Angeles based writer by way of Chicago which means he doesn't put ketchup on his prose. He currently serves as the North American staff writer for HYPEBEAST and contributes regularly for the likes of Complex, Playboy and Maxim. He was a 2x Quarterfinalist for the prestigious Academy of Arts and Sciences Nicholl Fellowship in screenwriting. You can read more of his work at alecbanks.com or @smart_alec_.