Introducing the Cole Haan x Nike LunarGrand Wingtip
Since 1988 Cole Haan has been a vital piece to the global domination that which Nike has attained.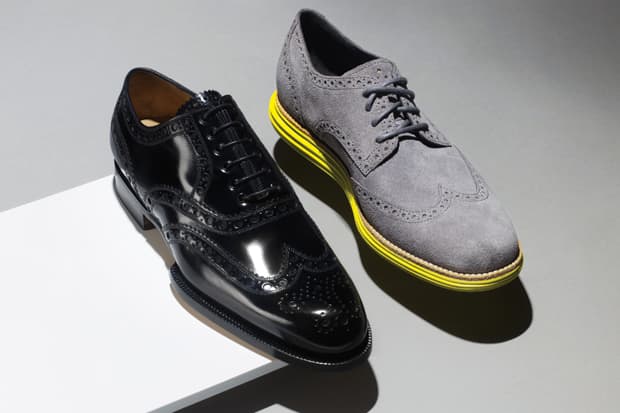 Since 1988 Cole Haan has been a vital piece to the global domination that which Nike has attained. A relatively quiet subsidiary from its initial purchase, Cole Haan was approached my Nike in 2000 to blend their traditional craftsmanship with the athletic apparel-maker's innovative Air technology. A fascinating meeting of the minds, the two renowned shoemakers have remained to a degree separate in terms of designing, until this month. Initially previewed in December, the LunarGrand fuses the modern Lunarlon sole technology with the classical design sensibilities of the traditional wingtip. Digging deeper into this revolutionary collaboration, Sneaker Freaker sat down with VP of Design at Cole Haan, Phil Russo, to uncover how the collaboration transpired, the models cutting-edge build and what the future may bring. Available in five color ways, the Cole Haan LunarGrand can be purchased at Cole Haan SoHo for $248 USD on Friday February 10, 2012.
How do you explain this new project Phil? Mashup? Hybrid? Old meets new?
I'd describe it as craftsmanship through design and innovation, which has been a driving core value of Cole Haan since 1928. Trafton Cole and Eddie Haan were obsessed with fusing craftsmanship and innovation to improve both the form and function of Cole Haan products. As testament to this, many of their original designs such as the iconic Trafton wingtip are still being made and worn in 2011.
Today we continue to create classically-crafted products and have 'enviable resources' to tap into, in terms of Nike technology and innovations. However, it's the careful and considered combination of these ideas, abilities and resources that is unique to Cole Haan and takes the brand to new places and enhances their movement. The LunarGrand wingtip is a natural step in the evolution of our vision – a pioneering wingtip that perpetuates our co-founder's legacy and keeps things moving forward.
It's such an intriguing mix of old style and new tech. Is there a noticeable comfort difference with the LunarGrand? Is the weight reduction obvious?
Weight is really a personal preference in mens' shoes. At one end of the spectrum you have our Trafton wingtip with its substantial construction and traditionally crafted leather sole. This type of classic shoe is always going to carry some weight – it's expected. Then at the other end you have the LunarGrand, which is engineered to leverage innovative Lunarlon foam, delivering a lightweight, modern and more mobile reinterpretation of a classic wingtip.
The immediate reaction when wearing the LunarGrand is to its light weight and flexibility – its motion-enhancing properties which are unexpected in a classic-styled wingtip. Both of these styles are different expressions of one idea, brought to life through design and innovation. You get to choose which is best for you.
What was the impetus for this collaboration?
The idea came from our perpetual obsession to make our products better. If you understand what people are doing in their shoes today as well as their expectations in terms of functionality, style and movement, you can design with purpose and create solutions that provide real benefits.
Through design innovation such as the use of Lunarlon foam and its function-enhancing properties in the outsole of the LunarGrand, the boundaries of how classic dress shoes look, perform and function in modern environments are being redefined.
How did the partnership work? I assume this is the first time Nike and Cole Haan have actually collaborated together?
We have a very close working relationship with Nike's design and innovation teams in Beaverton, Oregon. Cole Haan has been part of Nike Inc. since 1988, launching footwear featuring Nike Air technology in 2000. Now, Nike Air technology is utilized throughout Cole Haan's footwear, enhancing the functionality of our products.
For the development of the LunarGrand, we combined the insights, experience and expertise of both teams to harness this Nike-invented ultra-lightweight cushioning system. Through considered and specific engineering, we created a unique wingtip that delivers enhanced cushioning, traction and flexibility in a classic, yet modernized silhouette.
Last question. Is this the future?
Wait till you see what we're working on for 2013.