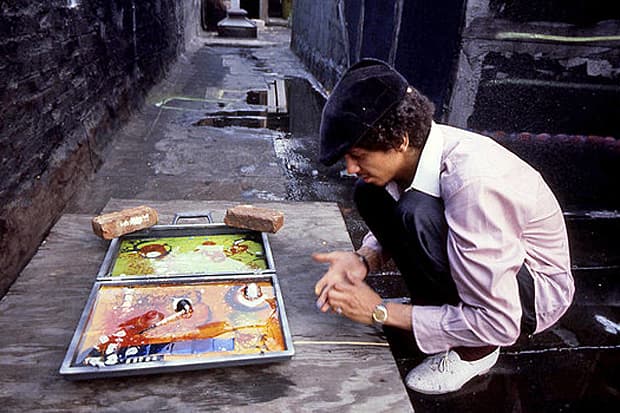 The New York Times: Art Excavated from Rammellzee's Battle Station Earth
While it's been two years since historic and legendary artist and musician Rammellzee passed away
---
While it's been two years since historic and legendary artist and musician Rammellzee passed away at the too-young age of 49, pieces from him continue to emerge. After being relocated to a smaller studio in Battery Park after the September 11 attacks, many of his works were put in a small storage unit that until very recently wasn't ever opened. On March 8 the Suzanne Geiss Company, a new gallery in SoHo, will open its inaugural show by suspending, as if in flight, two complete sets of works that Rammellzee called "letter racers" – spacecraft-like sculptures representing the letters A to Z, built bricolage style from scraps of cast-off consumer goods like flip-flops, sunglasses, toy cars, cheap umbrellas, Bic pens and air-freshener tops. The emergence of the sculptures from deep storage are surely going to keep Rammellzee's legacy alive and well for years to come. Below is an excerpt while the whole piece can be seen at The New York Times.
DURING the 1980s and 1990s a question was often asked sotto voce in certain overlapping circles of the New York art world: "Have you been to the Battle Station?"

Entry to the fabled TriBeCa loft where the artist and musician Rammellzee lived and worked, all but secluding himself in a thicket of cosmic paintings, militarized plastic sculpture and Samurai-like handmade costumes, was like initiation into a secret society in which graffiti, hip-hop, linguistics and science fiction were being fused into a strange new category of art. But Rammellzee opened the doors to this world more and more rarely before he died in 2010 at 49, and even stars tended to be star-struck by an invitation.

"I took George Clinton and Bootsy Collins to the Battle Station for the first time, and they left feeling like they'd just had a close encounter," said the bassist and music producer Bill Laswell, who met Rammellzee in the early 1980s and remained one of the few people who saw him regularly.

Soon after the Sept. 11 attacks the building on Laight Street that housed the Battle Station was sold to make way for luxury apartments, and Rammellzee and his wife, Carmela Zagari, were pushed out, relocated to a conventional, smaller place in Battery Park City. Almost 20 years' worth of his obsessive artwork, enough to fill a large truck, went into a storage locker, where it remained unseen for years, in danger of being forgotten for good.

But pieces of it are now starting to re-emerge, in a way that Rammellzee most likely would have approved of: in fighter formation. A bunkerlike, black-lighted re-creation of the Battle Station was one of the most talked-about pieces in "Art in the Streets," a sprawling graffiti survey last year at the Museum of Contemporary Art, Los Angeles, organized by the museum's director, Jeffrey Deitch, who as a New York dealer had courted Rammellzee for years.