Know1edge x Li-Ning Collection
As one of Hong Kong's streetwear brands that has had the ability to penetrate outside the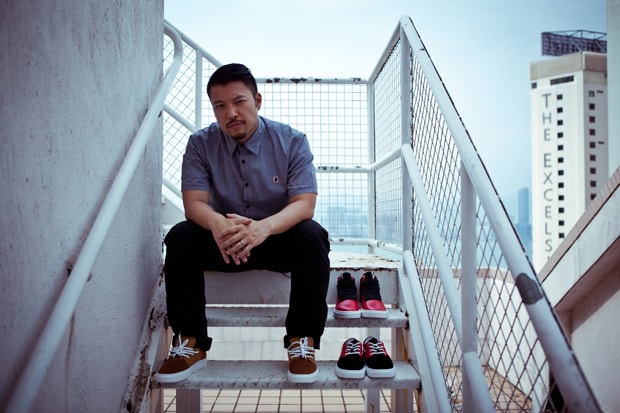 As one of Hong Kong's streetwear brands that has had the ability to penetrate outside the confines of the microscopic island, Know1edge led by Brian Siswojo and Annie Lee partner with an unlikely entity in this new project. China's leading sportswear brand Li-Ning is known more so for its racquet sport offerings and reasonably priced athletic footwear than lifestyle, yet with the help of Know1edge it represents a new place of interest. We take a look into the new collection as well as speaking with Brian on this latest project which is available now through 8FIVE2SHOP.
How did you get acquainted with Li-Ning?
It's crazy when I think about it again. It's already been around 4 years! I was thinking to myself, I would love to do a collaboration project with Li-Ning simply because it's a footwear brand from China with Chinese pride that has been around for many years. I wanted to make a small mark in some part of Li-Ning's collection. Just as I was thinking this, two years ago, I bumped into my good friend Scott who now works for Li-Ning. I told him that I wanted to do something with Li-Ning and the crazy thing is, Scott had the same feeling of wanting to do something with Know1edge. It's a mutual respect and interest. I requested that they allow me to have full control over my design and have my own outsole created. This collection is going to be the start of Li-Ning's new lifestyle collection.
Was there any brief given?
The only brief was to design any shoe that I wanted to design meaning 110% full creative control. And to be very honest, working with Li-Ning has been one of the most amazing experiences. They are very professional and they have a strong footwear production team. I thank Scott and all the team at Li-Ning for making it such a great experience.
Would you say that there are some misconceptions about Chinese brands?
They copy, copy and copy. I guess, it has been true in some aspects. That's why, we wanted to make a difference. China is taking over son!
When you set out to create this collection, what were you looking to achieve?
Just make casual footwear that was still affordable, make footwear appealing for everybody.
How did you go about picking colors?
I always loved brown and when I was doing this collection, brown was on my mind. The use of red and black are inspired by the Jordan 1 colorways and it's always good luck to wear something red in the Chinese culture – growing up Chinese, that's what we learned from an early age.
Know1edge is rooted as an apparel brand but designing footwear was something a little different?
It's always been a dream to me. I'm so lucky to have the opportunity to design footwear as a freelancer in the past but this offer from Li-Ning to have a collection with Know1edge is something that I couldn't pass up.
Overall, what are your sentiments and wishes with the collection?
I want it to be worn and liked by many. Just trying to make a comfortable, affordable and good looking casual shoe… When you look at the silhouette of the shoes, you'll understand that we put a lot in making a well-shaped shoe and that's the most important thing in making footwear, THE SHAPE! It could make or break a shoe.
What do you have going on in the near future?
We've just finished our second collection with Li-Ning. Two of them are carry-overs from our first collection and a new slip-on is on the way. I'm psyched on the slip-on. Check it out soon and I hope you'll like it. We will also work with various artists in the upcoming collections so keep on checking for the latest drops.