A Conversation with Tommy Ogara of Dita
In the competitive world of eyewear, Dita has associated itself with elegance, refinement and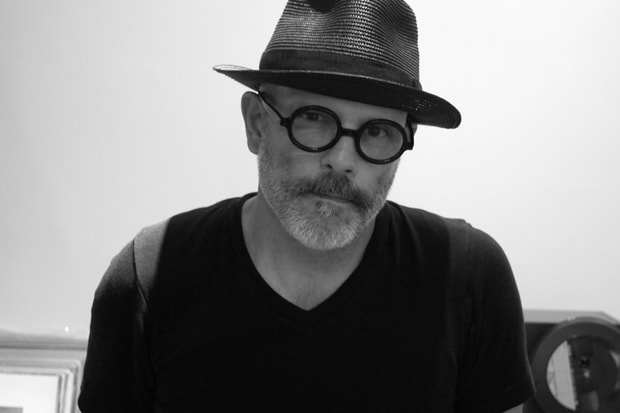 In the competitive world of eyewear, Dita has associated itself with elegance, refinement and above all, high-quality frames and optics. Catching the attention of Thom Browne with an upcoming collaborative launch set for Fall/Winter 2011, the brand has forged a strong following on a global level. With roots in Japan and the United States, an integral part of it all is President and Director of Dita Asia, Tommy Ogara. An American transplant living in Japan for several decades, Ogara has overseen the production of the brand's critically acclaimed eyewear program as well as helping launch an all new factory.
The strength and power of Dita on a regional level saw the creation of the Legends Craftsman Line, a capsule suited towards the unique facial characteristics of Asians versus their Western counterparts. We discussed with Ogara about both the launch of the new line as well as his role in the company from abroad in Japan.
Could you introduce yourself and your role within Dita?
My name is Tommy Ogara and I am the President / Director of Dita Asia. While running all of Asia for sales and marketing, I work as part of the whole design and production team of Dita and deal with a large part of manufacturing as well.
How did you originally get involved with Dita?
I originally met Jeff (Solorio) and John (Juniper) when I was working as a contract creative director for the company that was their distributor at the time. Things were going terribly sideways, so I stepped in to help and have been here ever since.
To what strengths does Dita have with you based permanently in Japan?
I've lived in Japan for quite a long time and learned to speak Japanese. Additionally, I have direction in design and manufacturing that helps a lot when dealing with factories for materials and components to finished products. The Japanese way of working is now in my blood. We jam and get things done, there is no running to the sports club or bar at 6 p.m.
How does the interaction between you yourself in Japan and founders Jeff and John in the U.S. play out in terms of design?
Design and production are definitely on point being here in Japan, we can get people to try different things… troubleshoot and make advancements whereas if we were in Italy or somewhere else this may not be a given. Mr. Kobayashi, our R&D factory head is the leader when it comes to these things. He has a phenomenal mind when it comes to setting things up and making jigs, et cetera. Recently he made great leaps in tumbling and polishing that can streamline and speed up manufacturing.
Jeff, John and Mike Castillo are all working in LA and I am here in Japan but we all exchange ideas and work a lot on Skype to finalize and detail designs. I send a lot of materials, prototypes and samples to Los Angeles. But in a word, we all work together hand in hand to make each design the best it can be. Some designs may only be for U.S. and EU and some only for Asia, but at the end of the day four heads are better than one and we all work really well together.
What spawned the idea of the Legends Craftsman Line? Anatomically, how do Asian faces fit differently relative to other ethnicities?
The Legends line came about from a dream I had one night about being in a bar. Long story short, there were three guys in the bar, one was a poet, one was a preacher and the other was a prophet. The poet told me he built buildings, the preacher told me he wrote songs, and the prophet told me that he painted large paintings for the world. Anyway, I wrote all of this and more down and started forming ideas for the designs around the story and what I wrote.
This had always been in the back of my mind, an idea to do an updated series of CRAFTSMAN frames. Having built our factory with Mr. Kobayashi – who is now part of our team – the theme and the product was conceived right in front of my eyes. Kobayashi-san is the key to dialing in the designs and fits.
Asian faces can be larger and softer with 3 different degrees of nose bridge from zero to moderate. Brow lines are higher but ocular openings (area between the brow and the cheek bone) can be narrower and not as deep. So with this in mind, the shapes were scaled, drawn and carved to fit as well as possible.
The star nut is something you specifically reintroduced via this collection, what does it serve and how does it differentiate Dita from other manufacturers?
The star nut(s) were originally used years ago before eyewear became designer items. At that time they thought the nuts to be "not pleasing" or extraneous to the design of a frame connection and hinge. That was when they shortened the screws and dropped the nuts. We find that the star nut controls the tension in the hinge better and looks good at the same time.
Dita started making trad-inspired but retro-modern edge frame designs about seven years ago and a lot of companies followed. When we started, there was very little in this genre – most designs and the trend were futuristic with flowing lines, floating lenses and curved return spring hinges. Now this is fading some and there are many trad-based designs from many companies. I think bringing back the nut is great and others will follow and most likely there are some good Japanese craftsmen still doing this. But Dita is Dita and we do not look much at what other brands are doing but rather try to focus on our own wave, and this often puts us a year or 2 ahead in design. Some of our styles take a year or so to really take off.
You opened a new factory within the last year, how has this changed or affected your work flow for the better? Did a factory facilitate your ability to develop your Legends Craftsman Line?
Our little factory in Sabae is the best thing we ever came up with. This facility speeds up prototyping, sampling and manufacturing in every way. When we have new styles and new materials, we can cut out fronts and see results in days instead of weeks. The first LEGENDS series from dream to samples took only two weeks. Definitely having Mr. Kobayashi there tightens up the flow and speeds up the process.
Where does Dita plan to go from here? Will children's eyewear factor in?
Our little "Koba" made the last Thom Browne runway show frames and also, yes our Jr. line frames are developing. We now have smaller versions for smaller faces and kids, some of the frames are the Royce, Rambler, Joya and soon to arrive New Yorker.
So every day, week, month is a new step for us. We're constantly experimenting with plastics, titaniums, patinas and connections making the "trip" road to creating new styles fun and excitement. We all are always like boys at Christmas when new styles arrive. To see an idea go from paper to being a physical and stylish realization is a gift.