The Standard Hotel Los Angeles x Eric Haze Mural
Returning to his old stomping grounds of Los Angeles as part of the recent "Art in the Streets"
---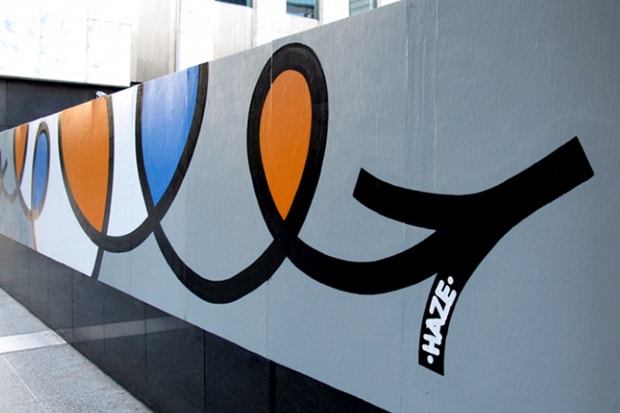 Returning to his old stomping grounds of Los Angeles as part of the recent "Art in the Streets" exhibition at the MOCA, Eric Haze found time to link up with The Standard Hotel for the following piece. Having created a T-shirt with the chain in the past, this time around Haze went to work on a 40 x 6 mural. Haze's own words on the experience can be seen below:
With all the painting and installations going on around downtown LA last month, I was psyched to have a mural project of my own lined up in the neighborhood too…
Since creating a t-shirt for The Standard hotel a few years ago, I have been interested in participating more in their growing art and product programs.
so when the opportunity came up to take my turn at bat on their 40' mural space outside the downtown branch, I was all over it…especially since we were able to coordinate doing it while I would be out there for the museum show anyway.

At 40' x 6', I thought the wall was an ideal dimension for the kind of painting which calls for a full stroke top to bottom, the same way we would have approached a T2B on a train car from a platform or catwalk back in the day…
I also thought it would be a good place to start working with a combination of spray paint and traditional brush, looking to conceptually fuse together different references through the juxtaposition of technique and materials.

Armed with a few boxes of spray paint that Risky, Matt and Reudi blessed me with from the LA Montana Store, plus an 6" wide brush and gallon of black exterior acrylic that I shipped out from Crest Hardware in BK…
I jumped on a scizzor lift for couple of days to knock out the artwork I had mocked up on a photograph ahead of time. After drawing the first outlines in spray, I sprayed in the color backgrounds while my man CR cut back the white with brush and roller, then I came back with brushes for the main black stroke and white date and signature.

It felt good flexing a few old muscles and working on this scale with spray paint again, the acrylic laid down over it nice and smoothly too…
and considering the theme of the moment, it was cool to get outside and actually do some "art in the streets" while I was in LA too.