Shepard Fairey x Team RadioShack x Trek Madone 6.9 SSL Bike
Shepard Fairey and his creative agency Studio Number One team up with Trek in helping to design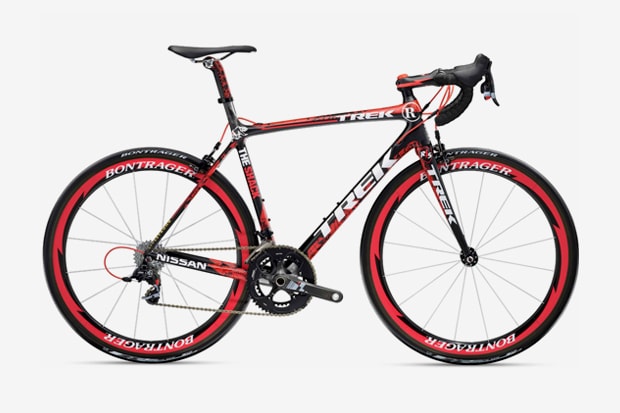 Shepard Fairey and his creative agency Studio Number One team up with Trek in helping to design the upcoming Madone 6.9 SSL set to be ridden by Team RadioShack throughout the 2011 Tour of California. The inspiration for the design came from RadioShack's iconic color scheme and its electronics legacy to create something that ultimately conveyed energy, speed and mobility. We took the chance to speak with Eric Bjorling of Trek for some insights into working with Shepard Fairey and bikes as an art form.
At what point did you guys feel that bikes were suitable as an art medium?
I think we've felt that way for awhile but only lately have we really committed to it. "Stages" in 2009 was a huge step for us in understanding how to apply art to what we do. We've opened ourselves up to art and have significantly invested in artistic infrastructure over the past few years and the brand has flourished because of it. I can tell you that we're probably the only bike company in the world with an in-house creative studio.
What are some of the difficulties and intricacies when working on a bike as an art form?
A bike is not the typical canvas. Especially in this category where millimeters mean millions at the highest levels of the sport. It's a structure with a pretty limited space so the artist really has to embrace the fact that there's only so much room to communicate their vision. That being said, if you have the right creative partner, a bike can hold some really unique possibilities for a 3-dimensional application.
What's your opinion of Shepard Fairey as an artist and his influence of pop culture?
His art comes with a message. It's there to communicate something larger and each piece seems to come from a place of thought. I think that's what makes him so interesting. Pop culture thrives on icons and Shepard's art is just that. You see it and you know who did it. Art is always open for interpretation but the artist is unmistakable.
Following up on your previous efforts with Lance Armstrong and Nike, what are you hoping to achieve with this particular follow-up with Shepard Fairey?
This project is all about combining the talents of two seemingly different entities (art and bikes) into something different and impactful. Cycling can sometimes be a one-dimensional world. Who's bike is the lightest, who has the latest widget. That's all fine but what we're doing here is something completely different. The bikes are built and painted here in Wisconsin so it's not something that every brand can do. After the race, the bikes will be signed by the artist and riders and auctioned to benefit LIVESTRONG. Being able to bring in a partner like LIVESTRONG, whose mission is so dear to both Shepard and Trek is something we're both really proud of.
Can you offer us a bit of insight into the design?
The bike takes its inspiration from the team's namesake and conveys energy, speed and mobility. It combines RadioShack's legacy of electronics with a race aesthetic and features a few elements specific to the Tour of California. It's a bike unlike any other that the peloton is going to see next week.