Paul Smith for Manchester United Champions League Suit
Ahead of Manchester United's Champions League clash against Barcelona, fellow English designer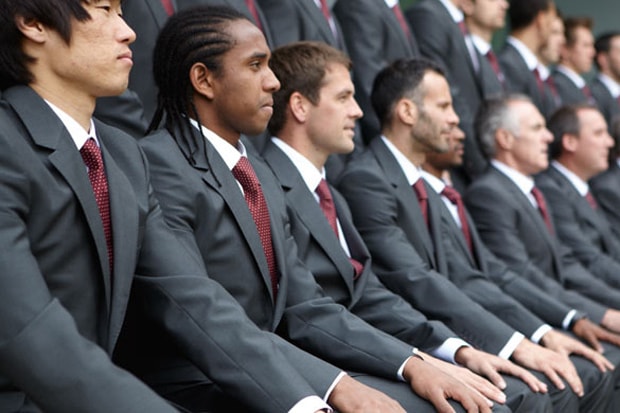 Ahead of Manchester United's Champions League clash against Barcelona, fellow English designer Paul Smith created the following suits for the Red Devils. Modeled by Vidic, Carrick and Kuszczak, package features slim cut grey wool/mohair suits, white cotton shirts and burgundy silk ties. A short Q+A with Sir Paul Smith was conducted by GQ and seen below.
GQ: Why did you go for the grey/burgundy colour combo?
Paul Smith: I am really drawn towards grey at the moment as a new alternative to black, and for me burgundy works really well with this shade.
Were any of the players particularly interested in the suits and their construction?
Generally speaking, the comments were very positive – especially the slimmer line that the suits have, and the fact that they are softer because of the wool/mohair mix and consequently more comfortable to wear.
Is there anything you have to bear in mind when cutting suits for footballers?
Obviously as sportsmen their hips and thighs tend to be bigger than the average man's…
What's your best advice for getting off a bus after a long journey and still looking good?
Don't wear your jacket on the bus, and make sure the tie is not too long and not too short: ideally not with a huge Windsor knot but a more elegant, simple knot like a four-in-hand. One button on the jacket should be always be done up.
Are footballers starting to dress better generally, do you think?
If they are wearing our suits then yes, definitely!