A Conversation with Ray Mate
Ray Mate is the Co-Founder of progressive streetwear label Mighty Healthy, originally launched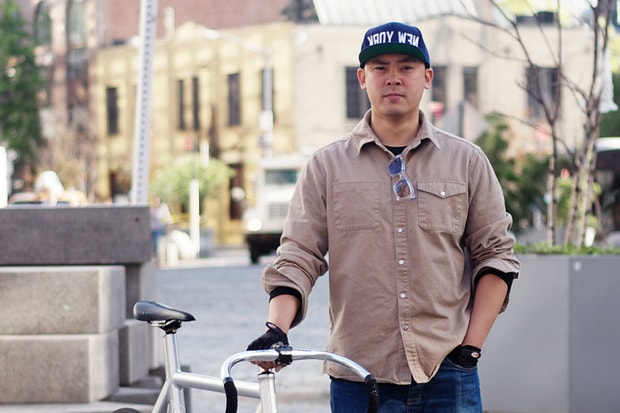 Ray Mate is the Co-Founder of progressive streetwear label Mighty Healthy, originally launched in 2004. Hailing from New York City, Ray grew up in the 1980s skateboarding scene with some of today's more recognized names, including Keith Hufnagel and Gino Iannucci. In addition, he created the original logo and early graphic designs for reputed skate shop POETS.
Since my beginnings, skateboarding has… been a big part of my life. I was able to make a lot of friends through the culture and those relationships still exist to this day. I was fortunate enough to take advantage of my father's flight benefits to travel the U.S. Skateboarding will always be a part of my life no matter what! It taught me a lot of life lessons.
Life as a new father… was scary at first but I am well adjusted now. My son is the best thing that has ever happened to me. It's such an amazing experience to see him grow everyday. Fatherhood is the newest and best chapter in my life right now.
Balancing my private life with work… used to be tough. I would be in work mode 24/7 and at times I would get burnt out from everything that was going on with the company. Running a small business, especially in the apparel industry, is very difficult and there are many roadblocks and hiccups that occur daily. Since 2004, I was pretty much working full-time and doing Mighty Healthy on the side. Eventually I dedicated myself to Mighty and it ended up taking over my entire life. I traveled constantly for work and when things got rocky with the girlfriend, Mighty Healthy was my everything. I realized that I was just burning myself out and I had to slow down. Today I'm able to enjoy my moments away from work and appreciate time with my family.
Had Mighty Healthy never been… I would of never learned that I could create something that is fun and that other people could relate to. I learned how tough this hustle is. Running your own business is one of the most difficult things to manage but I'm glad that I was able to experience this firsthand. It's amazing how others who believe in you and appreciate your vision do whatever it takes to help you succeed without any hidden or indirect agendas, it's love. I'm blessed to have people in my corner cheering for me to succeed.
Aside from fashion, my interests include… watching my son grow up and riding my bike. Shredding with the homies is always fun. Being a good father.
There is no city like… New York City. This is the toughest city to make it in. My father was a NY cab driver when he first got out to NY. He did what he had to do to make our living situation comfortable. My brother and I both learned from him how to find our ways.
Sports… love to hate the Knicks.
Getting attention from media outlets… is tough at times but I believe people respect the brand and have seen what Mighty Healthy has done. I'm not saying we created a blueprint, I'm just saying we made our mark in this game with a very authentic lifestyle. I'm thankful Mighty Healthy stills gets love.
The Brodeo… (trade shows) are a must because if you are out of sight then you are out of mind. It's good to see my friends at the shows but times have changed. It's strictly business nowadays. I miss the good old days when streetwear seemed more of a closer community.
Updating a blog… is a daily routine that has become tedious but it is a necessary evil. I'm glad I can schedule most of my posts so I can be out and about to handle my workload. I think blogs are getting boring though… everyone is a walking blog nowadays.
Photography: Angelo Calilap