BMW M Series Carbon Racer Bike
BMW announces the launch of its exclusive M Series Carbon Racer Bike, which will be available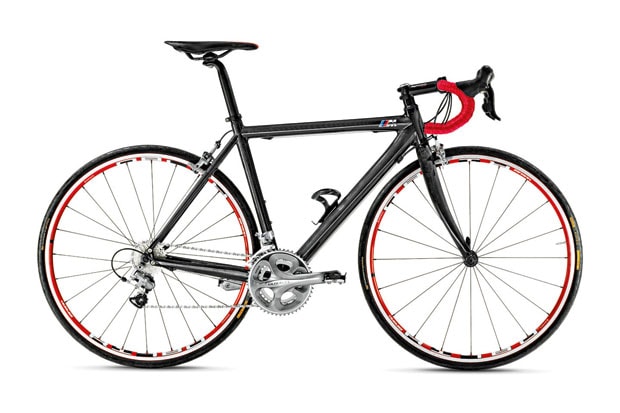 BMW announces the launch of its exclusive M Series Carbon Racer Bike, which will be available from all BMW dealerships in the UK starting July 2011. BMW has over 60 years of experience in bicycle manufacturing, so it comes as no surprise that this bike unites the highest level of riding comfort with exceptional design. The BMW M Bike Carbon Racer is unrivaled in its combination of technically-sophisticated equipment and exclusive design. The summer of 2011 will be all about "sheer driving pleasure" for every BMW owner, even those with two-wheeled vehicles. Further details into the design are offered below.
High performance and athleticism, combined with being suitable for everyday use, are the stand-out qualities of the BMW M Series, and now the dynamics of BMW M cars can also be found on two wheels. Thanks to high-tech materials and components, the BMW M Bike Carbon Racer is a high-performance racing machine. Its distinctive frame has been designed in an anthracite carbon look, while coloured accents on the rims, handlebar grips, and saddle inlay in the typical BMW M red colour show off the origins of this top-quality bike. Anyone that hops in the fi'zi:k Tundra 2 saddle will quickly realize that this is only the beginning of the bike's captivating appeal.

For those watching the BMW M Bike Carbon Racer ride by, it's love at first sight – and there usually isn't time for a second look with this racing machine. So it really pays to take a look at the frame, which is the heart of every bike. For the new BMW M Bike Carbon Racer, BMW's developers constructed a carbon frame that is extremely light and stiff, absorbs shocks, and is absolutely corrosion-free. BMW doesn't use any mass-produced elements in its fleet of bicycles, instead working only with frames it develops itself. And with Shimano Ultegra gears, you can quickly get the 7.4 kg racing bike moving at top speed.

Whether for athletic endeavors or recreational riding, every detail is perfect when you hit the pedals of the BMW M Bike Carbon Racer. This high-performance bike truly stands out as a result of carefully selected components and the perfect coordination of all the top-quality parts. Even in extreme conditions, the Shimano Ultegra brakes and gear levers allow the rider to change gears quickly, and the uncompromising lightweight design allows for particularly fluid braking. The chain and cassette provide a perfectly smooth transmission of energy both on flat areas of road and on difficult slopes.