SHHO: The House That Dave Built
The SHHO recently sat down with Dave Ortiz, previously of Dave's Quality Meat and more recently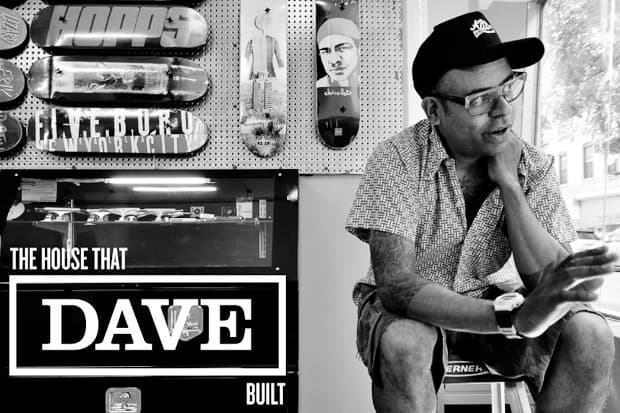 The SHHO recently sat down with Dave Ortiz, previously of Dave's Quality Meat and more recently Dave's Wear House. The interview touches on topics such as Dave's early career in action sports, time at Zoo York, hip-hop influences and the current state of streetwear.  The most notable piece of the interview however is the mention of his streetwear shop in Chinatown, Dave's Wear House and the stores mission to "appeal to the kid that's out to ride." 
Did you grow up on hip-hop?
Yeah. I mean, it was something that happened and I was here for it. Like late 70′s was funk and then the 80′s hip-hop emerged and I was around it. Breakdancing, writing graffiti…that was part of my life. So yeah, for sure. I remember going home and taping, on my brother's boom box, Sugar Hill Gang and learning the song the next day. Hip-hop has always been around me. But I mean, I like rock music too so it wasn't like I was strictly one genre. I liked everything. I broadened my mind to everything from Spanish music, to jazz, to hip-hop, to rock.
Did you write or breakdance?
Yeah, I used to breakdance, I used to write. My tag back in the day, when I was in Brooklyn, was ZEIN. I remember I got into a fight with this guy, and he beat me up, and I couldn't write ZEIN anymore. He wrote ZEEN and mine was ZEIN and he didn't like that, so he kicked my ass. It happens.
Did he catch you one day?
Yeah! He saw me taggin' one day and was like, "Yo, that's my tag, you can't write that son. We gotta fight for that shit." So, I had to fight him and he beat me. Shit happens.
How did you get so heavily involved in BMX and Skate culture?
Well, back then, this kid lived up the street from me whose name was Bullet Head. Because he had this big bullet head. He had a bike, a GT Performer, and this other kid Harry had a Ross MX-Time. They got me into it. I remember that I saved my money up and got a Redline. We started going out to Long Island and racing at this place called Bellmore. That just evolved and took over my whole life. And as far as skateboarding, the place where you would buy a skateboard was at the bike shop. So, we'd go to this place called Bike Fantastics and this other place called 114, on 114th St. in Jamaica. You could go there and put money down, like layaway. So every week I'd do a paper route and I'd come in like, "Here's 40 more dollars!" And you'd get closer and closer to getting your bike. They'd also sell skateboards there so I bought a board there and just kind of did both. Some of my friends skateboarded and some of them rode BMX. We'd all hang out at the Path Mart parking lot that had a Burger King and this little kicker wall where you could do wall rides. It was all 80′s style, with the hair, and the pins, and all that crap. (laughs) That's how I got into both of them. Then later on, I got involved with Zoo York and it was just like boom, skateboarding became more important.
How'd Zoo York happen for you?
That basically happened through my friends. Well, Zoo York originally started out as a graffiti 'zine in the mid-late 70′s, with this guy Ali. He started a 'zine called the Zoo York Times. People like Andy Kessler, and Puppet Head…they used to skate uptown and they would all get together like as a mix of graffiti and skate culture and do their thing. Then Rodney Smith, a friend of mine, who owned Shut Skateboards in the 80′s did an homage board for Zoo York, then skateboarding died in like the late 80′s and reemerged in the 90′s. My friend Rodney went to Ali and some of the other original dudes and said, "Hey, would you mind if we took the name Zoo York and made it a skateboarding company?" They gave him the blessing and he started the skateboarding company. My friend Eli worked for them, as part owner, and me and him used to work at the clubs together and he asked me if I would mind working for them. And I said, "Sure, I'm down." I didn't feel like working any boring jobs. I was working at this wack company that made t-shirts, doing shipping and shit. I thought I'd much rather do this for my friends, at a skateboarding company and something I'd be interested in, than these weirdo dudes that were just making these wacky t-shirts. That's how I got involved with Zoo York. Then that evolved into being a team manager and so on. We all wore many hats. It wasn't like your specific job is this, "Hey, answer the phone! Hey, setup a tour! Hey, sell some boards!" We all did everything. It was all hands on deck. That's how I got into the trade of all this stuff. This was back in '94 and '95.
What's the current relation with Dave's Quality Meat, what with the new shop and everything?
Nothing, I just moved on. I sold all interest in the company to my partners and opened this place up. I just wanted to open a core skate shop and have bikes, different products, and just a different vibe. After a while you just gotta change and move on. I sort of have ADD and can't keep doing the same thing all the time, so I just decided to leave. That was basically it.
How long has Dave's Wear House been in the works?
It's been in the works for about a year. Even the thought of it. I got it up and running within a year.
The interview in its entirety can be read here.