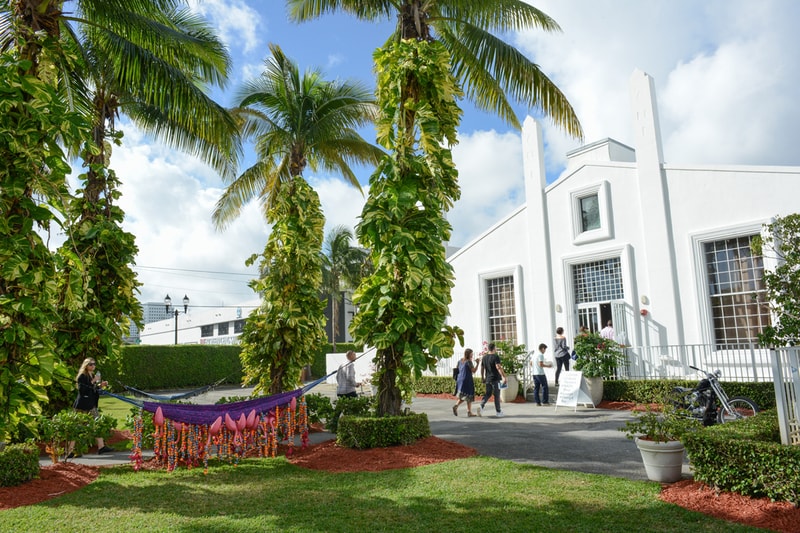 NADA Art Fair Announces 2023 Exhibitor List
Boasting 139 galleries, art spaces, and nonprofit organizations from around the world.
---
While Art Basel has long been the poster child for the Miami art fair circuit, the New Art Dealers Alliance (NADA) has equally shown to be a haven for artists, galleries and nonprofit organizations over the past 20 years.
The 21st edition of the fair will be held downtown at the Ice Palace Studios and will showcase 139 galleries, art spaces, and nonprofit organizations, including 34 first time exhibitors from over 50 cities across the globe. Fans can also enjoy the return of the Curated Spotlight, a special section highlighting select galleries.
"The 21st edition of NADA Miami comes on the heels of a very exciting year: we rang in the 20th anniversary of New Art Dealers Alliance, celebrated the fifth edition of NADA House, opened a new exhibition space, organized programs and exhibitions in eight cities, and hosted an ongoing series of NADA Curated presentations online," said NADA Executive Director Heather Hubbs. "We're thrilled to welcome visitors to the fair this winter to celebrate our vibrant community of artists, dealers, and supporters."
The fair will boast solo exhibitions by Aija Zarina, Sadie Laska, and Eli Kerr, along with exhibitor debuts by New York's Hannah Traore Gallery, who will display new works by Camila Falquez and Demit Omphroy, amongst others. NADA 2023 will commence from December 5 to 9. Please refer to the list below for the 2023 exhibitor list and visit the fair's website for information on events and programming.
In case you missed it, Rachel Rose presents Good Morning Midnight at GL Strand in Copenhagen.
NADA
Ice Palace Studios
1400 North Miami Avenue
Miami, FL 33136
NADA MIAMI 2023 EXHIBITORS
Ackerman Clarke, Chicago
Affinity, Lagos
ALMA, Riga
anonymous gallery, New York
Artbeat, Tbilisi
Jack Barrett, New York
Michael Benevento, Los Angeles
Blue Velvet, Zurich
Brackett Creek Exhibitions, Bozeman
Broadway, New York
Patel Brown, Toronto and Montreal
Burnaway, Atlanta
Calvaresi, Buenos Aires
Rebecca Camacho Presents, San Francisco
CARBON 12, Dubai
Ceysson & Bénétière, New York, Koerich, Lyon, Paris, Saint-Etienne, and Pouzilhac
COOPER COLE, Toronto
Creative Growth, Oakland
de boer, Los Angeles
GALERIE DEROUILLON, Paris
DIMIN, New York
Tara Downs, New York
eastcontemporary, Milan
EMBAJADA, San Juan
Entrance, New York
Et al., San Francisco
EUROPA, New York
Deanna Evans Projects, New York
GALERÍA EXTRA, Guatemala City
FIERMAN, New York
Hesse Flatow, New York
Patricia Fleming Gallery, Glasgow
Laurel Gitlen, New York
Sebastian Gladstone, Los Angeles
Goldfinch Gallery, Chicago
The Green Gallery, Milwaukee
Jack Hanley Gallery, New York and East Hampton
HAIR+NAILS, Minneapolis
Harkawik, New York
Harper's, New York, Los Angeles, and East Hampton
The Hole, New York and Los Angeles
Iragui, Moscow and Paris
JDJ, New York
Nina Johnson, Miami
Nathalie Karg Gallery, New York
KDR, Miami
Eli Kerr, Montreal
Yutaka Kikutake Gallery, Tokyo
King's Leap, New York
Kendall Koppe, Glasgow
La Loma Projects, Los Angeles
the Landing Gallery, Los Angeles
Lefebvre et fils, Paris
Galerie Christian Lethert, Cologne
LETO, Warsaw
Silke Lindner, New York
Lubov, New York
Lyles & King, New York
CANDICE MADEY, New York
Madragoa, Lisbon
Management, New York
MARCH, New York
Marinaro, New York
Kai Matsumiya, New York
Halsey McKay Gallery, East Hampton
Micki Meng Gallery, San Francisco and Los Angeles
MICKEY, Chicago
Nino Mier Gallery, New York, Los Angeles, Marfa, and Brussels
MISAKO & ROSEN, Tokyo
Charles Moffett, New York
Moskowitz Bayse, Los Angeles
New Discretions, New York
No Gallery, New York
OCHI, Los Angeles
Olympia, New York
Carlye Packer Gallery, Los Angeles
Pangée, Montreal
Tyler Park Presents, Los Angeles
Tatjana Pieters, Ghent
The Pit, Los Angeles
Polina Berlin Gallery, New York
Anca Poterașu Gallery, Bucharest
Primary., Miami
PROXYCO, New York
ANDREW RAFACZ, Chicago
Raster, Warsaw
Galeria Patricia Ready, Santiago
REGULARNORMAL, New York
Margot Samel, New York
Shoot the Lobster, New York
SHRINE, New York
Shulamit Nazarian, Los Angeles
SITUATIONS, New York
SOCO Gallery, Charlotte
Someday Gallery, New York
Sorry We're Closed, Brussels
Stems Gallery, Brussels
Studio Voltaire, London
The Sunday Painter, London
Swivel Gallery, New York
Catinca Tabacaru Gallery, New York, Bucharest, and Harare
Tabula Rasa Gallery, Beijing and London
Tierra del Sol Gallery, Los Angeles
TONE HQ Gallery, Memphis
Towards, Toronto
Hannah Traore Gallery, New York
Rachel Uffner Gallery, New York
Ulterior Gallery, New York
The Valley, Taos
Grant Wahlquist Gallery, Portland
WAITINGROOM, Tokyo
Kate Werble Gallery, New York
White Columns, New York
WORKPLACE, London
NADA MIAMI 2023 PROJECTS
Abattoir, Cleveland
GALLERY AFTERNOON, Seoul
A.I.R. Gallery, Brooklyn
The Artist Room, London
Baader-Meinhof, Omaha
BOZOMAG, Los Angeles
Cleaner Gallery + Projects, Chicago
Cleo the Gallery, Savannah
Galeria del Paseo, Lima
Dunes, Portland
EFA Robert Blackburn Printmaking Workshop, New York
Fernberger, Newport
Timothy Hawkinson Gallery, Los Angeles
homework, Miami
LATITUDE Gallery, New York
Long Story Short, New York, Los Angeles, and Paris
N.A.S.A.L., Guayaquil and Mexico City
NOON Projects, Los Angeles
Northern–Southern, Austin
RIBOT, Milan
Shelter, New York
Snow Gallery, New York
Storage, New York
WWW.WILLSHOTT, New York
Zalucky Contemporary, Toronto