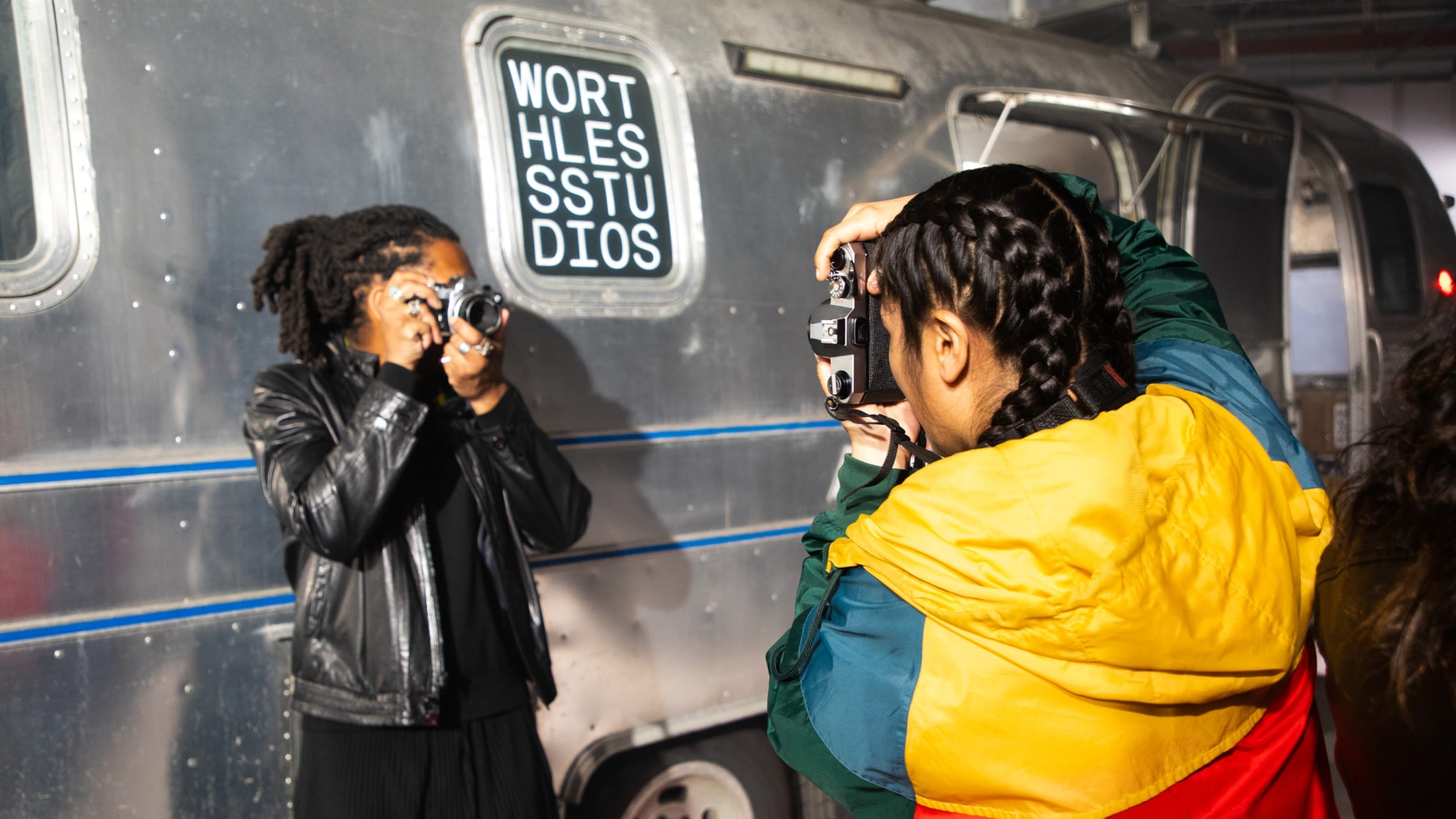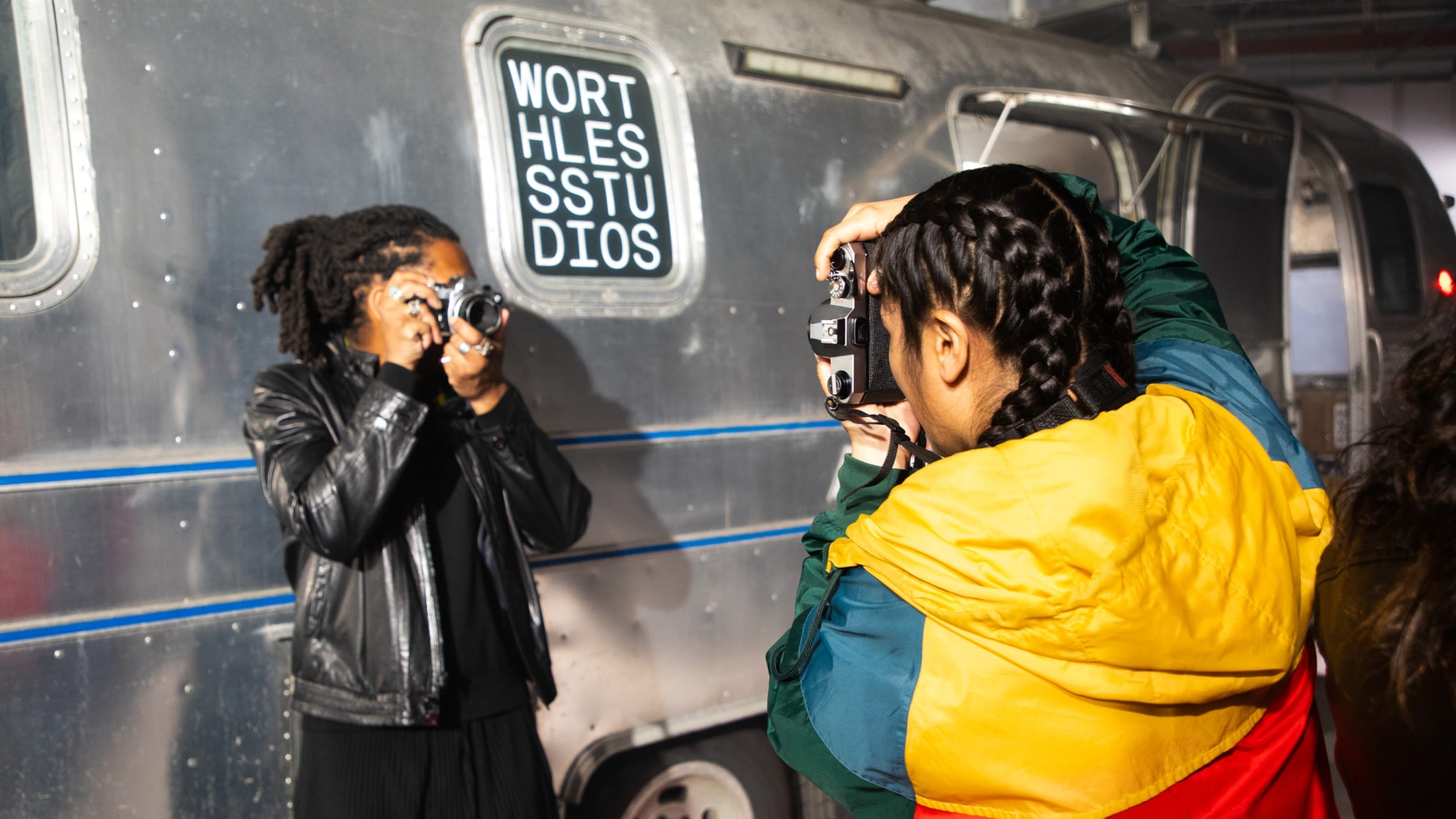 Under Armour and Artist Hub WORTHLESSSTUDIOS Define What it Means to be the Underdog
Under Armour teamed up with the Brooklyn-based art collective to highlight the dynamic qualities of the SlipSpeed sneaker model — fit for the gym, art studio, and everything in between.
Under Armour is marked by an underdog spirit and an ethos of constant improvement, urging athletes to aspire to any goal and giving them the tools to hit it. The brand has pushed the boundaries of sports apparel since its inception in 1996, constantly innovating to offer the best products for athletes from all walks of life. Under Armour's latest revolutionary model is the SlipSpeed training sneaker, which was introduced in February as UA's most technologically-advanced shoe yet.

The SlipSpeed model is made to be embraced both in and out of training mode, equipped with a convenient "crushable" heel so it can be easily worn in the gym, at home, for errands, and beyond. Under Armour has celebrated the launch of the new model in New York through multiple activations and interactive pop-ups that highlight the power of the community, a core value of the UA brand.
Showcasing that sense of community and camaraderie, Under Armour teamed up with WORTHLESSSTUDIOS, a Brooklyn-based not-for-profit and diverse circle of artists, who aim to provide studio space, necessary tools, resources, technical support, and financial assistance to artists and creatives of all backgrounds. The collective produces captivating exhibitions, large-scale local events, and inclusive gatherings that channel their grit and collective work ethic for the greater good.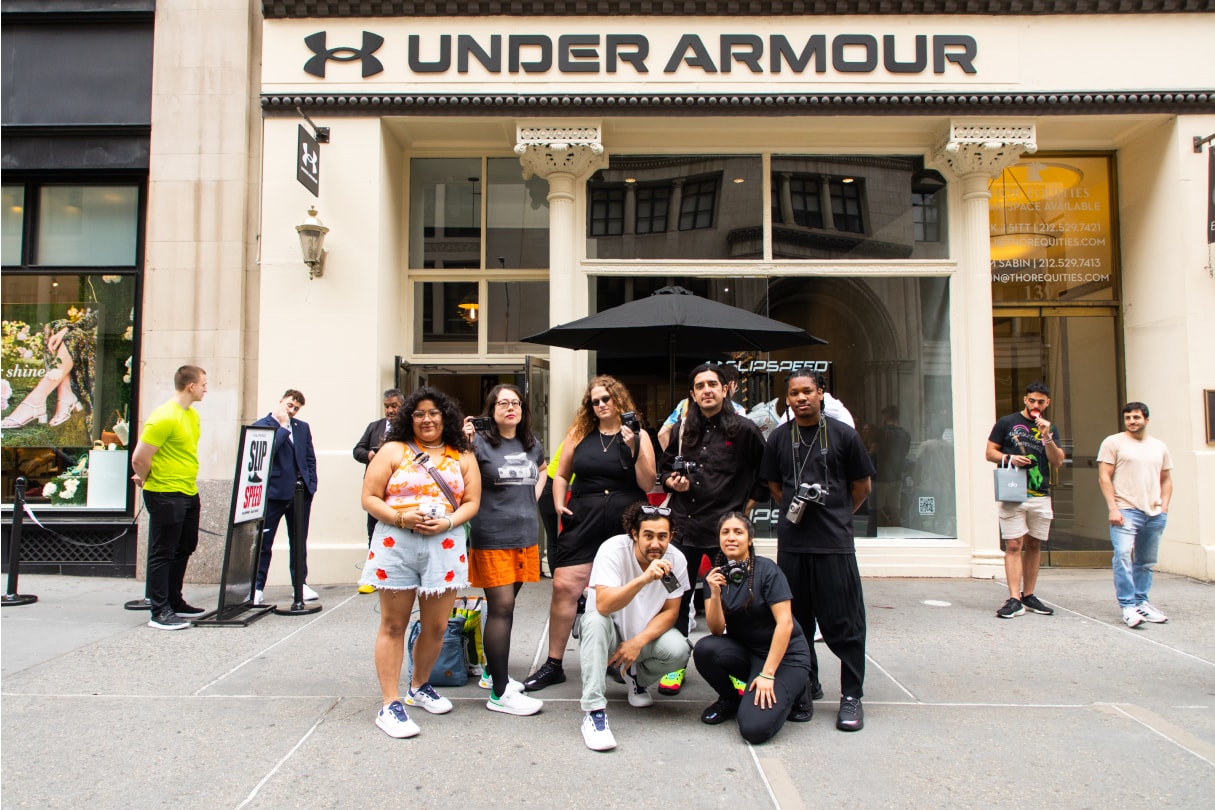 Under Armour and WORTHLESSSTUDIOS both saw an opportunity in their respective industries and worked to fill it through commitment, enthusiasm, and community. Hypebeast spoke with WORTHLESSSTUDIOS' Neil Hamamoto and Free Tripp, about the collective's origin story, what their community represents, and the unseen bits of creative conceptualization.
Tell us about the inception of WORTHLESSSTUDIOS and why you felt there was a gap in the industry to be filled.

Hamamoto: WORTHLESSSTUDIOS is a Brooklyn-based artist hub. We're a not-for-profit with a mission to support young career artists through their fabrication process. The inception story comes out of my personal journey as an artist moving back to New York City, which is where I'm from, and struggling to find studio space that could help me build large-scale sculptures. I didn't have the resources, the team, a space, or even extra hands to help me out; it was an extremely difficult challenge. So WORTHLESSSTUDIOS is really an answer or solution to that need that many artists face in New York City.

When I was in San Francisco, I was actually in a different industry — the tech industry. But I was thinking about WORTHLESSSTUDIOS as a business and organization for many years before starting it, just knowing that at some point I was going to come back to New York to pursue my passion as an artist. And I knew I was probably going to face this issue. So, the question was: how could I problem-solve and think about a solution to that while also pursuing my career as an artist?
1 of 3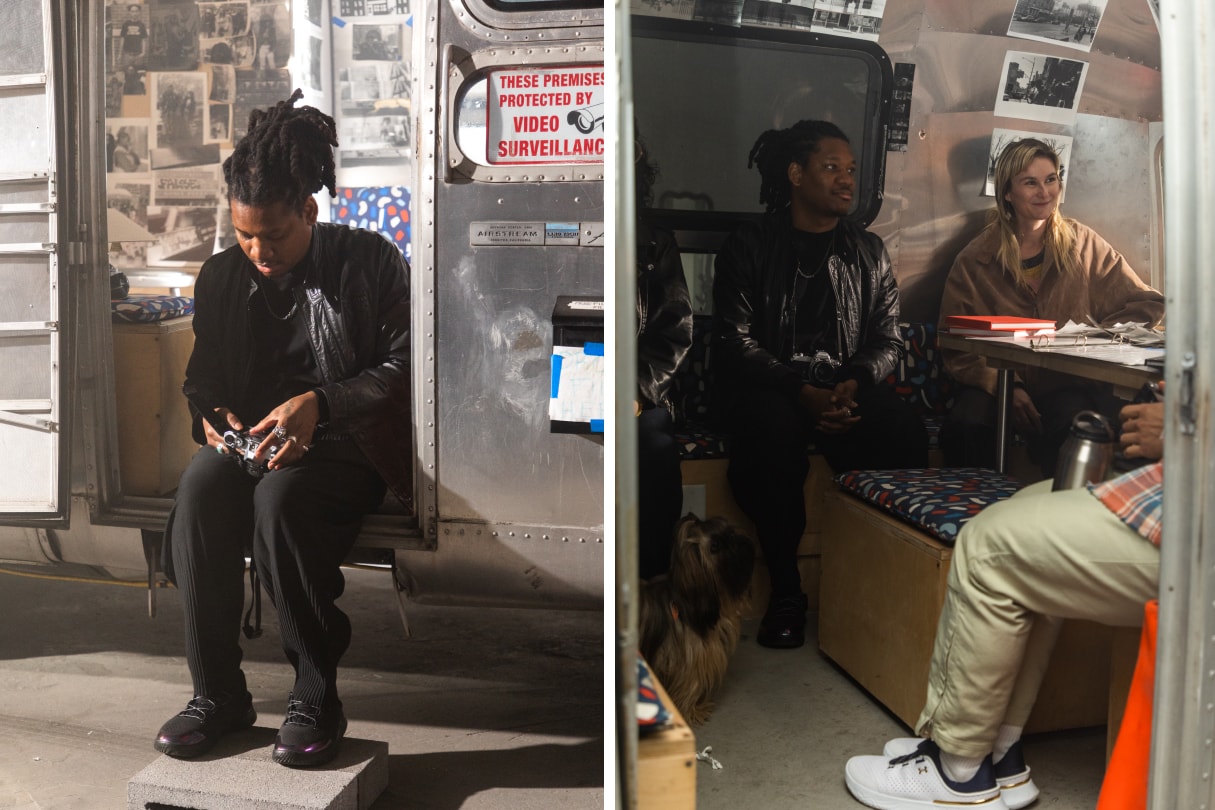 2 of 3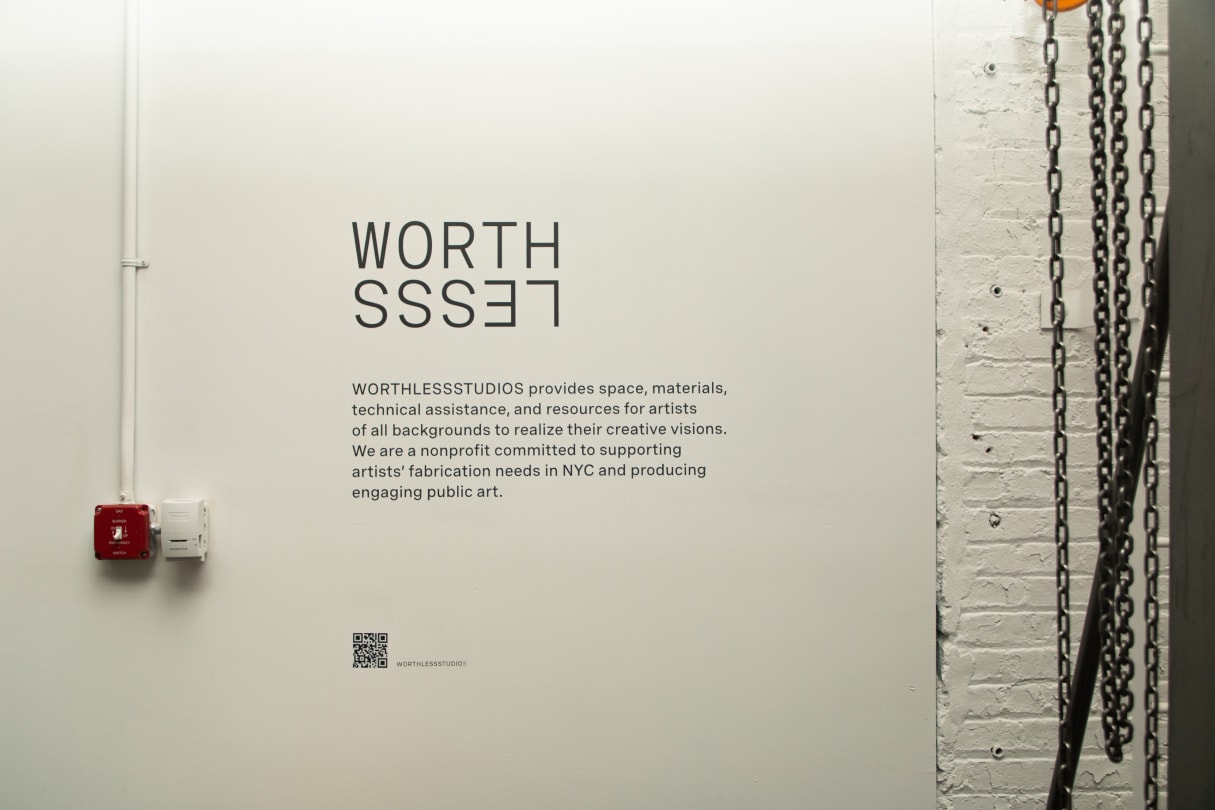 3 of 3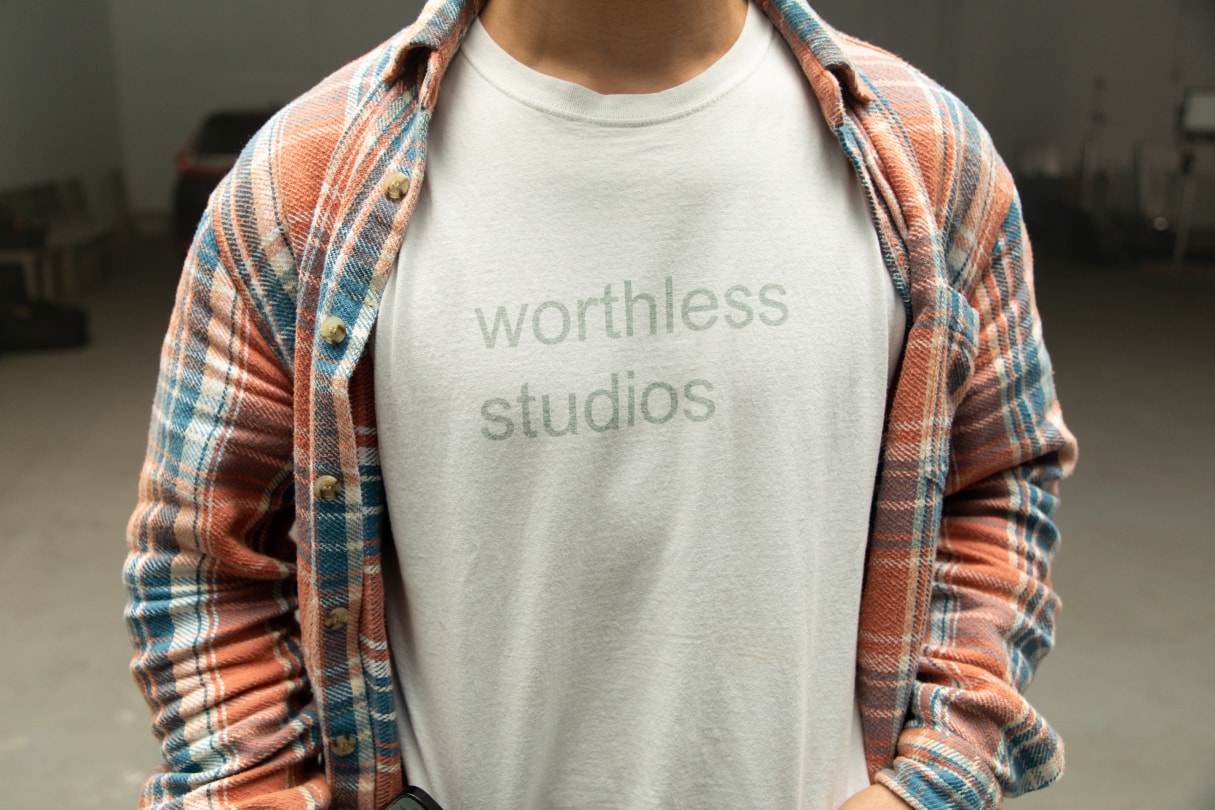 And now a few years into this, a lot of things have been built — one of the biggest being a community. How would you guys describe the WORTHLESSSTUDIOS community?

Tripp: This community is really fostered out of having space and that's a primary component of what we can really offer now. But it's also about, as a body of people at this organization, spending time and patiently going through each individual's process with them. The artists and collaborators that worked with us on our last project, 1-800 Happy Birthday, were comprised of both locals and fresh artists new to the New York scene, as well as national collaborators. I feel like the impact that we have is by dedicating our time and space to the people in the community and making sure that we work with people who have some sort of deep tie to not just the art scene, but the communities in New York City that need that sort of access.
1 of 3
2 of 3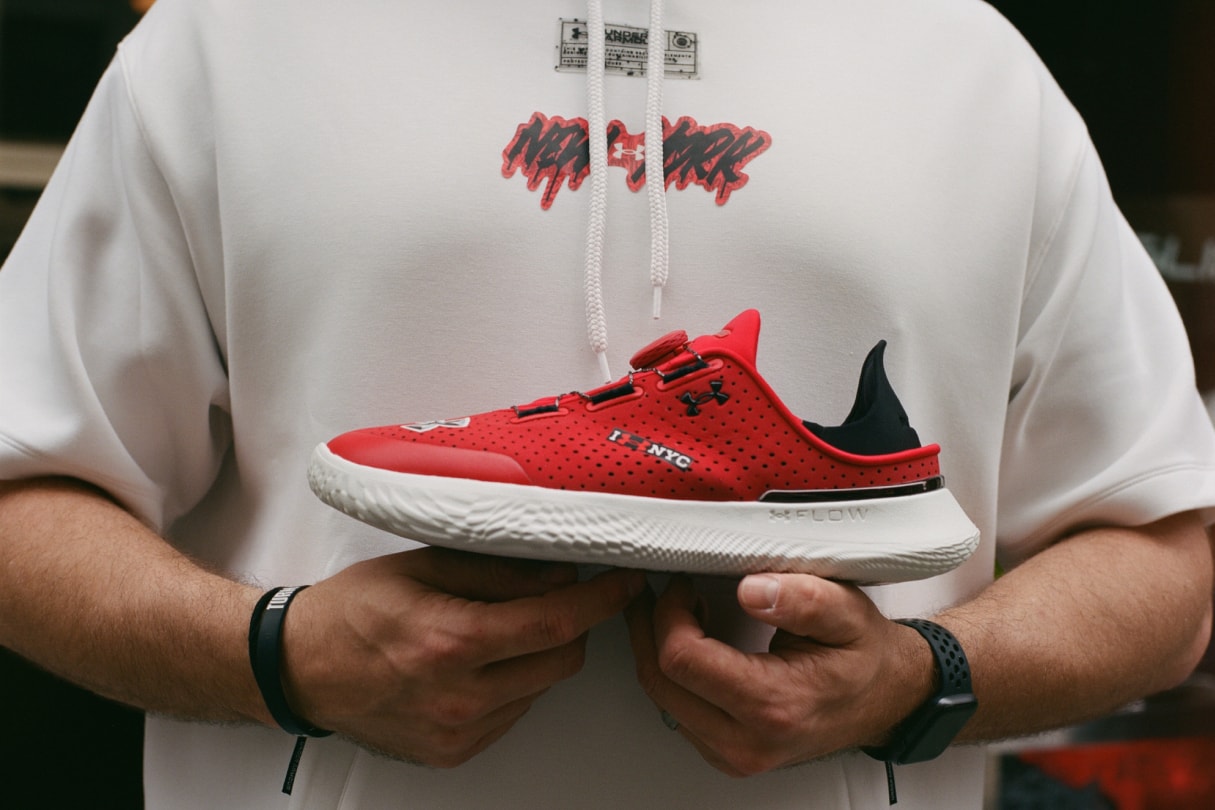 3 of 3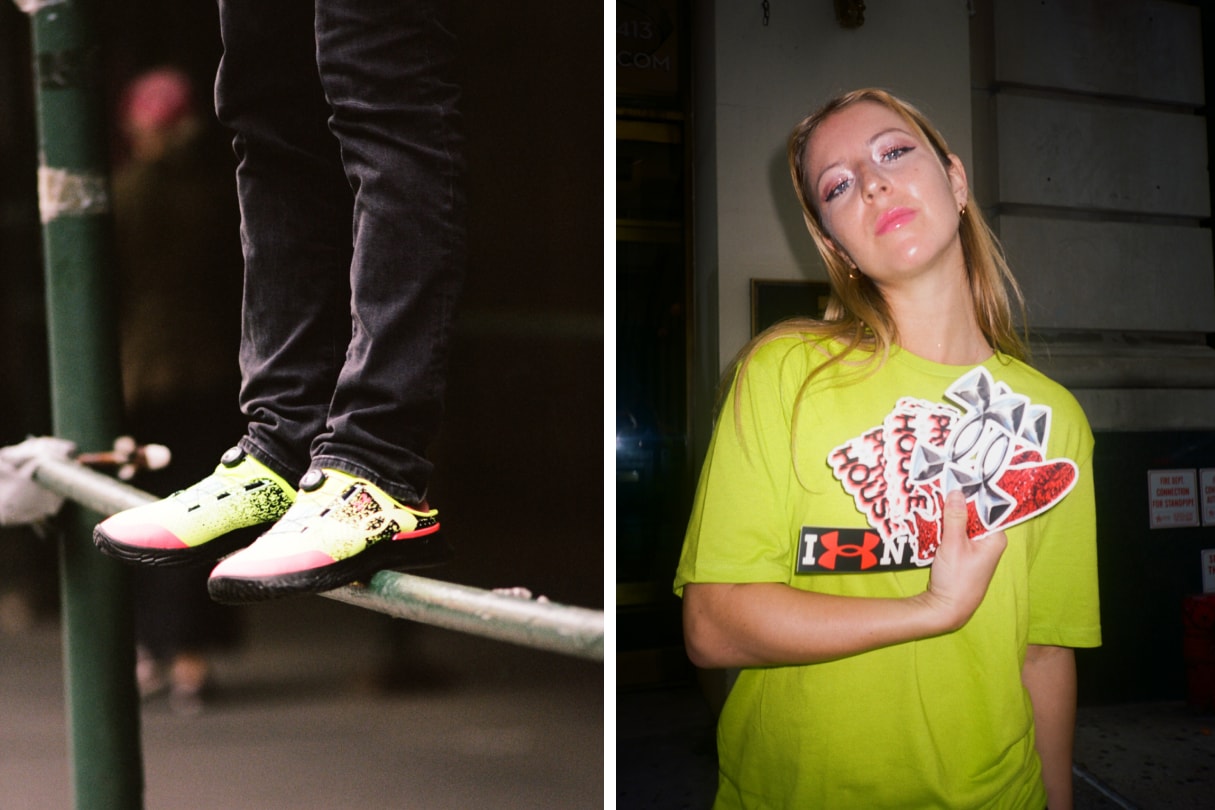 WORTHLESSSTUDIOS and Under Armour share an "underdog" heritage story and both aim to uplift individuals in their respective spaces. How does WORTHLESSSTUDIOS continually uplift New York City's creative community, especially through some of your ongoing projects like FREE FILM: NYC?

Hamamoto: FREE FILM is the best example because it's been ongoing for almost five years. We did the first iteration in 2018 and now we're on iteration four or five. It's a project that truly embodies what community activation means and how WORTHLESS is trying to exercise that mission by providing materials for free. A roll of film seems like a small, throwaway object, but it can actually be a huge barrier to entry that stops people from taking photographs. Nowadays, rolls can be up to $14 USD. With processing, another $20 USD, and scanning is another six or seven. It's now about a dollar per frame, which is probably an all-time high unless you're able to do it yourself. But again, in New York City, it's tough to have the space and resources to do that on your own. So FREE FILM was developed to try to just give artists that little push and that motivation they need to go out there and be creative. If we use a bowling alley analogy, we kind of provide the bumpers on the side. We're trying to create these avenues and passageways for artists to explore, but not completely confine them and tell them what they can and can't do.

Tripp: And the beautiful thing about that project is that what comes out of each iteration and what we've seen with the Lower East Side iteration just closing this month is that you see an archive starting to be developed of that time and place with the involvement of not just the community, but also some artists who really have an investment in that community.
It's really intriguing because you provide everyone the same resources, but what they do with it is wildly different. Can you describe the goal of FREE FILM: NYC for those who may not be familiar with the initiative?

Hamamoto: FREE FILM is an ongoing public art project that has now reached a global scale. The concept for the project is the same across multiple iterations. WORTHLESSSTUDIOS distributes 35-millimeter film to photographers and prompts them with a phrase. The photographer is then asked to shoot the roll of film that they've been given on that phrase. Whatever that phrase or prompt makes them think about is what they shoot. The film is their canvas to express themselves, explore the idea, and then share it with us. Photographers then get their processing done for free, they get scans done for free, and we even ship back their negatives for them. By returning your roll, you're sort of entered into this ongoing archive of images that we're collecting, which in many instances we have turned into a book. We've done books for the last three iterations we've run and we're currently in the process of running a five-neighborhood iteration that uncovers what the phrase 'one square mile' looks like in super specific neighborhoods of New York.
1 of 3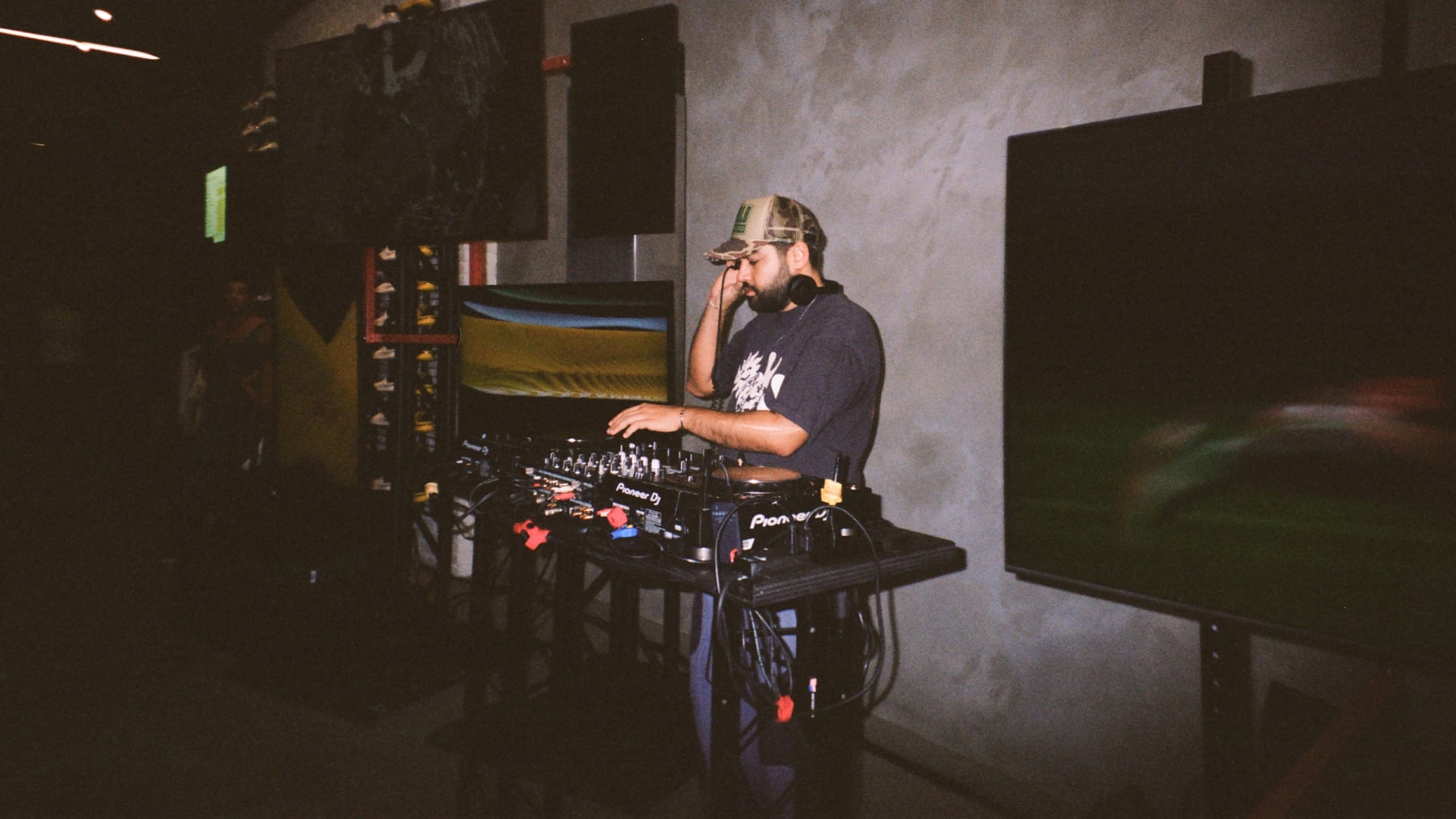 2 of 3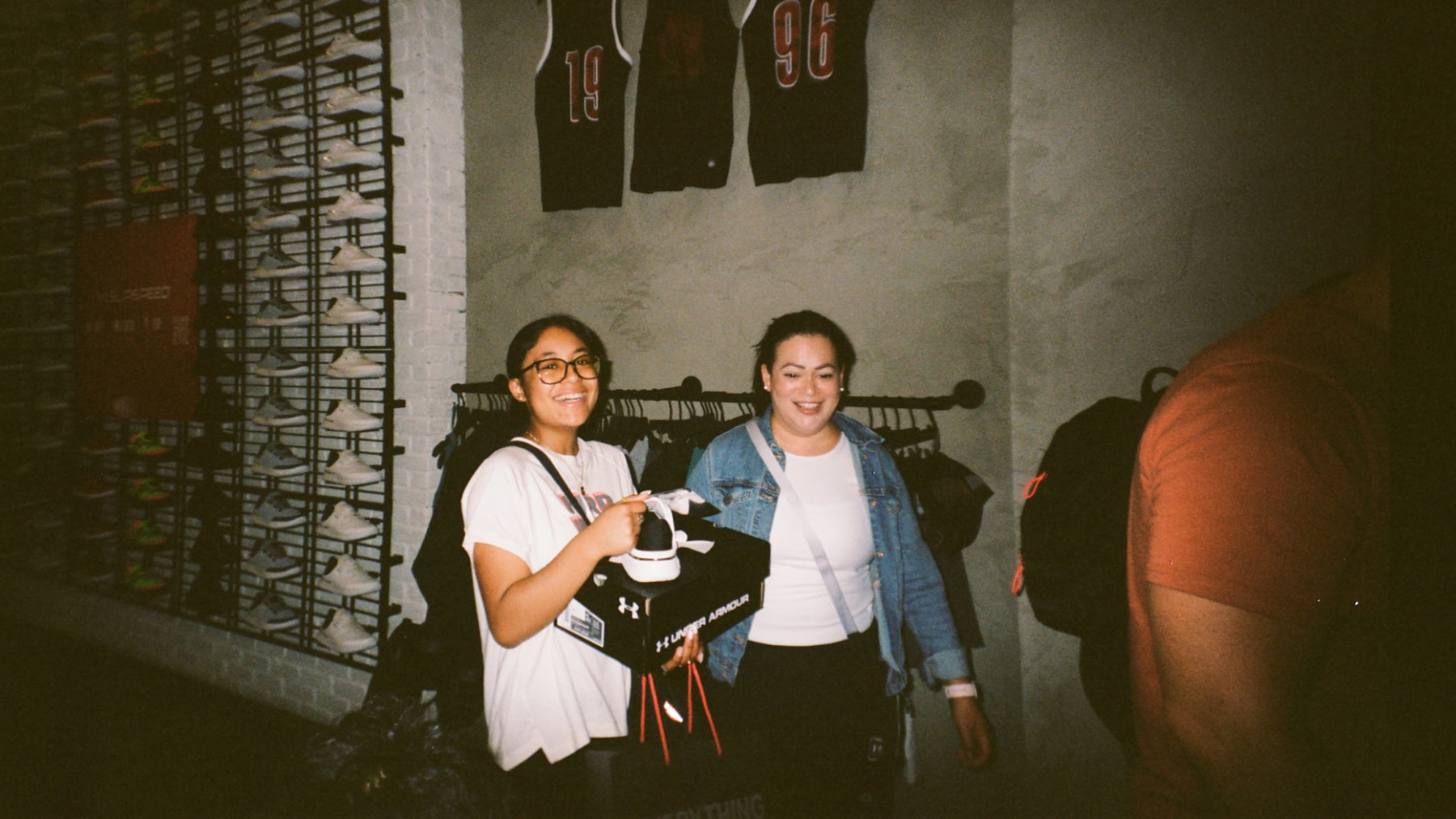 3 of 3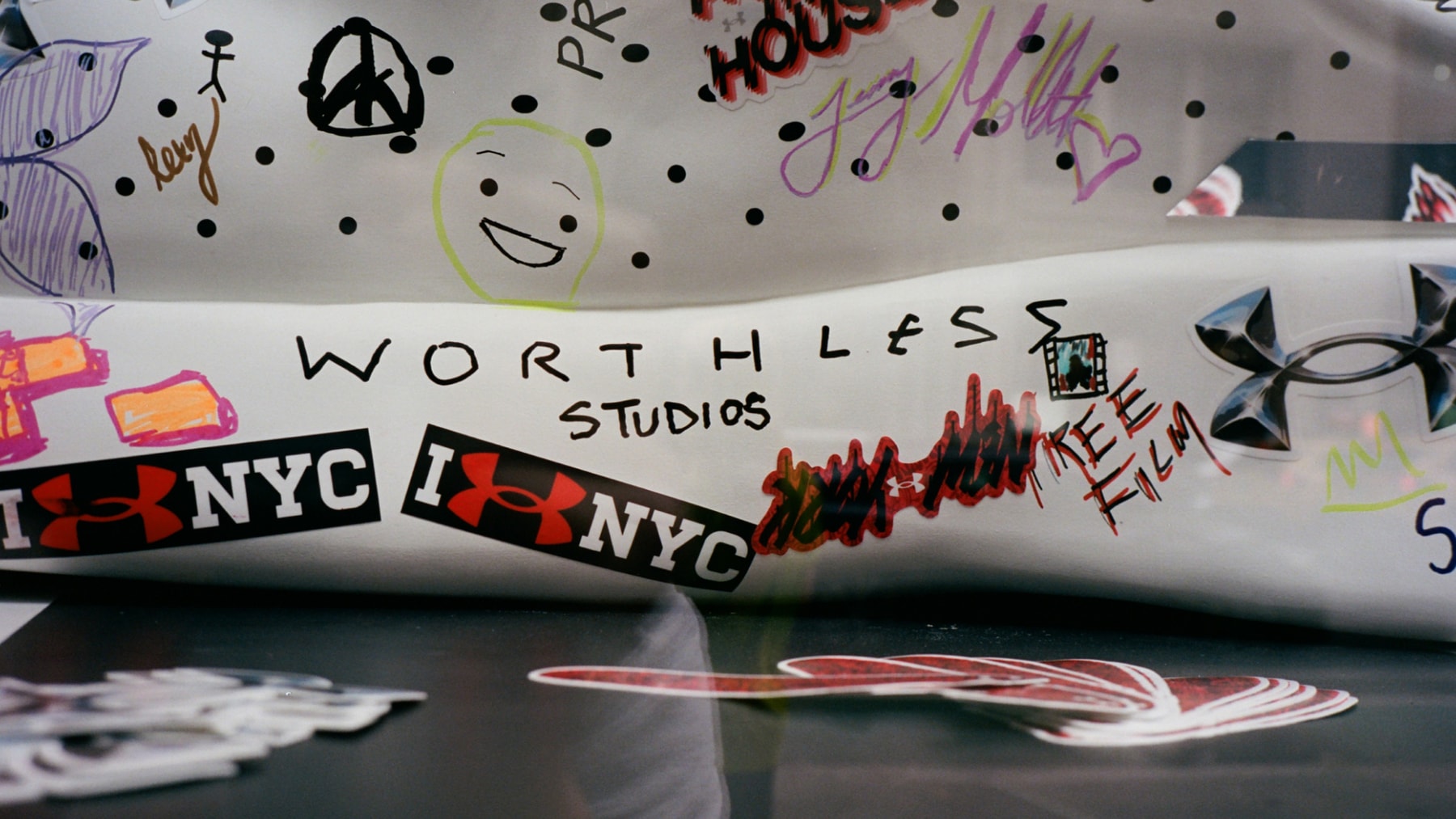 Your mission is to produce art "rooted in artistic activation and community engagement." In what other ways do you engage your community, and beyond, as WORTHLESSSTUDIOS has even traveled outside of NYC?

Hamamoto: So the three main areas that we focus our programs on are public art, exhibitions, and then launching this Fall we'll have our artist in residency program. Across those three verticals, the mission is the same. We're always trying to provide space, tools, and materials to artists. The public community engagement part really comes mostly through the public art wing. That provides us an opportunity to explore new neighborhoods, new countries, and new states. I'd say most of the projects that we've done in the public art area are where we've been most active with the community. But I also think it ties back to your question about collaboration. We have a unique process in how we work, which is we have our eye on the prize and the end goal, but we really do let the process also dictate what the end result is. And that's where we also invite collaborators and community members to come share thoughts and ideas with us and put their impression on what it is that we're actually making.

Tripp: For each project we take on, we really try to think about how a component of it can be contributed to by someone who's an artist or creator. The culmination is something where you have many different collaborators helping create the final project. That in itself is an interesting process for us to have undergone. And now, since last year, having this location has been amazing. We seek, in the future, for this locale to be like a hub. A real hub for the community where people can stop by whenever and be inspired.
Hamamoto: We look at everyone as collaborators. Even today, the lighting person, you as a writer — everyone has a role. A lot of people we work with are creatives and their mediums are wide-ranging, but we really try to connect and make people feel welcome and create opportunities for them to be a part of our space.

Tripp: And that was a big inspiration at the start. When I came out here; it was 2018 and we really quickly dug into how to make this a community-engaged thing. What we're realizing as we're trying to create art in New York is that so many other artists, especially those who have reached some sort of professional altitude in their work, really just contract out a lot of their process. Even if that final concept is theirs, that ownership doesn't feel as collaborative as it truly could be. We both work so collaboratively in our own practices as well that it's a great thing to be able to see how large-scale things can be put together by a whole mass of people.
1 of 2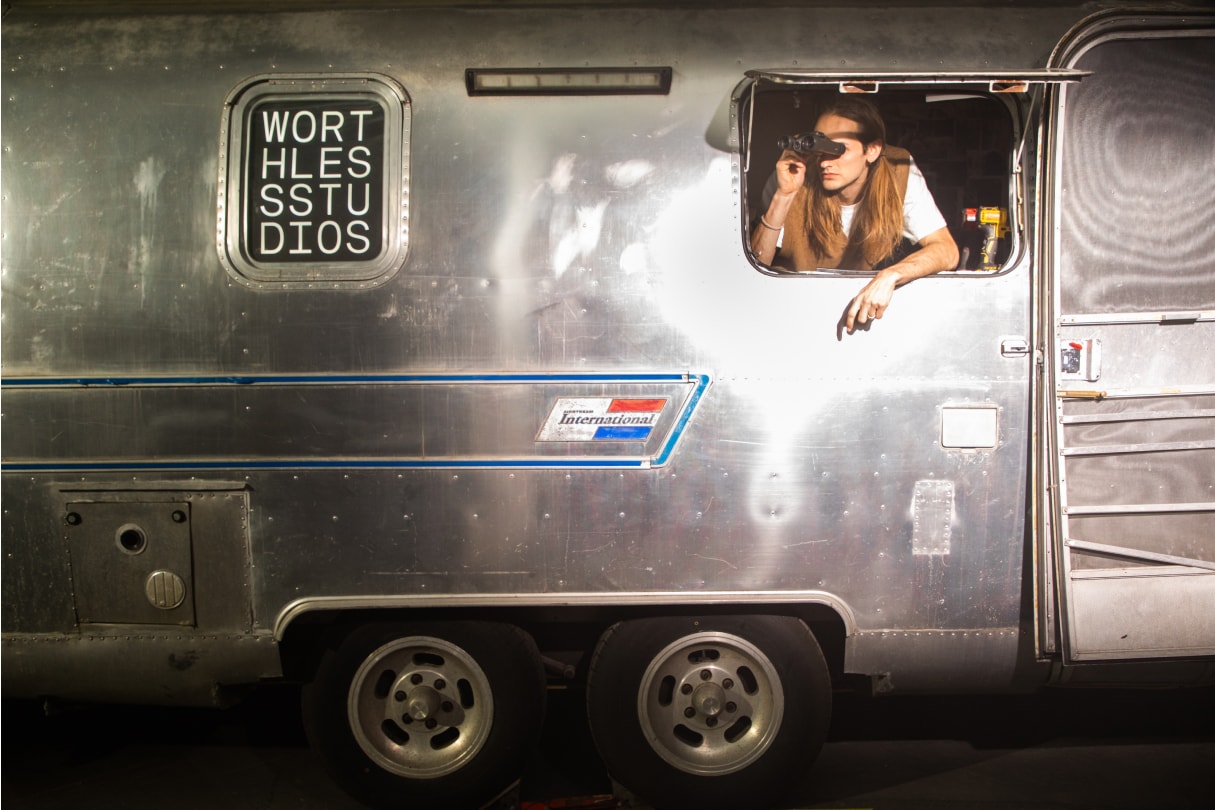 2 of 2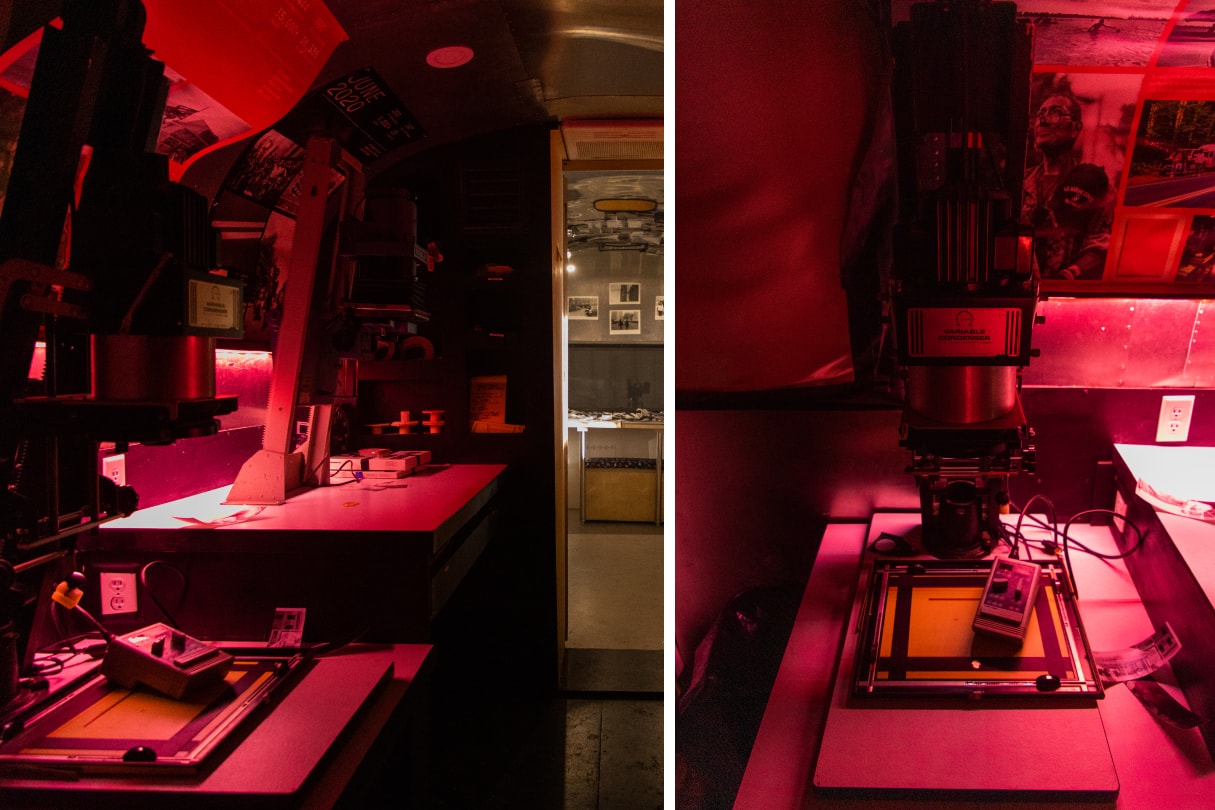 The goal of the SlipSpeed model is to effortlessly aid wearers in all daily activities — from training mode to leisure mode. The level of athleticism that creative occupations take on is often overlooked. What are the parts of your job that involve movement and athleticism that many may not be aware of and how does the SlipSpeed support you in those endeavors?

Hamamoto: I always say that I believe artists are athletes. With everything that we do, there are a lot of parallels in having to be laced up and active, like tying up your boots to start a project or all of the physical activity that goes into making sculptures. Photography involves being on your feet in the darkroom or walking in the streets to take photographs, so it's always great to have comfortable shoes like this.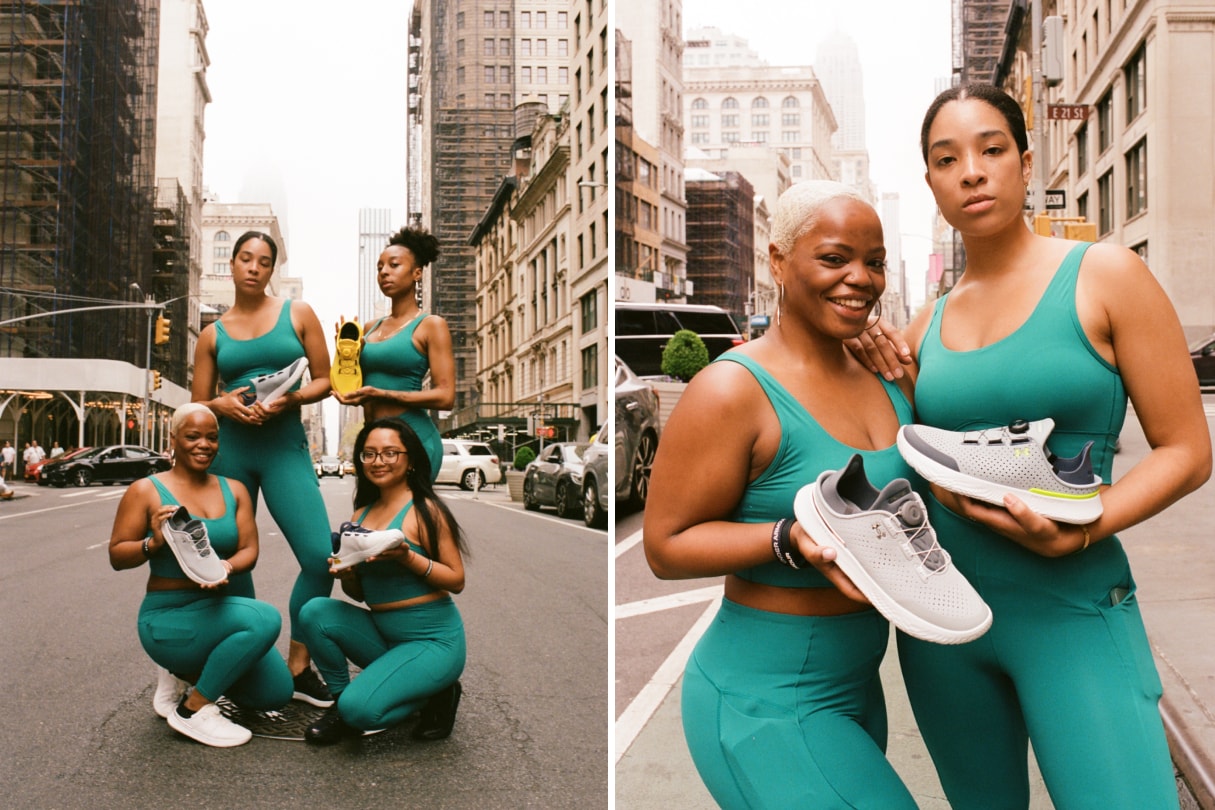 What is your favorite aspect of the SlipSpeed shoe?

Hamamoto: I think my favorite aspect of the SlipSpeed shoe is the convertibility of the back flap — to go from being laced up quickly and converting it into a slip-on. For me, as an artist, that is something that's happening regularly throughout the day. From having to lace up to do some hard lifting and building artwork to sitting back and being creative at home.
What is the legacy you hope to leave behind with the collective?

Hamamoto: I think being a major contributor to new, refreshing, and innovative works by artists throughout the five boroughs and becoming a hub for the production of that is definitely something we aspire to. Artists have always been underdogs, but they're also leaders of culture and I think the WORTHLESS legacy will be continuing to bridge the gap and to help artists that are underdogs transform into cultural leaders. We want to support them on that journey.