The Lotus Emira Will Expose How Good a Driver You Really Are
Despite being a brand-new car, this two-seater packs all the credentials of an old-school go-kart fit for thrashing.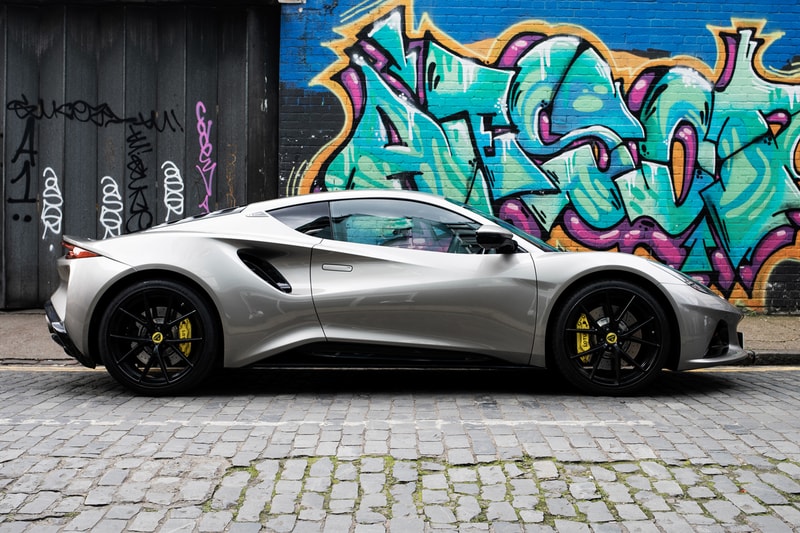 In 2021, when Lotus announced that it would be putting down the lively family of Elise, Exige, and Evora sportscars, the automotive world wept. Few brands, especially a comparatively small British one, had such a stronghold on drivers. These cars had a soft spot in every car fanatic's heart; their manual gearboxes, potent engines, lightweight construction, and deathly behavioral habits were an intoxicating mix for anyone looking for a thrill ride. So how would Lotus bounce back from this then-devastating news? With the Emira. 
The marque itself knows this car will split opinions: "It's everything you'd expect from a Lotus, but like nothing you'd expect," reads the lead blurb. Indeed, it is everything we did anticipate – light and nimble on the front end, appropriately powered without feeling excessive, balanced, impractical, exotic to the untrained eye. What we couldn't have foreseen, though, was that the Emira is Lotus all grown up. 
As Lotus embarks on an electrified future with its £2,000,000 Evija hypercar and the £90,000 Eletre SUV, it is clear that the manufacturer is still intent on sticking to its roots. The Emira is the car to do so; a final swansong for the company's internal combustion engine, manual gearbox, thoroughbred era. 
To find out what it's really about, we got behind the wheel of the new Lotus Emira on road and track to put the car through its paces – and some. 
Exterior
For Lotus' of old, their beauty really was in the eye of the beholder – much like another Great British favorite, marmite, you either love it or you hate it. On the contrary, we'd like to think the Emira is unanimously gorgeous. 
The styling of this car had onlookers consistently asking us "mate, what Ferrari is that?" A strong complement, considering the Emira costs £100,000 less than the base-level Ferrari. But unlike most of the car's competitors, the Emira isn't just good-looking for the sake of it – all those ducts, dives, undulations, contours and curves are there for a reason. 
Downforce. Pushing the car into the ground and keeping the balance around corners just right are deep cuts sawed into the bodywork, notable on the inaccessible front hood, behind the doors, and at the rear. These ducts channel air around the body, allowing it to slip through the air like a tiny little rocket. 
As for details, it's clear Lotus left no stone unturned. Everything from the wing mirrors to the flush door handles, the scowling front headlights to the engine cover that acts as looking glass to gaze upon the power unit feels like a decision made to make car lovers delight. It truly is an exercise in subtlety; the lack of a rear wing or any obnoxious add-ons is a testament to Lotus' engineering. 
Driving and Performance
On the topic of engineering, the Lotus Emira is a marvel to drive. As you blast it through winding back roads, shifting through the six manual gears, you come to realize this car might be baby in size but a gentle giant when it comes to performance. 
With a 400 BHP, 3.5-liter supercharged V6 behind your back, rear-wheel-drive pushing you along, and a front end with surgical precision, the car is closer to a go-kart than a grand tourer. This is the typical Lotus recipe, but it now features the addition of ride quality, comfort, and sophistication, as opposed to the old cars that emulated tin boxes with an engine.
Our test commenced on British B-roads, but soon found us on the dreaded motorway. We say dreaded because you'd assume this car is far from a luxury cruiser. But it dealt with the rough surfaces better than expected, and on an open stretch of three-lane tarmac, the car has plenty of room to stretch its legs to reach its 180 MPH top speed. 
For legal reasons, we won't divulge any further information, but rest assured that the car is plenty powerful. It's a brilliant daily driver, which is another twist in the Lotus legacy as its cars are for sunny Sundays; you daren't take a mid-2010s Exige out in the rain. 
However, in true Lotus form, it is the track where the Emira really comes to life. As you switch from "Tour" or "Sport" modes into the aptly-named "Track" position, the traction and stability control is slackened, throttle response and noise is heightened, and the car becomes an entirely different beast from its road counterpart. 
To ensure optimum track joy, Lotus also allows you to choose from two chassis – "Touring" or "Sports" – and it is the latter you want if you aim to use this off the road. Either way, the car is capable of gripping and hugging the apex of a corner to extremes few rear-wheel-drive cars manage, stepping out of the corners like a catapult before slamming hard on the brakes for the next. Powerslides are available in abundance, which only makes the track experience all that more fun.  
But as you drive home from the race track you realize what the Emira is all about: no compromise, just pure driving excellence, and that culminates with the interior. 
Interior
The Emira is designed to be Lotus' most complete car ever. Quality, technology, refinement, and usability are of the utmost importance here, which is something you could never have said about any car before it – even the most docile of them all, the Evora. Cars like the Exige V6 Cup would have bare-metal flooring, exposed tanks, rudimentary dials, and no radio, let alone an infotainment system. To call the Emira a step forward is an understatement. 
Inside, you're surrounded by Nappa leather, Alcantara, and other premium materials of your choosing such as metal mesh. Behind this hides the open mechanical six-speed gearbox, exposed to (once again) please the driver. There's a touchscreen system detailing everything you need to know about the car and it can be hooked up to Apple CarPlay or Android Auto, while KEF audio, a flat-bottomed button-covered steering wheel, heated leather or Alcantara seats, cruise control, digital dials, charging ports, and a small luggage compartment behind the seats all come together as today's expected creature comforts.  
Verdict 
Over the years, Hypebeast has tested dozens of cars as part of our series, Open Road. Few have left such a lasting impression on us as the Lotus Emira has.
It competes against the Porsche 718 Cayman, Audi TT RS, Toyota GR Supra, and the V6 Jaguar F-Type. All are fantastic two-seater sports cars, but only the Emira has a certain charm to it, a je ne sais quoi that encourages you to come back to the driver's seat time and time again. 
In our two weeks with the car, we put 800 miles on the odometer. From track days to high-speed runs on the dead-of-the-night motorway, and every strip of tarmac between, we find ourselves connected to the Lotus for its engaging gear box and focused manners. It will show you, and your passenger, just how good a driver you really are, and for that it has to be one of the most authentic machines money can buy today.