In Venice, the British Pavilion Pays Homage to the UK's Diasporic Communities
"We want people to see themselves and their histories inside"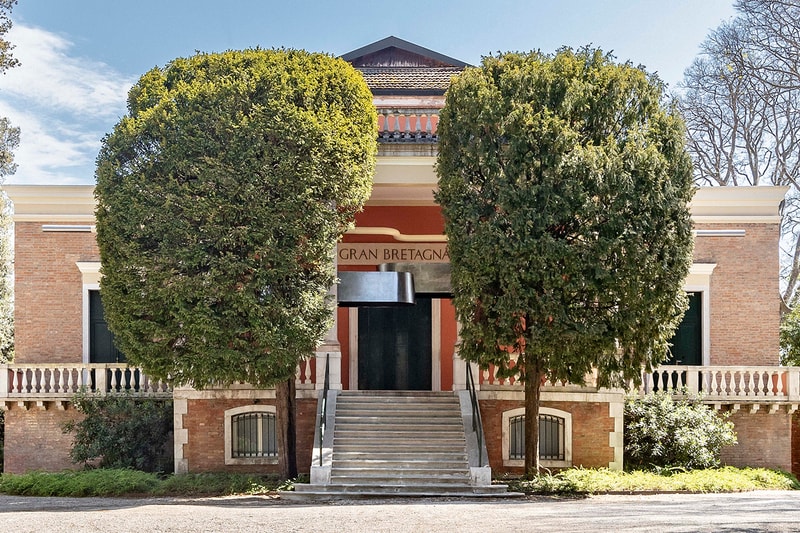 Trying to digest the many projects exhibited at the Venice Architecture Biennale is nothing short of overwhelming. Often, they are dense with concept and academic rigor that is explained via inaccessible wall texts (as pointed out in this recent review) – rendering them difficult to relate to or unpack. This becomes even more of an issue when you're not physically there to experience the space – something that few are lucky enough to do, anyway.
Given that architecture shapes the world around us all, you could argue that these barriers continue to separate the profession from the general public in a way that seems counterintuitive. But, for 2023, that's exactly what the curatorial team behind this year's British Pavilion wanted to avoid, and, with a little help from social media, they were successful – the energy around their show vibrated across the some-976 miles between Venice and London.
Commissioned by the British Council's Sevra Davis, this year's pavilion was curated by a team of four practitioners: Jayden Ali, Joseph Henry, Meneesha Kellay and Sumitra Upham. Titled "Dancing Before the Moon", the show explores the way in which cultural rituals can help to shape the built environment.
Importantly, too, its mission is to encourage conversations among younger and more diverse audiences – and the team set out to achieve this by working alongside early-career creatives to address the issues of our time. "Architecture is the infrastructure that we live our lives within – everyone is impacted by the work of architects and there is no getting away from it," Henry said. "We want people to feel confident that they can contribute positively to the spaces around them and have a role to play."
Together, and in addition to Ali himself, the curatorial team selected five participants to present architectural-scale works: Yussef Agbo-Ola, Mac Collins, Shawanda Corbett, Madhav Kidao, and Sandra Poulson. Each has worked towards the common theme, and have interpreted the many ways in which ritual can intersect with space from a personal perspective.
"People will see the people and the communities that they are from"
In the main hall, a film – also titled Dancing Before the Moon – plays on loop, and highlights the central role that rituals have in diaspora communities around the UK. Its soundtrack, devised by Oscar #Worldpeace and Fredwave, is designed to sound like a reflection of contemporary British culture. "Having seen people's reaction to the exhibition over the weekend – we saw how the music welcomed people into the space," Henry said.
"Collectively, this exhibition champions an expanded notion of architecture," Henry added. "We wanted people to see themselves and their histories reflected through the work of pavilion. In the film, people will see the people and communities that they are from. They will see the rituals and acts that might be taken for granted being represented in the British Pavilion – we hope that this uplifts people and give them a sense that they have a contribution to make to the shaping of the built environment."
The British Pavilion is on show at the Venice Architecture Biennale until November 26. Read on for more information on each work.
---
Thunder and Şimşek, by Jayden Ali
Upon entry to the pavilion, visitors are met by Ali's installation, "Thunder and Şimşek", which traces his ancestral ties to Trinidad and Cyprus and the cultures developed as a result of occupation and colonsiation. Made from hammered steel, the suspended pieces are an homage to Trinidadian steel-pan playing and Cypriot cooking, while also representing a moment of arrival and departure to the space.
Sãbao Azul e Água, by Sandra Poulson
Next, Sandra Poulson has looked into cleansing rituals as a tool for social mobility in relation to observations and experiences from her time growing up in Luanda – Angola's capital city. Striking in its appearance, "Sãbao Azul e Água" depicts four objects representative of the city's architectural vernacular and social traditions. Each has been crafted from fabric, and is stuffed with textile landfill waste. It is then covered with "sabão azul", a blue soap that is ubiquitous in Angola.
Runout, by Mac Collins
For Nottingham-based Mac Collins, the game of dominoes forms the core of his "Runout" installation. Played widely among the British-Caribbean community, Collins began to look into this for a project exhibited at Leeds' Harewood House Biennial back in 2021. For Collins, this new project is a chance to investigate the ways in which dominoes creates links to the Caribbean for the Jamaican diaspora in Britain – particularly through performance and materiality – and arrives in an ambiguous form crafted ebonized and polished ash timber.
A Healing is Coming, by Shawanda Corbett
Interdisciplinary artist Shawanda Corbett chose to create her work "A Healing is Coming" from ceramic – crafting a series of vessels that make shadows on the wall of the building. "A healing is coming represents the perceived purity that women are expected to uphold in American southern culture, a masculine's view of women in US Christian culture, the women's necessary detachment from this projection in order to live, but their struggle to heal," the artist statement reads.
Bardo, by Madhav Kidao
In 2021, Madhav Kidao's practice Nebbia Works installed a pavilion for London's V&A museum. Titled "Between Forest and Skies", the self-supporting structure was crafted from aluminium sheets, which have now been melted down and recast to create a new installation, "Bardo", which takes its name from a Tibetan word used to describe the state between death and re-birth. The form of the piece has manifested in an aluminium wall of sorts, with textures on its surface created by the sand-casting process.
Muluku: 6 Bone Temple, by Yussef Agbo-Ola
"Muluku: 6 Bone Temple" has been crafted primarily from organic cotton, which has been woven together onto a frame using pineapple fibre. Its details are inspired by patterns seen on the skin of extinct and endangered species. Across the design, Yussef Agbo-Ola wanted to honour the Yoruba and Cherokee communities, and specifically their rituals that relate the natural world to architecture, performance and art.