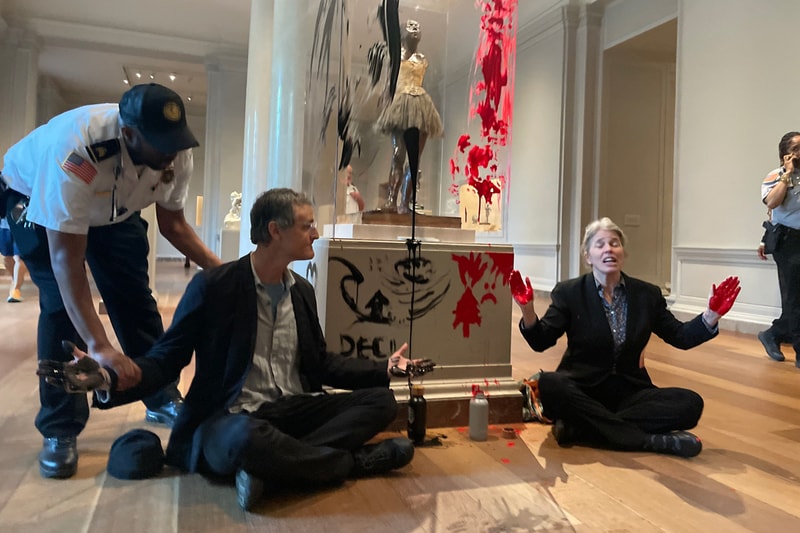 Climate Activists Target Degas Sculpture in Washington D.C.
The latest in a string of events that shook Europe in 2022.
---
2022 was filled with incidents in which activists began targeting high-profile artworks to raise awareness to climate change. Largely confined to Europe, the protests have come to the U.S., where yesterday at 11am ET, two Americans dressed in black suits smeared red and black paint across the case protecting Edgar Degas' Little Dancer Aged Fourteen (1879–1881) at the National Gallery of Art in Washington, D.C.
The two protestors, Tim Martin from Raleigh, North Carolina, and Joanna Smith from Brooklyn, represent the climate group, Declare Emergency. In footage first shared by The Washington Post, Smith voiced his concern to U.S. president Joe Biden, stating, "We need our leaders to take serious action, to tell us the truth about what's happening with the climate."
Protesters smeared paint on the case and pedestal of Edgar Degas's "Little Dancer Aged Fourteen" sculpture in the National Gallery of Art in D.C. to bring attention to the climate crisis and demand that President Biden declare a climate emergency. https://t.co/FWiuFqJzId pic.twitter.com/8AQkeIWlQH

— The Washington Post (@washingtonpost) April 27, 2023
In an interview with ARTnews, Declare Emergency made it clear that they understand "the value and importance of art in our society," adding, "we also know that it and everything we love is at stake if we don't tackle the climate emergency with the urgency that it deserves."
Martin and Smith were arrested immediately following the events, while the sculpture has been removed to assess any damages.